By Peter J. Nash
August 16, 2019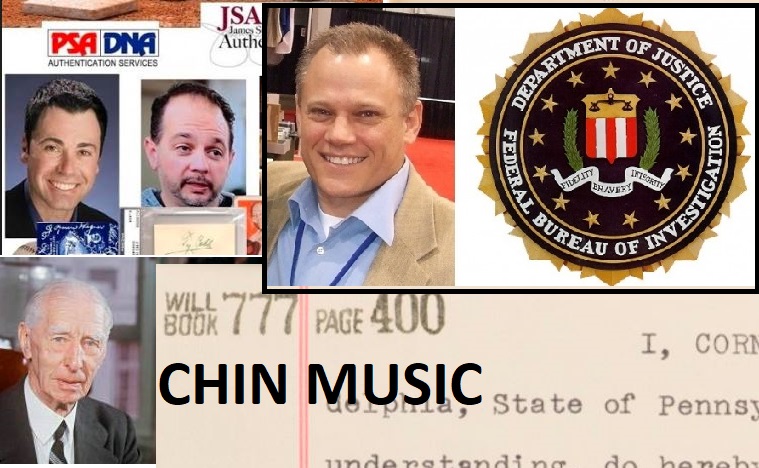 (Scroll to bottom for Update) Collectors Universe CEO, Joe Orlando, once threatened litigation against Hauls of Shame when we claimed his company (PSA) was founded on a fraud with its grading of the Mastro-trimmed T-206 Honus Wagner card. Not only was our statement factually accurate, it also foreshadowed the current card-trimming and alteration scandal uncovered by members of the Blowout Cards forum that has rocked the baseball memorabilia industry to its core. The Blowout forum identified before and after evidence showing alterations and trimming on scores of cards sold by PWCC auctions as well as outing the identities of the alleged card doctors who altered the cards and then sold them for significantly higher prices. As a result,  PWCC principal Brent Huigens has hired criminal defense attorney Jeffrey Lichtman as the FBI investigates his company and its ties to the card doctors and the sales of fraudulent cards on eBay. HOS reached out to Lichtman for comment on the case but he did not respond. While Huigens has become the main villain and face of the card trimming scandal we are told that there are several sellers just as crooked who should be worried about criminal prosecution.
FBI agents from the Chicago office handed out more than a dozen subpoenas at the National to major auctions and grading services but sources familiar to the investigation reveal that PSA is of greatest interest to law enforcement for its clear-cut grading of massive numbers of altered cards which resulted in the fraudulent inflation of their values. Some hobbyists have long suspected that certain graders and employees working for PSA and Beckett Grading Services (BGS) have been on the take and fraudulently assigning higher grades to altered and doctored cards ending up in PSA slabs.  The problem is so serious that one hobby veteran showed us an entire 1951 Topps Ringside set which was graded and placed as #3 on the PSA Set Registry while the majority of the cards in the set had been fraudulently trimmed.  The source stated that the set was once in the hands of known card doctor Gary Moser who is also under FBI investigation.  The source told us, "You can just hold a few cards from that set in one hand and then take any slabbed card from that set and you can see each card is significantly trimmed. You don't need any magnification, all you need is the naked eye to tell." The same source told us about outright fake cards which have been graded authentic by TPGs and Blowout card members also uncovered the slabbing of many fake cards including those of Michael Jordan and Frank Thomas.
Mile High Auctions offered the trimmed 1951 Topps Ringside set for a minimum bid of $6,000 on March 23, 2018. Mile High described the set as "#3 on the PSA Set Registry with a rating of 8.94 but with the #2 set at 8.95 and the top set at 8.97, (the set) could easily move to the #1 spot with just one or two improvements that are available online…." The lot's hammer price and the lot itself no longer appear on Mile High's online prices realized. Sources tell us that Mile High received a subpoena from the FBI.
FBI agents separate from the card-trimming investigation have been probing TPAs like PSA/DNA and JSA for several years and sources tell us they are currently seeking out what are described as incriminating emails between PSA/DNA employees which are said to illustrate the company's intent to defraud customers and commit alleged criminal acts in their authentications of autographed materials. These emails are said to have been produced in conjunction with litigation Collectors Universe has been a party to. Despite unfounded rumors that the FBI will be raiding the PSA corporate offices, Joe Orlando and PSA President Steve Sloan have totally ignored the current scandal in public statements to customers and have refused to comment in National news articles in the USA Today and the Washington Post.
David Hall, the PSA founder who was recently removed as the Collectors Universe CEO, reportedly has brain cancer and decided well before the current card-trimming scandal broke to sell his PSA-graded collection at Heritage Auctions.  Hobby veterans and card experts state that a significant number of Hall's cards are also trimmed or highly over-graded by his own company.  Hall participated in the fraudulent grading and promotion of the trimmed Mastro T206 Wagner now owned by Arizona Diamondbacks owner Ken Kendrick. Hall stated that he was one of the only people to have examined the card under a loop at the time of the original grading and denied it was trimmed although he expressly had knowledge that it was.  Oddly enough, many collectors who are up in arms over the current PWCC grading and trimming scandal have been singing the praises of Hall's high grade cards. These cards, however, are widely considered altered and tainted by experts as many can be traced back to the high grade T206 set sold along with the trimmed Wagner at the Sotheby's sale in 1991 conducted by Bill Mastro. While the hobby has long covered up the Hall and PSA involvement in card grading frauds, it has also turned a blind eye in the #MeToo era as Hall's ousting from CU and PSA due to sexual harassment claims by a CU employee has never been reported or mentioned anywhere publicly.
REA and its President Brian Dwyer have removed from its current sale the stolen last will and testament of Baseball legend Connie Mack. The document bears the rare signature of Mack's legal name, Cornelius McGillicuddy, and is missing from the Register of Wills in Philadelphia, PA.  The one page document even bears the Court's stamping identifying that this original copy had been duplicated for the probate court's bound volumes in "Will Book 777″ on "Page 400." The will of baseball pioneer Harry Wright appears to still be missing from the same Courthouse.  The FBI has been made aware of the missing Mack will and should play a part in the recovery of the document. The FBI recovered scores of missing wills that were stolen from various Courthouses around the country in the 1990s by Boston Court Officer Joe Schnabel and sold through his fence Jack Heir. HOS contacted the Register of Wills and its Deputy Register of Wills, Alba I. Collazo, informing her that the stolen will was up for sale. Collazo was later informed that the will had been removed from the REA sale and that the FBI was also aware of the missing will. Collazo told Hauls of Shame today, "The matter is still under investigation and upon advice of counsel am unable to make any comments."
JSA and James Spence Jr. have added another gem for our Worst 100 Authentications report with a lot consigned to the current REA sale.  The book, which once belonged to disgraced collector Barry Halper, features a Ty Cobb forgery penned by sportswriter Al Stump.  The distinctive Stump forgeries have been toxic for many years and were further exposed as frauds via SABR member Ron Cobb's meticulous research on the Stump-Cobb forgeries.  Cobb alerted HOS of the forgery on the book allegedly inscribed to Stump by Ty Cobb and also indicated he had contacted REA to inform them of the fake. REA was selling the fake with an LOA issued by embattled authenticator James Spence Jr. As of the time this report was published, it appears that REA has still not removed this blatant forgery from its current sale.
Beckett authenticator Steve Grad appeared in California court documents related to litigation involving his former employer Collectors Universe and PSA/DNA.  The Court ruled that dealer Todd Mueller's suit against the company was dismissed with prejudice due to his "violent threats" and that while being deposed, Mueller "threatened to kill a witness" who sources indicate was Steve Grad who also appears on the cable TV show Pawn Stars. The Court documents state that Mueller said, "I'm going to kill him (Grad), I'm going to rip his head right off." A source familiar with the litigation tells us that Grad's incompetence and alleged fraudulent activities as an authenticator drove Mueller to the point where he publicly threatened his life.
Parting Shots for our readers: If you are heavily invested in Third-party graded or authenticated cards or memorabilia you are a sucker. Law enforcement and other entities are unlikely to fully expose the extent of the fraud committed in the hobby because they view the victims as suckers. The victims themselves are unlikely to report fraud to the authorities because they are worried about being publicly exposed as a sucker. #FACTS
UPDATE (Aug. 19, 2019): So-Called PSA/DNA Experts Keating or Corcoran Appear To Certify Bogus Jesse Burkett Letter As Genuine
In addition to the bogus Ty Cobb signed book authenticated by Spence and JSA, the REA summer auction featured an even more significant blunder by the authenticators at PSA/DNA who replaced Steve Grad.  The item was an alleged 1943 type-written letter signed by 19th century HOFer Jesse Burkett which belongs to a group of long ago uncovered similar forgeries all created as type-written missives from the rarest of rare 19th century Hall of Famers like Roger Connor, Dan Brouthers and Amos Rusie among many others.  Experts, including the late Charles Hamilton easily identified these laughable signatures as forgeries and these fakes have been avoided for decades until the so-called experts at PSA/DNA recently certified this fraudulent document as authentic.  REA included the PSA LOA signed by the embattled Collectors Universe CEO, Joe Orlando, who wrote on June 13, 2019: "PSA/DNA Authentication Services has examined this Jesse Burkett signed letter. In our opinion the aforementioned signature(s) is/are genuine."  Although the signature bears little resemblance to a genuine c. 1943 Burkett signature, Orlando adds the usual TPA mumbo jumbo stating the Burkett sig is "consistent considering slant flow, pen pressure, letter size and other characteristics which are typical of the other exemplars that we have examined in our hobby and professional career." The bogus letter also contains highly suspicious content with Burkett claiming his support for black players entering the Major Leagues four years before Jackie Robinson's debut. This alone should have raised red flags. The low REA sale price at $4,800 indicates that most collectors avoided the bogus letter which Beckett Authentication Services "declined to write a letter on…" A genuine Burkett letter should command over $20,000, easily.
Orlando does not identify which employee fraudulently authenticated the bogus item, however, his new autograph gurus are Bill Corcoran and Kevin Keating who is most notable at HOS as being identified by the government as one of the Mastro shill-bidders in the prior Legendary and Mastro Auctions FBI investigation. Corcoran and Keating are both known as dealers and sellers in the hobby and have long histories of claiming forgeries they have owned are authentic. Keating has also in the past been identified by the late appraiser Frank Ceresi as knowingly selling off his known forgeries to unsuspecting buyers in non-hobby settings. Joe Orlando was not able to respond to our inquiry as to which employees certified this fake because he has blocked incoming emails from HOS.  Eyewitness reports from the National described Orlando's appearance as frazzled and extremely nervous as the current card-trimming FBI investigation focuses on him.  One hobby veteran who spoke with Orlando described him as "Looking like he put on 10 years in the last month or so."  Another PSA certified fake that sold in the REA sale for $20,400 was a PSA/DNA slabbed team sheet on the back of an exhibit card alleged to have been signed by Negro Leaguers including HOFer Oscar Charleston. This item is a perfect example of one of Kevin Keating's pre-PSA authentications of bogus Negro League signatures, many of which he has formerly owned and featured in books that he published.  Another example is a genuine signature of Negro League HOFer J. L. Wilkinson slabbed by PSA/DNA and sold at Heritage Auctions this weekend for $17,400.  Previously Keating had authenticated and utilized a bogus signature of Wilkinson as a genuine exemplar in his Negro League autograph book. Author Ron Keurajian has since pointed this out and correctly identified the genuine and bogus Wilkinson signatures in his own Hall of Famer autograph handbook.