By Peter J. Nash
Aug 26, 2010

When "Shoeless" Joe Jackson's 1919 White Sox jersey was donated to the National Baseball Hall of Fame and Museum by Major League Baseball in 1998, it was the crown jewel of the newly-acquired collection of artifacts from the famed Barry Halper Collection. MLB paid close to $8 million for 175 items from Halper and subsequently sent those treasures off to Cooperstown as a donation to be exhibited in the Hall's "Barry Halper Gallery." Halper's "Shoeless Joe" jersey was displayed in an exhibition called "Memories of a Lifetime," along with the agreement that sold Babe Ruth to the Yankees and a rare T-206 Honus Wagner tobacco card.  On behalf of MLB, Commissioner Bud Selig proudly proclaimed, "This important collection belongs in the Hall of Fame and that is where it will be for all time."
Jackson's pinstriped flannel jersey also hit the road in the Hall of Fame's "Baseball As America" traveling exhibition, captivating baseball fans around the country despite the fact that Jackson's banishment from baseball in 1920 has kept the .356 lifetime hitter out of the Hall for nearly a century.   Arlene Marcley, the curator of the Shoeless Joe Jackson Museum in Greenville, S.C., was excited when she heard of the Hall's acquisition.  Marcley recalls,  "When I saw that Cooperstown got his jersey I said, well, Joe didn't get into the Hall, but I'm sure glad to see his jersey did."  The Hall of Fame's exhibits stated that the jersey was the one Jackson wore "during the 1919 season," but much like the famous line associated with Jackson and the fixing of the 1919 World Series, "It ain't so."
A year-long investigation conducted by Haulsofshame.com has confirmed that the jersey purported to be Jackson's from 1919 isn't even an authentic White Sox jersey from the period, let alone Shoeless Joe's own. The jersey purchased by MLB in 1998 was billed as a 1919 White Sox jersey made by A. G. Spalding & Bros. with Jackson's name chain-stitched in the collar. The problem is that all White Sox uniforms from 1916 through the early 1920s were manufactured by Thos. E. Wilson & Co. and the Western Sporting Goods Mfg. Co., not Spalding.  In 1925, these two Chicago companies merged to form what is today called Wilson Sporting Goods. Jackson played for the White Sox from 1915 through 1920.
When White Sox owner Charles Comiskey provided a testimonial in a Wilson advertisement published in the Chicago Tribune on May 4, 1919, he confirmed that Wilson had outfitted his White Sox since 1916. In that ad, Comiskey stated that since Wilson's uniforms were so well done in the past, they "merited (his) reordering them from (Wilson) again…" for the 1919 season. (Wilson also made the Chicago Cubs uniforms that year). How then, could Barry Halper's jersey, made by Spalding, be Shoeless Joe's historic laundry from the Black Sox era? It's just not possible.  When Halper died in 2005, so did any chance to get an explanation from the man Sports Illustrated once called the "Sultan of Swap."
When it comes to the history of baseball uniforms, Marc Okkonen is considered an authority, having written the definitive book on the subject, Baseball Uniforms of the 20th Century (1991). In it, Okkonen undertook the monumental task of documenting every major league uniform since 1900.  Using photographic evidence and exemplars in uniform collections, including the Hall of Fame,  Okkonen established a benchmark for uniform research.  While it was impossible to track down the exact uniform of every team for each year, Okkonen's work was the most comrehensive compendium of uniforms ever created.. 
The section in Okkonen's book devoted to the 1919 White Sox included an exemplar of a grey flannel road pinstripe that resembled Halper's 1919 Jackson jersey. In the course of conducting his research for the book, Okkonen was invited to Barry Halper's house to view his uniform collection, including the garment Halper told him was Jackson's 1919 jersey. Looking back on it today, Okkonen questions his inclusion of the pinstripe in his book. "I can't find any justification for the pin stripes I put on the 1919 Sox roads. Every pic(ture) in my files suggests plain gray, so that would be my call on this one. Perhaps I was naive enough to rely on that suspicious Joe Jackson jersey in Halper's collection." So not only was Halper's Jackson jersey made by the wrong manufacturer, Okkonen's observations (and substantial photographic evidence) also suggest that the White Sox didn't even wear pinstripes in 1919.  Joe Jackson only wore pinstripes on his road uniform in 1916 and 1917.  (An embroidered American flag was added to a sleeve of the 1917 Sox uniforms in honor of  World War I.) 
Okkonen's research is now the basis for the Hall of Fame's online history of the uniform called "Dressed to the Nines." His work serves as part of the Hall's uniform database which is regularly updated by Hall staff and baseball researchers. The Hall of Fame uniform collection is also an important resource for research. The only other Jackson-era White Sox uniforms in the Hall's collection are two authentic 1917 home uniforms made for the World Series by the Western Sporting Goods Co. of Chicago. One was worn by coach "Kid" Gleason and the other by Hall of Fame catcher Ray Schalk. Gleason and Schalk saved the uniforms as trophies of their World Series victory; decades later the flannels found their way to Cooperstown as donations to the museum. The Hall of Fame relies solely on donations and does not purchase items for its collection.
A 1924 photo taken of Joe Jackson barnstorming in Waycross, Georgia is proof that the banished champion kept his 1917 Series uniform, too. This photo of Jackson, with the "Sox" logo removed from his uniform, appeared in the Atlanta Constitution on August 24, 1924. That uniform is the only one documented in photos as Jackson's own after his banishment. Reports of the day paint Sox owner Comiskey as notoriously frugal, and it's unlikely he let his players keep their uniforms. His frugality is evidenced in photos that document how new players joining the Sox mid-season in 1919 were assigned old uniforms from the 1918 campaign, instead of purchasing new ones.  In the 1921 Black Sox trial it was revealed that Comiskey even charged his own players 50 cents each time the club washed their uniforms. However, it appears that his players were permitted to keep their 1917 Series uniforms as souvenirs.
Meldon J. Wolfgang of Nassau, New York, the grandson of Sox pitcher Meldon "Meldie" Wolfgang, still has his grandfather's championship duds from 1917. Wolfgang has the original hat, pants and jersey with the family name embroidered in dark thread on the tail. Wolfgang considers his authentic uniform "tangible evidence of family continuity." Preserved for years at his mother's home in a baseball shrine to the pitcher, the treasured garment's future is secure. Says Wolfgang, "Ultimately my grandson, who's seven months old will have to assume that caretaker's responsibility."
In addition to the 1917 examples, authentic White Sox uniforms of Red Faber and Nemo Leibold (c.1919-1920) have sold at public auction bearing the manufacturing tags of "Thos. E. Wilson Sporting Goods Co."  The only documented uniforms Spalding made for the White Sox during that era were for a "World Tour" exhibition against the New York Giants in 1924. Through the late teens and 1920s, Wilson regularly advertised the fact that they were "outfitters of the White Sox."
The Halper uniform collection has been a source of controversy ever since the Hall of Fame received their donation from MLB in 1998. In 1999, Halper sold the remainder of his massive collection, including many uniforms of questioned authenticity, through Sotheby's for more than $25 million. In 2005, the New York Daily News reported that when officials were selecting items for the MLB donation in 1998, "..the Hall of Fame passed on several jerseys because it deemed them fake." One questionable Halper jersey was an alleged 1914 Babe Ruth Red Sox jersey made by Spalding. Halper described his acquisition of the jersey "like something out of TV or the movies," and Hall-of-Famer George Brett appeared modeling the Bambino's shirt in a 1985 Sporting News feature that called the jersey "an incredible find." However, it is well documented that Spalding didn't make the Red Sox jerseys of that era, either.  Boston's uniforms were supplied by "Wright and Ditson" and "Horace Partridge & Co." The alleged Ruth Red Sox jersey, which was once considered one of Halper's most prized possessions, never made it into the Sotheby's sale.
Another jersey questioned was a purported 1894 Baltimore uniform of Hall-of-Famer Wilbert Robinson, which was sold at Sotheby's in 1999 for $27,600. The same jersey sold in Legendary Auctions' March, 2010 sale for less than $2,000. Legendary's lot description confirmed the jersey's problems: "Our consignor paid over $25,000 for this garment as being a Wilbert Robinson Baltimore jersey…we were uniquely qualified to definitively confirm that this was not the case…" Legendary based its negative opinion on having handled an authentic 1895 uniform consigned by the family of Oriole Bill Hoffer in 2009. The Hoffer jersey confirmed that Halper's Robinson was not authentic. The Hoffer garment was positively identified in original Baltimore team photos from 1895, while the Robinson jersey failed to match any documented uniforms in photos from the era. Legendary also stated that it had "destroy(ed) the paperwork that accompanied the jersey…" Those papers included letters of authenticity from Sotheby's, Grey Flannel Authentication and Robert Lifson , a Halper associate who was lead consultant for the Sotheby's sale.
So where did Halper's Wilbert Robinson jersey come from? In a 1985 Sporting News profile of Halper's uniform collection, the then New York Yankee minority owner stated that he'd acquired the Baltimore jersey from ex-Brooklyn Dodger Ollie O'Mara, who actually played for Wilbert Robinson in the 1916 World Series. O'Mara, who died in 1989 as the oldest living MLB player at 98, however, was also involved in the gaming business and was the subject of a major 1950 crime investigation along with gangster Al Capone's brother, Ralph. In 1950, the Chicago Daily Tribune went as far to call him the "gambling king" of Kenosha, Wisconsin. O'Mara experienced an assortment of arrests through the 1940s and in 1950 he was indicted in Kenosha as part of the Kefauver crime investigation.  According to reports in the Milwaukee Journal in 1966, O'Mara fled Kenosha in 1950 and was a fugitive from justice for fifteen years until he was located by a Milwaukee Journal reporter in Las Vegas.
 O'Mara's son, William, an attorney in Reno, Nevada, confirmed his father's legal troubles, but noted that by 1968 "those indictments were quashed in Kenosha."  When asked if his father ever had vintage uniforms he sold to Barry Halper, O'Mara replied, "No, as long as he was with me from 1968 until his death (in 1989) he never sold anything, because he never had anything.  I'm not disputing that Mr. Halper had a jersey from Wilbert Robinson, but I doubt seriously if he got it from my dad during any period after 1950."    O'Mara also indicated that after the 1950 indictment in Kenosha his father "became a very shy man."  When asked to comment further on Halper's claims of purchases from his father O'Mara said, "It's easy to indicate that you acquired these items from somebody that you know is not up front- I mean, there's no way you could have found my dad during the period from 1950 to 1968."  In addition, O'Mara said his father "lost all of his money as a result of the Kefauver investigation in 1950." 
When Ollie O'Mara was interviewed in 1981 by The New York Times after throwing out the first pitch at a Dodger game, the only piece of memorabilia he referenced ever saving was his personal scrapbook from his Dodger days as a teammate of Casey Stengel.  George Vecsey wrote how O'Mara had even lost that scrapbook.  Ollie O'Mara told Vecsey, "A few years ago I took my scrapbook on a train, and the porter threw it out with the newspapers." 
In the 1991 edition of Total Baseball,  Halper (with Bill Madden) wrote about his alleged acquisition of  nineteenth century Baltimore Oriole uniforms from Ollie O'Mara.  Halper stated, "Apparently O'Mara maintained a close friendship with (Wilbert) Robinson.  That is the only explanation I can offer for the fact that he had in his possession the 1894 Baltimore Orioles uniforms…O'Mara never did tell me how he got the uniforms or why he had kept them all those years in near-perfect condition.  In 1989 he went to his grave with that secret, but baseball historians can be forever grateful that he preserved much of the game's valuable past." 
When Sotheby's sold Halper's collection in 1999, its catalogue introduction by author Peter Golenbock recounted the Ollie O'Mara story. Golenbock wrote of how Halper told him he had secured "uniforms once worn by 19th century legends" from his friend Ollie O'Mara, who, "never failed him." Halper said: "Every time I thought I was finished, Ollie found another one." Neither Halper's relationship to O'Mara nor the provenance of the Oriole jersey were ever mentioned in the Sotheby's description of the alleged Robinson garment. Despite all of the legitimate questions regarding the jersey, Sotheby's and its consultant still issued letters supporting its so-called authenticity.
Sotheby's consultant and Halper associate Robert Lifson also had first-hand knowledge of issues regarding the authenticity of several Halper jerseys rejected by authenticators for the Sotheby's sale. Yet, in his letter to the winner of the Robinson jersey he stated that he, "found nothing that would make (him) question the authenticity of the jersey." He further stated in the letter; "I was so impressed with this jersey that I chose to put it among the opening highlights section of the catalogue." (Years later the winner of the Halper Robinson jersey at Sotheby's attempted to consign it to Lifson's own auction house, REA.  Lifson rejected it, stating it could not be authenticated.)
A long-time friend of Halper recalls, "Barry liked a story as much as the next guy." Now, five years after Halper's death, his stories have come under scrutiny with the disputed authenticity of his Jackson jersey and others. In his 1985 Sporting News cover story, Bill Madden reported that Halper's Jackson jersey was "a recent acquisition" and quoted Halper on the purchase he allegedly made "from some relative's of Shoeless Joe in Greenville, S.C." Halper even described the details of the transaction for Madden: "For that one I had to send cash through the mail, they wouldn't accept a check. Once they got the money, I was afraid they wouldn't know how to send the uniform back. So I had an intermediary pick it up for me and send it United Parcel."
Halper's "Shoeless Joe" story from 1985 was news to Mike Nola, founder and historian of "Shoeless Joe Jackson's Virtual Hall of Fame" at BlackBetsy.com.  Nola in a recent interview recalled, "Barry Halper told me and Joe Thompson the story of how he got Joe's jersey as we ate lunch at Mickey Mantle's restaurant in New York City." Halper's 2001 story to Nola and late Greenville writer, Joe Thompson, was that he acquired Jackson's jersey, bat, watch and glove in the 1950s from Jackson's widow after stopping in Greenville while traveling down south to school at the University of Miami. "Barry Halper told me he bought the jersey and other items from Katie Jackson for $150 bucks."
Halper met Nola and Thompson in conjunction with a Joe Jackson auction conducted by Real Legends, a company which Barry Halper was listed as a consultant and board member. After pocketing close to $30 million dollars after his Sotheby's and MLB sales, Halper consigned an alleged 1911 Cleveland jersey attributed to Joe Jackson for sale at the Real Legends auction, even though it had been rejected by authenticators Grey Flannel and failed to even make it into the Sotheby's sale. When Nola asked Real Legends head Lou Costanza about the origin of the 1911 Jackson jersey, Costanza could only tell him that information was confidential.
Nola's recollection of Halper's story mirrors what Robert Objoski of Sports Collectors Digest reported in an article about Halper on October 8, 1999. Describing the Hall of Fame's new Halper exhibit and its display case devoted to the Black Sox and Jackson's jersey, Obojski wrote: "How did Halper get these items? As a student at the University of Miami in the late 1950's (where he was a pitcher on the varsity nine), he drove up to Greenville, S.C., and contacted Jackson's widow, and thus was able to come up with this treasure trove."  During his lifetime, Halper appears to have never been questioned about the conflicting claim made in the 1985 Sporting News article by Bill Madden who reported the jersey was "among Halper's most remarkable recent acquisitions…Shoeless Joe Jackson's White Sox uniform-the very one the banned slugger wore in the infamous 1919 World Series fix."
Adding to the controversy of Halper's conflicting stories are the recollections of 89-year-old Jackson family friend and ex-minor league star Joe Anders of nearby Easley, South Carolina. Anders, a Greenville native, used to visit Jackson at the local drug store in the 1930s to get hitting pointers and later went on to lead the South Atlantic League with a .338 average in 1942. Anders recalls, "After Joe died, Katie had some scrapbooks, a few trophies and a bat. I never saw a uniform of Joe's." Anders should know. He was a pall bearer at Shoeless Joe's funeral in 1951 and the recipient of some rare financial documents that bore Jackson's authentic signature, which were given to Anders by the family. When asked about Barry Halper, Anders said, " I've heard of Barry Halper." But as to whether he knew of Halper buying a jersey from the family in the 80s, Anders further stated, "No, no. If there'd been a jersey at this particular time, I'd have known about it."
In the second edition of Total Baseball in 1991 Halper wrote, "The collecting of uniforms from modern-day players has oftentimes become a risky venture because of the increase in counterfeits on the market."  In regards to "old-time uniforms" he added, "I never believed so many of these old uniforms, particularly the ones from the pre-1900 Hall of Fame players, could still exist.  And exist in such remarkable condition."
Upon examination through the exhibit case glass at the Hall of Fame, parts of the Jackson garment appeared to be in remarkable condition, too.  The chain-stitched "Jackson" name in the collar was a bold, rich, red color and the "S-o-x" logo was of a jet-black hue.  However, the faded, purplish material in the collar exhibits fading that is much more consistent with the natural aging of authentic uniforms from that era.  One would expect that the chain-stitched name and the team logo would match the aging and fading of the material on the collar.
MEARS, of South Milwaukee, Wisconsin is the company many collectors and auction houses look to for authentication of vintage game-used baseball uniforms.  The MEARS website shows authenticity reports of all the garments the company has examined, however, the site indicates that they have not had the opportunity to examine a Joe Jackson-era White Sox uniform.  When asked for an opinion on the Hall of Fame's Jackson uniform, MEARS authenticator Troy Kinnunen stated, "We have a company policy that we don't comment on something unless we have evaluated it."  Kinnunen stated he had seen the Jackson jersey in person when it was exhibited at Miller Park as part of the Hall of Fame's travelling exhibition, but declined comment on the  condition and colors of the Jackson name and team logo on the jersey.  Kinnunen did, however, add, "I would be glad to offer my services to the Baseball Hall of Fame, free of charge, to do a complete evaluation of it."  
The 1919 Jackson jersey isn't the Hall's first brush with fakery related to the Halper Collection. Last summer legendary Detroit broadcaster, the late Ernie Harwell, reported in the Detroit Free-Press that an MLB-donated 1946 diary attributed to Ty Cobb was a forgery. The Hall was first made aware of the problem after scrutiny of the item by Cobb expert Ron Keurajian, and an investigation by the FBI confirmed their concerns . Harwell commended the Hall for "admitting that the Cobb diary was an unreliable source," but the FBI did not divulge details of its analysis to officials at Cooperstown. The Hall of Fame confirms that the diary has since been "moved into storage."  This past month SABR member Ron Cobb published an investigative paper in The National Pastime that proved the Halper-Cobb diary was forged by Cobb biographer Al Stump.  Cobb also illustrated that Halper knew of the authenticity issues related to his Stump items well before he sold those items at Sotheby's in 1999.
 Halper's collection is also the focus of another FBI investigation into items stolen from the New York Public Library's famous A. G. Spalding Baseball Collection.  According to reports in the New York Times and the Boston Herald last summer, several lots in the 1999 Halper auction have been identified as stolen from institutional collections. In 2006, Halper's widow consigned items to Robert Edward Auctions that were later found to have been stolen from the Boston Public Library and New York Public Library. Both institutions confirm that the Halper items have been returned to them. Hall of Fame officials have verified that they are aware of the ongoing federal investigation into Halper's collection. Special Agent Jim Margolin of the Federal Bureau of Investigation's media office in New York City also confirmed that the probe into the thefts at the New York Public Library and Halper's collection were on-going.
Considering the counterfeit White Sox jersey was exhibited in Cooperstown for hundreds of thousands of visitors and for an army of additional baseball fans who purchased tickets for the Hall of Fame's "Baseball As America" touring exhibition, the Hall, through their Senior Director of Communications, Brad Horn, expressed the institution's concern. "Our primary responsibility is to protect the public trust in the artifacts and in the pieces of baseball history that we present."  The Hall of Fame, Horn said, "has acquired on donation more than 35,000 artifacts, and part of maintaining that collection is the continual evaluation to be sure artifacts warrant exhibition."  Horn declined comment on inquiries specific to the alleged Jackson jersey and what due diligence was conducted by the Hall back in 1998.      
Eddie Einhorn is the Vice-Chairman of the Chicago White Sox and partner of Sox Chairman Jerry Reinsdorf.  Back in 1998, Einhorn and Reinsdorf authorized the White Sox' cash contribution towards the purchase of Barry Halper's artifacts by MLB.  Einhorn, Reinsdorf and fellow owners like George Steinbrenner had nothing to do with the selection of items purchased or any due diligence related to the transaction- they just supplied the cash.  When informed of the investigation that found one of the premier items featured in the purchase was not genuine, Einhorn responded, "Say it ain't so.  I hope the Hall of Fame did their due diligence and get to the bottom of this if it's true."  Einhorn also added that his partner Jerry Reinsdorf  had recently been named to the  Hall of Fame's Board of Directors in 2008.
   Reports indicate that the Hall's Chairman, Jane Forbes Clark, was instrumental in convincing the owners to contribute to the Halper purchase.  At the time, the New York Daily News reported, "There is no telling what would have happened to all of this priceless lore, which belongs in the Hall of Fame, had Ms. Clark not been able to prevail upon the Steinbrenners, Seligs, Disney's et al. to make the purchase and donation and keep it out of the hands of the hucksters."  Daily News columnist Bill Madden added, "It took $8 million of baseball's central fund booty, or roughly $266,000 per club, to make this merger possible.  But for the price of a minimum-salaried utility infielder, baseball now gives to its fans Shoeless Joe Jackson's 1919 "Black Sox" uniform…"
While the Daily News reported that Jane Forbes Clark had talked George Steinbrenner and his fellow MLB owners into buying material from Halper's collection in the first place,  additional reporting in the Cooperstown Crier revealed that Clark was also involved in the negotiations between Halper and Major League Baseball. It is unclear what recourse the Hall of Fame or MLB may have against the Halper estate.  Halper's widow, Sharon, inherited her husband's 2% minority ownership stake in the New York Yankees, and is currently listed as one of the club's limited partners. 
Matt Bourne, MLB's Vice President of business and public relations, declined to comment specifically about the Jackson jersey, but did confirm that prices were never attributed to individual items involved in the 1998 MLB purchase from Halper, saying it was a lump sum transaction.  When asked if Bud Selig or the Commissioner's Office would issue a statement, Bourne stated that Selig declined comment on the Jackson controversy. 
Since its donation in 1998, Halper's misrepesented Joe Jackson jersey became an iconic symbol of baseball history and lore.  The jersey made its way onto the pages of daily newspapers like the USA Today and the Boston Globe and even creeped into the discussion as to whether the Hall of Fame should include artifacts from the "Steroid Era."  In 2007, the New York Times published an article about the possibility of Barry Bonds' record-breaking home run balls ever being displayed at Cooperstown.  Supporting the exhibition of Bonds artifacts and all items that tell the story of baseball's history, then-Hall of Fame President Dale Petroskey told the Times, "You can't tell the story of baseball without telling Pete Rose's story or Shoeless Joe Jackson's story."   New York Times writer Jack Curry used Halper's Jackson jersey to illustrate Petroskey's point in his  reporting.  Curry wrote, "Jackson's uniform is in the museum, but the Black Sox scandal is cited, too."
Since 1999, baseball fans making their pilgrimage to Cooperstown have unknowingly included the bogus Jackson jersey as part of their vacation photos and videos.  Many fans posted photos of the Jackson jersey on the Flikr website and other internet sites as a highlight of their vacation to Cooperstown.  In 2005, baseball blogger Steve Lombardi posted a photo essay of his family vacation to the Hall of Fame and featured a photo of the Jackson jersey stating, "It's Shoeless Joe Jackson's glove and jersey.  I guess you can ban the man, but his stuff is still O.K. to look at." 
For nearly a decade, Shoeless Joe Jackson's Virtual Hall of Fame at BlackBetsy.com featured several photographs of the alleged Jackson jersey on display in the Hall's Barry Halper Gallery and at Miller Park in Milwaukee.  The caption identified it as "Joe's jersey from the 1919 season," and that it came from Halper who, "obtained the jersey along with other items from Joe's widow Katie in the 1950's."  After viewing the evidence in the Haulsofshame.com report, BlackBetsy historian and founder, Mike Nola, of Tallahassee, Florida, said, "I'm so convinced the jersey is a fake, that we removed the photos from the Virtual Hall of Fame.  I would hope that the National Baseball Hall of Fame never displays it again, because it's not a jersey ever worn by Joe Jackson."   
   Nola, who has also spearheaded a letter writing campaign to Commissioner Bud Selig for Shoeless Joe's reinstatement added, "With this fake jersey coming to light, my hope would be that Mr. Selig might see that just because one person says something is so, doesn't always mean it's true.  Joe very well may have been telling the truth when he said he didn't participate in the fix.  Maybe Commissioner Selig can find it in his heart to forgive Joe Jackson and to clear his name from the Ineligible List?  It's the right thing to do, it's the fair thing to do."
In Jackson's hometown of Greenville, South Carolina, news of the fraudulent "Shoeless Joe" jersey touched a raw nerve for supporters of his reinstatement to Major League Baseball and enshrinement in Cooperstown. Reached at her office in the Shoeless Joe Jackson Museum, which is housed in the actual brick home where Jackson lived and died, museum curator Arlene Marcley revealed the passion many locals still feel for their hometown star. Marcley said, "Joe Jackson was run out of baseball years ago by a bunch of thugs who covered up the facts. Halper's swindle is just one more dark shadow cast on baseball." 
 John Thorn, the noted baseball historian and author of Treasures of the Baseball Hall of Fame (Villard, 1998) perhaps sums up the controversy over Halper's Joe Jackson jersey best. Thorn said, "It is distressing to learn that "Shoeless Joe" now appears to be "shirtless" as well. One may argue whether Joe Jackson belongs in the Hall of Fame despite his transgressions, but this jersey should certainly be excluded."
The Hall of Fame's White Sox exhibit from the dead-ball era is currently devoid of Halper's dubious Joe Jackson jersey.  All that remains of Shoeless Joe in the exhibit case is a baseball glove, alleged to have been used by Jackson, that came along with the bogus jersey in the 1998 donation of the Halper stash.  Most recently the Hall made the Jackson jersey available  for an appearance in the 2009 book release, Bert Sugar's Baseball Hall of Fame (Running Press, 2009). 
 In a statement issued by the institution, Hall of Fame Senior Director of Communications, Brad Horn said, "We are constantly researching and studying our own collections to ensure that the Museum visitor is never misled and that the artifacts on display are precisely what they are stated to be, in exhibit labels and presentation.  It is critically important that we feel confident about the items being presented for the public benefit are authentic."  Horn, however, declined further comment as to why the Jackson jersey is not on display, and also declined comment upon what evidence supports the Museum's claim that the glove currently on display was actually used by Joe Jackson.  Horn also made a point to stress that, "The artifact acquisition process is largely incumbent on the truth of the individual making a donation of an item to the Museum."
 
Cooperstown is also home to the Farmer's Museum, which features the original "Cardiff Giant," a gigantic mass of concrete, sculpted into the form of a man, that became one of the greatest hoaxes of the nineteenth century.  Maybe there's room under the "Cardiff Giant" circus tent for Barry Halper's Shoeless Joe jersey?  Baseball fans have already been duped by the steroid-driven feats of McGwire, Sosa, Bonds and Clemens and now they find a storied relic of the game displayed at its shrine is also fraudulent.  Like P.T. Barnum said:  "There's a sucker born every minute."  And a baseball fan, too.
ADDITIONAL PHOTOS AND DOCUMENTS RELATED TO THE HOF'S ALLEGED JOE JACKSON JERSEY FROM 1919: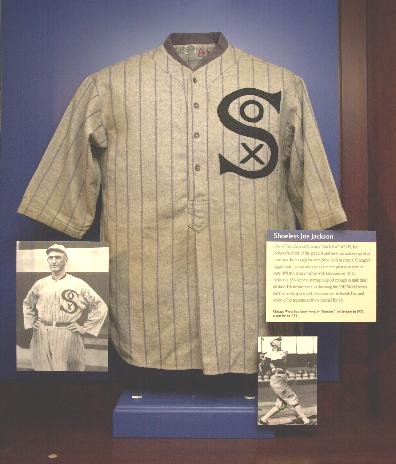 The alleged 1919 Jackson jersey toured the country as part of the HOF's "Baseball as America" traveling exhibition.  This photo shows the garment on display in Milwaukee at Miller Park in July of 2001. (Photo courtesy of Mike Nola and BlackBetsy.com)