By Peter J. Nash
Oct. 28, 2010

The Baseball Hall of Fame's admission earlier this month that the "Shoeless Joe" Jackson jersey in their collection was not authentic sent shock waves through the high-end baseball memorabilia market.  The jersey was originally part of the Barry Halper Collection and, as a result of Cooperstown's findings, many other Halper items in private collections are being re-evaluated.  In an interview this week with Haulsofshame.com, the top uniform evaluator in the country, Dave Grob, has also revealed that Halper's 1951 Mickey Mantle rookie jersey, which was donated to the Hall of Fame in 1998, is likely a forgery.
Back in 1996, baseball collector Barry Halper invited the late sportscaster George Michael to interview him amongst his baseball treasures on display in his home in Livingston, NJ. In one filmed interview segment about Halper's Hall of Famer uniform collection, Michael said to the then Yankee partner, "You know, some people would want to detract from you and say, oh, come on, it can't all be real."
At the time, Halper was holding up what he claimed to be Mickey Mantle's Yankee  jersey from his rookie season in 1951, and Michael pointed to an oversized index card inscribed by the "Mick," stating, "To Barry, This is my Rookie 1951 uniform. I wore No. 6 the first half of the year. Take good care of it." Michael's point was that all Halper's detractors had to do was check the letter of authenticity from Mickey Mantle himself. Although Halper hadn't acquired the jersey from Mantle, the note was good as gold, and made the jersey, which bore the Golden Anniversary patch of the American League, golden too.
Two years later, in 1998, the jersey joined close to 200 other items from Halper's collection in a $7 million transaction that sent the Mantle jersey and the 1919 White Sox jersey of "Shoeless Joe" Jackson to Cooperstown as part of a donation from Major League Baseball. The Jackson and Mantle jerseys were two of the cornerstone items featured in the Barry Halper Gallery as part of the exhibition, "Memories of a Lifetime."
However, at the time of the Halper transaction in 1998, rumors circulated around the high-end baseball collecting community that many of the Yankee limited partner's jerseys were suspected to be forgeries. When Halper sold the rest of his collection in 1999 at Sotheby's, many of those questioned garments never made it into the record-breaking sale, which grossed over $20 million.  Sources also indicate that the Hall of Fame passed on many other jerseys due to their own suspicions.
This past August, Haulsofshame.com released a report stating that Halper's "Shoeless Joe" Jackson jersey was not genuine because it was manufactured by the wrong maker and was pinstriped, when photos from 1919 clearly indicated that the White Sox never wore pinstripes on their road uniforms during that season.
Earlier this month, the Baseball Hall of Fame admitted to the New York Post and the Chicago Sun-Times that the Jackson jersey acquired from Barry Halper was, in fact, a forgery. The Hall of Fame had the fabric analyzed, and testing revealed that the "S-o-x" emblem affixed to the breast included dye not created until the 1940's. It was also determined that the logo was affixed to the jersey with polyester thread introduced to the United States in the 1950s. At the time the Hall of Fame acquired the jersey, Halper stated he'd purchased the jersey from Jackson's widow in the 1950s.  But he had also stated in The Sporting News in 1985 that it was a "recent acquisition" purchased through the mail from other Jackson relatives.
Haulsofshame.com recently viewed never before seen video of Halper's alleged 1951 Mantle rookie jersey and noticed several inconsistencies and problems with the garment. For starters, after a thorough examination of over one hundred photos featuring 1951 New York Yankee players in their road uniforms, not one uniform matched the Mantle jersey from Halper.  In addition, it appeared that the number "6," which Mantle only wore in spring training and in only 45 road games during the 1951 season, was in a different font than numbers used on other 1951 Yankee road uniforms.
So, Haulsofshame.com decided to send the video to the county's top uniform authenticator, Dave Grob, for his insight and opinion related to the authenticity of the relic that made its way to Cooperstown.  Grob evaluates uniforms for authentication outfit MEARS of Milwaukee, Wisconsin.  He's credited with authenticating the actual jersey worn by Roger Maris when he hit his 61st home run, and he's also exposed a wide array of fakes and frauds for auction houses and private collectors.  Many top collectors won't touch a jersey if it hasn't been authenticated by Grob, or a bat if it hasn't been examined by his colleague Troy Kinunnen, who also evaluates for MEARS.
A retired Army Lieutenant Colonel, Grob brings many of the processes and techniques he leveraged as a military intelligence analyst to his work in evaluations.  Things like imagery analysis, use of technology for fiber and structural analysis, and the creation of data bases to track manufacturers and players size in support of trend analysis are just a few things Grob does as a matter of course that others have chosen not to.
Before going any further, please know that Grob has no axe to grind with Cooperstown, as a matter of fact it's quite the opposite.  In 2001 and 2002, Grob volunteered his time to assist a student in the Cooperstown Graduate Program with his thesis titled "Dressing America's Game: A Guide to the History of Making Major League Uniforms". As recently as 2008, he also loaned the Hall his 1950 Billy Southworth Boston Braves road uniform so they would have one for his enshrinement display.
After viewing the video featuring the alleged Mantle jersey Grob stated, "The jersey that Mr. Halper is showing is not consistent with images of Mantle in 1951 in two specific aspects on at least two different jerseys."  Grob described how the Yankees would regularly take possession of their next seasons uniforms during the World Series, and illustrated through photographic evidence how the Yankees wore Spalding uniforms tagged "51″ during the 1950 World Series against the Phillies.  Grob also stated that during the course of the 1951 season the Yankees also had road jerseys provided by Wilson.  Grob remarked, "You will find images of Mantle pictured in spring training in 1951 with a style of jersey that features a spatial alignment of the "NEW YORK" and the button line that's similar to the one Mr. Halper is showing."   However, the same button placement on the Hall of Fame's Mantle jersey could not be found in any known images of Mantle or his teammates in 1951.
But by examining the Halper jersey on video and comparing it to the known examples worn by Mantle and other Yankees in the 1950 World Series and throughout the 1951 season (through September),  Grob also noticed perhaps the most significant problem with the Hall of Fame's supposed treasure.  Said Grob, "The most noticeable difference is in the font style that can best be seen in looking at the letter "O" in "YORK."  Grob's evaluation suggests that the Hall of Fame's Mantle jersey includes lettering in a font that clearly differs from the font on known authentic Spalding uniforms worn by the Yankees.  Grob added, "While the New York Yankees also had road jerseys provided by Wilson in 1951, as well as Spalding, the font style on the Halper jersey is not consistent with Wilson products either."  Grob also presented us with a convincing PowerPoint presentation of his analysis.  Click here for: Dave Grob's Power Point
Grob stressed that his analysis was not just based solely on researching images featuring Mantle in 1951, but also other Yankee players wearing their road uniforms that season.  Grob said, "What I'm looking at and for are manufacturers characteristics which should be consistent for Spalding and Wilson and no matter what player you happen to be dealing with."  In conclusion Grob told us, "In the absence of seeing photographic evidence of this combination of spatial alignment and font style on a 1951 New York Yankees road jersey, I would have to consider the Halper Mantle jersey from the Hall of Fame as suspect."
When asked about our observations related to the font of the number "6″ on the back of the jersey Grob responded, "If the fronts don't match, it really doesn't matter what's on the back.  Even a perfect match of the "6″ wouldn't change the fact that the front is problematic."
Coincidentally, just last week,  the issue of incorrect Yankee uniform fonts surfaced in the 2010 MLB Post-Season and was brought to the attention of the popular UNIWATCH website, operated by uniform aficionado Paul Lukas.  Lukas' astute readers Peter Fahey and Steve Dodell pointed out that Yankee pitcher Dave Robertson entered game 3 of the ALCS sporting an incorrect font for his number "30″ featured on the back of his Majestic road jersey.   Lukas told Haulsofshame.com, "If there's anything to learn from (the Robertson) experience, it's that a number (or other uniform element) can be "wrong" but still be legitimate.  If that Robertson jersey came up for auction, a trained eye would say, 'Wrong font, must be fake!'  But as we know, the wrong font was worn on the field."
That's where Dave Grob's expertise and exhaustive analysis would come into play through photo and video examination.  The UNIWATCH contributors originally pointed out the inconsistency because they had a visual reference on television.  If Grob were to examine this same Robertson jersey years from now, he would no doubt point to the evidence on film and in photos to support his rendered opinion; precisely as he has done with regard to the alleged 1951 Mantle jersey donated to the Hall of Fame.
Haulsofshame.com informed the Baseball Hall of Fame of Dave Grob's findings and suspicions.  Hall of Fame spokesman, Brad Horn, responded via email stating that he was traveling to the World Series in San Francisco and would get back to us.
In a 1988 documentary film featuring his collection, Barry Halper appeared with Mantle at the sluggers NYC resturaunt and Mickey autographed the alleged 1951 road jersey for him.  Halper told Mantle that he'd been given the jersey by legendary Yankee clubhouse manager Pete Sheehy.  Halper told Mantle, "He (Sheehy) knew that I had Babe Ruth's rookie uniform," and after a game at Yankee Stadium Sheehy told Halper, "I put Mickey's away because I knew Mickey was something special."  According to Halper, "Pete took it out of an old bag and held up number "6."
Interestingly enough, Haulsofshame.com has already determined that the Babe Ruth rookie jersey Halper mentioned in his Pete Sheehy story was also a fake.  In 1985, Halper told Bill Madden of The Sporting News that he got that one from the daughter of 1918 Red Sox player George Whiteman. However, the alleged Ruth jersey was made by Spalding, a company that never made Red Sox uniforms in that era.  What's more, author Glenn Stout, who was in charge of tracking down player relatives for a 1918 Red Sox team reunion at Fenway Park in 1993, recently told us, "Whiteman and his wife were long dead, and neither had any children and there were no Whiteman's related that I could find."  Stout did end up finding Whiteman's sister-in-law, who was then 92.  Stout said, "She did tell me that she once had a trunk of some of Whitey's uniforms, but the notion that Whiteman, who only played on the Red Sox in 1918 would have somehow been given Ruth's rookie jersey is laughable."
Barry Halper told some tall tales related to the provenance of many of his most prized possessions.  He said he got Joe Jackson's jersey from "Shoeless Joe's" widow at her house in Greenville, S.C., but unless Katie Jackson was forging memorabilia at the time, the results of the Hall of Fame's testing suggests otherwise.  Halper once placed a million dollar price tag on his alleged 1914 Ruth rookie jersey and uniform expert Troy Kinnunen of MEARS recently stated that Halper's Joe Jackson jersey might have fetched over $3 million at auction, if it were authentic.  The value of an authentic Mickey Mantle rookie jersey would likely approach a million dollars, as well.
Was Halper's Pete Sheehy acquisition story told to Mickey Mantle yet another fraud?   When asked how much provenance figures into the analysis of game-used baseball memorabilia, Dave Grob summed it up like this: "No matter what the provenance or source, at the end of the day, any item is what it is and it must be able to stand on its own merits.  No story or individual can make something into what it is not."
Considering that the provenance of Halper's fake 1919 Joe Jackson Jersey was apparently fabricated, what further due diligence has the Hall of Fame conducted in regard to to the suspect Mantle rookie jersey?  Have they subjected it to chemical analysis as they did with the Jackson?  Have they done their own photographic research and come to the same conclusions as Dave Grob?  Only the Hall of Fame can provide those answers.
From Relic to Replica
This story could have easily ended here focusing on the unanswered, lingering questions for the Hall of Fame but, by chance, we made a late and startling discovery:   The Mickey Mantle rookie jersey somehow appeared to have left Cooperstown.  At the time of the MLB donation in 1998 through 1999, the jersey was featured in the USA Today, the New York Daily News, official Hall of Fame brochures and even in an MLB/HOF press release as a cornerstone item in the Halper Collection acquisition.  But paging through Robert Edward Auctions' 2007 catalogue we saw that it was actually sold as part of Lot 1052 in a sale featuring consignments from Barry Halper's widow.  The Hall of Fame's donated jersey appeared as a "Mickey Mantle Signed Replica Jersey" and sold along with another signed "replica" for $5,287.
We showed Dave Grob our discovery of the auction listing in the Robert Edward Auctions catalogue from 2007, and he concurred with our observation.  It was the same jersey that appeared in the national press; The same jersey that Halper presented to Mantle on film at his restuarant in 1988; and the same jersey he showed off to sportscaster George Michael at his home on video in 1996.  And somehow, it ended up in Halper's post-mortem sale conducted by Rob Lifson, a Halper associate and Halper's hand-picked head consultant for the record breaking 1999 Halper auction at Sotheby's.
One of the most celebrated items in the Halper Collection, accompanied at one time with an index card featuring Mantle's own authentication, was described by REA (along with a Kansas City signed Mantle jersey) as "unique replica jerseys created with vintage materials in order to commemorate Mickey Mantle's 1951 rookie season."  REA stated the jersey was "created using vintage flannel jerseys from the period as a foundation, thus giving them the true look and feel of 1950s style jerseys.  The lettering, numerals and stitching in the collar too were carefully applied to mimic those used on actual Yankee jerseys." 
When we contacted Robert Edward Auctions (REA) to ask what the basis was for their auction lot description, their attorney, Barry Kozyra, responded on behalf of the company stating, "The materials were old.  It was a replica jersey. It was described as a replica jersey."
When we asked Dave Grob what he thought of the REA description of the jersey as a replica, he stated there was a better term to describe it, "A forgery."  "How," Grob asked, "could REA oversee the sale of Halper's collection in 1999, a collection they had to have known included the 1951 Mantle rookie jersey, and then in 2007 list it as a "replica" and not a forgery?"
REA's attorney also stated, on behalf of the company, that they were not aware that the Mantle jersey they sold was the one included in the 1998 MLB purchase of Halper's Items.  Furthermore, when we asked if REA had knowledge that the Mantle jersey they sold had been returned to Halper or his family, REA responded, "No."
 REA also employs Halper's long-time personal assistant and archivist Tom D'Alonzo.  D'Alonzo was responsible for cataloguing Halper's collection item by item for a 1995 appraisal at Christies and for the 1999 Sotheby's sale, along with his REA boss, Rob Lifson.  For the 2007 REA auction Lifson and D'Alonzo were responsible for writing the catalogue descriptions for the Halper post-mortem lots, including the once-celebrated Mantle rookie jersey. (They also wrote up the "replica jersey" sold along with the '51 "commemorative" in Lot 1052; It was once attributed on film in the documentary about Halper's Collection (available on DVD from Genius Entertainment as The Ultimate Baseball Collector's Collection) as Mantle's actual "minor league" jersey worn when he was sent down to Kansas City in 1951.)  It is well known within hobby circles that Lifson and D'Alonzo had advanced knowledge of the Halper holdings.   
In an August 30, 1996, article in The New York Times, reporter Evelyn Nieves documented how close D'Alonzo actually was to the Halper Collection.  She wrote,  "(Halper's) assistant, Tom D'Alonzo, spends his day at a computer terminal, cataloguing each piece in preperation for a sale, any sale.  So far, this has taken nearly four years.  The collection has more that 100,000 pieces…including personal papers (like Mickey Mantle's first minor league check, for $36.94.)"  In 1999, Sotheby's even noted that D'Alonzo's "knowledge of the collection has been essential in producing (their) catalogue." 
After examining the 2007 REA auction lot and its accompanying photo of the Mantle jersey, Dave Grob expanded on his earlier opinion.  "I would now have to consider the Halper Mantle jersey as highly suspect in the extreme."  Grob is troubled by the alleged journey of the jersey from Pete Sheehy to Barry Halper and then from the Hall of Fame to a New Jersey auction house.  He calls it a " journey from relic to replica."  Said Grob, "At some point in time after Halper sold that jersey to MLB for a donation to the Hall of Fame and the offering by REA at auction in 2007, someone must have determined the jersey was not actually a Mantle rookie road jersey from 1951."
Was it the Hall of Fame?  And why didn't they reveal this problem in light of the recent Joe Jackson jersey controversy?  When we contacted the  Hall of Fame to ask if they had returned the Mantle jersey to Halper or his family, spokesperson Brad Horn replied from San Francisco, "Cannot comment."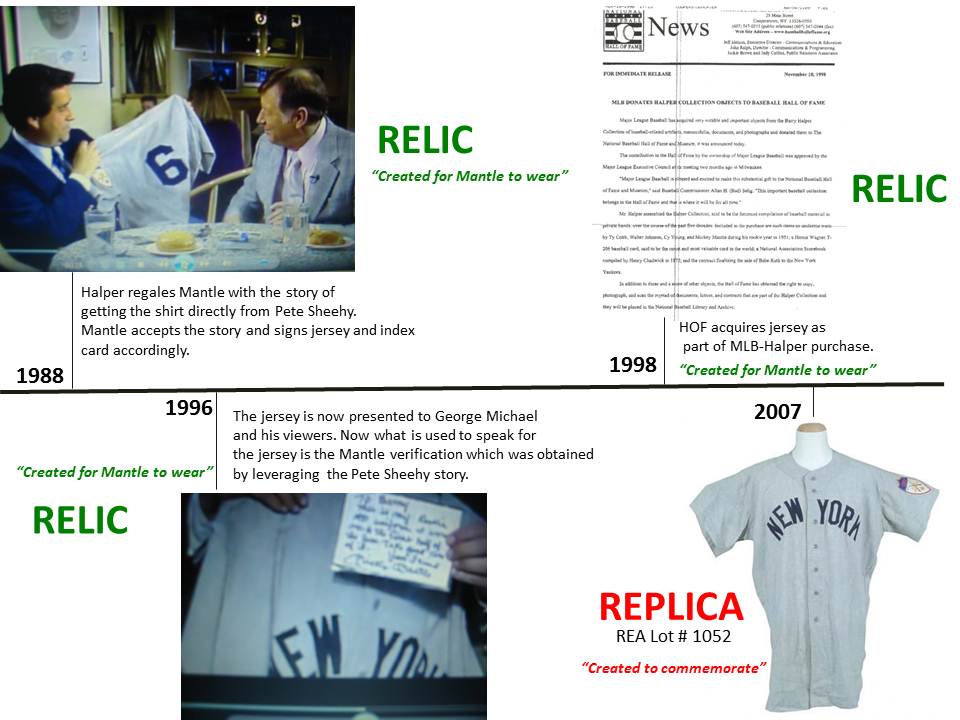 Along the timeline, it appears that Barry Halper presented Mickey Mantle, the Baseball Hall of Fame and MLB with what Grob clearly sees as a forgery.  Halper started off with his Pete Sheehy story to sell it to Mantle and as Grob states, "Halper traded up to the Mantle authentication on an index card."  By the time Halper was interviewed by George Michael in 1996, the Sheehy story had disappeared, replaced by Mantle's more convincing endorsement in writing .
REA President Rob Lifson described the Barry Halper items in his 2007 sale as the "treasures that Barry Halper kept for himself."  Dave Grob disagrees stating, "The 1951 Mantle rookie jersey was not something Halper kept for himself, he sold it to MLB for a donation to the Hall of Fame.  It was also never considered to be a commemorative item of Mantle's rookie season.  Did REA knowingly sell a forgery as something they should have had full knowledge was not what they led the bidding public to think it was?"
When asked if they knew if their "replica" jersey  was once held out by Halper as Mantle's original jersey and accompanied by a signed letter of authenticity from Mantle himself, REA responded through their attorney, "REA does not know if this is the same jersey.  There was no letter from Mickey Mantle with the jersey that with which REA was involved." 
Dave Grob regards the whole sordid Mantle episode as a cautionary tale for collectors and institutions alike.  Grob's advice to those who will investigate this situation further is this:  "I would recommend asking those who likely have knowledge of this sad journey from relic to replica these three questions:
What did you know or suspect?
When did you know or suspect it?
What did you do about it?"
Answers to Dave Grob's questions will, no doubt, tell us how this "1951 Rookie"  went "from relic to replica." 
Additional Documents Related to the HOF and the Halper Mantle Rookie Jersey:
(Editors Note:  The writer of this article was involved in a litigation with Robert Edward Auctions in which a stipulation of settlement was rendered and a judgement entered in the favor of REA in 2009.  That judgement has been partially satisfied.)