By Peter J. Nash
Jan. 31, 2011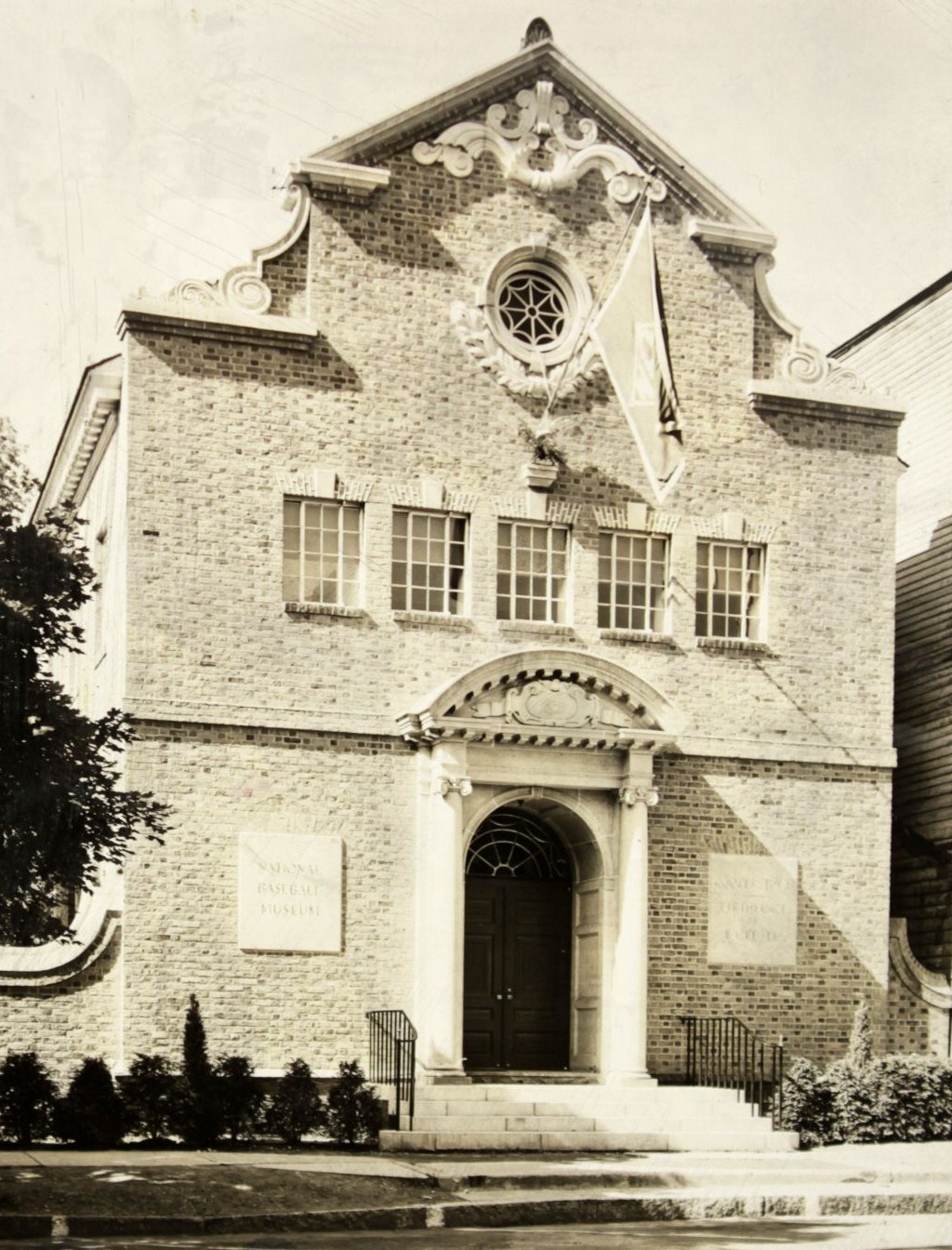 The Baseball Hall of Fame
The thefts occurred back in the mid-to-late 1980s, but the sale of documents stolen from the Baseball Hall of Fame's famous August "Garry" Herrmann Papers collection sadly continues today. In late December, Clean Sweep Auctions, of Carle Place, Long Island, posted a 1924 letter addressed to Cincinnati Reds owner August Herrmann on its website as part of their February sale of baseball collectibles. It's been posted on the site since December and currently has a bid of $165. The letter was written by St. Louis Cardinals owner and president, Sam Breadon, who was asking Herrmann about a scheduling conflict for the 1924 National League season.  Breadon owned the Cardinals from 1917 to 1947 and was one of ten finalists nominated for induction to the Hall of Fame in 2010 by the Veterans Committee for executives and pioneers. 
Last year, several similar documents signed by baseball notables, suspected to have originated from the Hall of Fame's collection, were offered for sale at Heritage Auction Galleries and Robert Edward Auctions. All of the documents were removed from those sales when auctioneers were informed that their auction lots were suspected to have been stolen from Cooperstown.
In addition, reports in 2010 by Haulsofshame.com positively identified several rare photographs also stolen from the National Baseball Library.  One photo, a rare cabinet card of Hall of Famer Mickey Welch was removed from Robert Edward Auctions' 2010 sale and two other photographs of Christy Mathewson and Jake Beckley were sold previously by MastroNet.  The stolen photograph of Christy Mathewson sold for over $12,000 at auction in 2008.
Haulsofshame.com sent Clean Sweep's president, Steve Verkman, documents illustrating the likelihood that his offered lot originated from the Hall of Fame files, as well as additional information showing that his auction house had previously sold other letters stolen from the Herrmann Papers archive.  In 2009, Verkman sold two letters written to Herrmann from Boston Braves owner Emil Fuchs and National League President John Heydler.  While the letters offered by Clean Sweep are only worth a few hundred dollars, other documents removed from Cooperstown have commanded sales prices in excess of $10,000.  Sources indicate that  Herrmann letters featuring ultra-rare signatures of Hall of Famers like John M. Ward and James O'Rourke have sold on the black market for even more.
The Herrmann archive was donated to the Hall of Fame in 1960 by Cincinnati Reds owner Powel Crosley Jr. and includes over 45,000 documents related to the operations of the Cincinnati Reds and Baseball's ruling body, the National Commission.  The majority of the documents are letters addressed to Herrmann and span from the years 1902 to 1928 during his career as Reds owner and Chairman of the National Commission.  In 2005, the Herrmann archive was conserved and catalogued by the Hall of Fame and it appears that the Breadon letter for sale was part of a larger group of correspondence to Herrmann from the St. Louis team.  The Hall of Fame's Herrmann Papers guide shows that "Box 51, Folder 5″ includes all of the correspondence between Breadon and Herrmann between 1920 and 1926.  We requested a copy of this entire file when we contacted Hall of Fame spokesperson Brad Horn on January 7th, but we were informed that Horn was on vacation until January 24th.  In his absence, head librarian Jim Gates responded on behalf of Horn, stating that while he could not comment on the issue,  he would furnish us with a copy of that file.  That request, however, was still not fulfilled by the time this article was published.
Clean Sweep Auctions president, Steve Verkman, told us, "Clean Sweep Auctions is still researching this situation and has not been able to contact our consignor as they have been travelling extensively this month."  Haulsofshame.com first informed Verkman and Clean Sweep of the situation on December 30, 2010.
We also informed the Hall of Fame on December 30th about the sale of the Herrmann letter at auction.  Sources indicate that the Hall of Fame has not contacted the auction house in regard to the Breadon letter or inquired about the Herrmann letters they sold in 2009.  When we asked Verkman to go on the record about any contact he had with the Hall of Fame, he declined to comment.  Records from the Hall of Fame also show that Clean Sweep sold a letter sent to Herrmann by Boston Braves president Emil Fuchs, which originated from a group of letters found in "Box 47, Folder 3″ of the Herrmann Papers archive. 
The Hall of Fame's reluctance to acknowledge the thefts and their apparent refusal to actively pursue recovery of the items that were placed in trust and donated to the institution, is creating a dilemma for auctioneers like Verkman of Clean Sweep and others.  These documents have been sold at auction and on the black market for years, but the Hall of Fame has done nothing.  Until, the reporting of Haulsofshame.com exposed how severe the problem was in published reports last year, the issue never garnered much attention.  A detailed report submitted to the Hall of Fame by this writer in 2009 shows that at least $1 million in documents and photographs have been wrongfully removed from the Hall of Fame collection.
The person who originally uncovered the Hall of Fame thefts was New York auctioneer Josh Evans.  Back in 1988, Evans purchased an autographed photo of Babe Ruth from dealer and authenticator Mike Gutierrez, only to find that the reverse of the photo featured the Baseball Hall of Fame's library accession number covered with wite-out.  At the time, Evans reported and returned  the stolen item to head librarian Tom Heitz, but says, "from there it went nowhere."  When we asked Evans why he thought the Hall of Fame has not actively pursued recovery of their items he replied, "They won't unless they have to.  They don't want their incompetence shown.  That was always the reason."
The only public statements the Hall of Fame has made since news of the thefts were made public has been in regard to another problem on their hands involving the acquisition and display of non-genuine artifacts originating from the Barry Halper Collection.  This past October the Hall admitted to the New York Post that an alleged "Shoeless Joe" Jackson jersey in their collection was not authentic.  The jersey was one of the premier items included in a $7 million deal Halper cut with the Hall of Fame, thanks to funds supplied by MLB.  The Hall of Fame has also declined comment on several other fake items they accepted from Halper, including Mickey Mantle's alleged 1951 rookie jersey and "Shoeless Joe" Jackson's "Black Betsy" bat.  Halper's collection also featured many stolen Hall of Fame letters also addressed to August Herrmann by notables like Christy Mathewson, Miller Huggins and Hughie Jennings. 
Hall of Fame spokesman, Brad Horn, failed to respond to phone and email inquiries regarding the Clean Sweep sale of the Breadon letter addressed to Herrmann.  The Hall of Fame has also failed to respond to several inquiries as to whether they have recovered any of the other Herrmann documents removed from auctions in 2010.
We also contacted the New York State Attorney General's office dedicated to Charities and Public Trusts to inquire what responsibilities an institution like the Hall of Fame has when they are made aware that items from their collection have been stolen and sold.  As of the date of the publication of this article, we were unable to confirm what those responsibilities are.
The National Baseball Hall of Fame and Museum is a 501 (c) 3, independent, non-profit, educational institution.  All of the artifacts in the Museum's collections are the product of generous donations made by players, executives and baseball fans alike.  The donated materials are not owned by the Baseball Hall of Fame, rather they have been placed in a public trust and owned by the people of the State of New York.
To date, the Albany, New York, office of the Federal Bureau of Investigation, through their spokesperson, Special Agent Paul M. Holstein, has also declined to either confirm or deny that there is an open investigation into the Baseball Hall of Fame thefts.  Sources indicate they are doubtful that any such investigation has commenced.
One prominent autograph collector we interviewed about the sales of Herrmann-related documents responded to us bluntly.  He said, "I can't see how anyone could sell or buy a Herrmann letter at this point with the information about the thefts out there.  My advice to fellow collectors is proceed with extreme caution when it comes to Herrmann letters." 
Ironically, the Clean Sweep auction description of the purloined Sam Breadon letter sums it up best.  It states:  "Almost a HOF(er) on the last go round, this will be very pricey if this occurs."  Of course, the auction house is alluding to Breadon's possible induction into the Hall of Fame.  The letter that is currently priced at a meager $165 might skyrocket into the thousands if Breadon is ever inducted.  Regardless of his induction, one thing's for sure: The 1924 letter from Sam Breadon to Garry Herrmann deserves to be back in Cooperstown, even if the man who wrote it may never make the cut.
The Sam Breadon letter is currently slated for sale in the Internet-only auction on February 2nd.  It has only recieved two bids, so far: 
http://www.csauctions.com/item.cgi?show_item=0000310678
(UPDATE:  The Sam Breadon letter to August Herrmann sold in the Feb. 2nd Clean Sweep auction for a final bid of $360.  Haulsofshame.com will publish a follow-up article on this sale in our continuing coverage of the thefts from the Baseball Hall of Fame.)