Jan. 16, 2012

As "Operation Bambino" continues into 2012, readers have been alerting us about scores of other suspect autographed items certified as authentic by the "third-party" authenticators, PSA/DNA and JSA (James Spence Authentication). The revelations in the first three installments of Operation Bambino have stirred up quite a bit of controversy in the hobby as the accuracy of authentications of the high-end Babe Ruth single-signed balls are being seriously challenged by experienced collectors and dealers.
While Babe Ruth's signature is considered the crown-jewel of the autograph industry, signed items from the 1939 Baseball Hall of Fame Induction Ceremonies in Cooperstown are also held in high regard by collectors and command top-dollar .  However, based upon some recent sales of Induction autographs at auction, it may be necessary to follow up the Ruth investigation with a seperate "Operation Induction" probe.
The results of our cursory review of several items was, to say the least, shocking.
This signed 1939 Hall of Fame Induction Program was sold at Heritage Auction Galleries in Dallas, Texas, last summer for over $41,000.  Its alleged to be signed by all-time greats, Ruth, Ty Cobb, Cy Young, Walter Johnson, George Sisler, Nap Lajoie, Grover Cleveland Alexander, Honus Wagner and others attending the ceremonies.  But it wasn't.  The program features the work of a skilled forger who, unfortunately, had a hard time spelling Hall of Famer Nap Lajoie's nickname "Larry" correctly.  He penned the Frenchman's name with three "r's". Here's his work:
We asked some experts and dealers for their off the record opinions on the authenticity of the signatures on this program and all of them concurred with our conclusion.  While some may still argue these signatures are genuine, as a result of the high quality of their execution, others were not fooled and noticed the tell-tale signs of forgery. 
One of the first signatures we noticed as problematic was Cy Young's (Top).  Illustrated below the alleged Young signature on the Heritage item is an authentic Young signature signed on Induction Day in 1939 for a Cooperstown native.  The contrast between the signatures is drastic and the forgery lacks any true resemblance to Young's own signature signed in Cooperstown in 1939.
The next to show signs of forgery was the Larry Lajoie signature (top) which, while well executed, includes three "r's" in "Larry."  The exemplar that appears below that signature is an authentic autograph of Lajoie also signed for a Cooperstown resident in 1939. On it's own, with only two "r's", this forged signature would fool most everyone.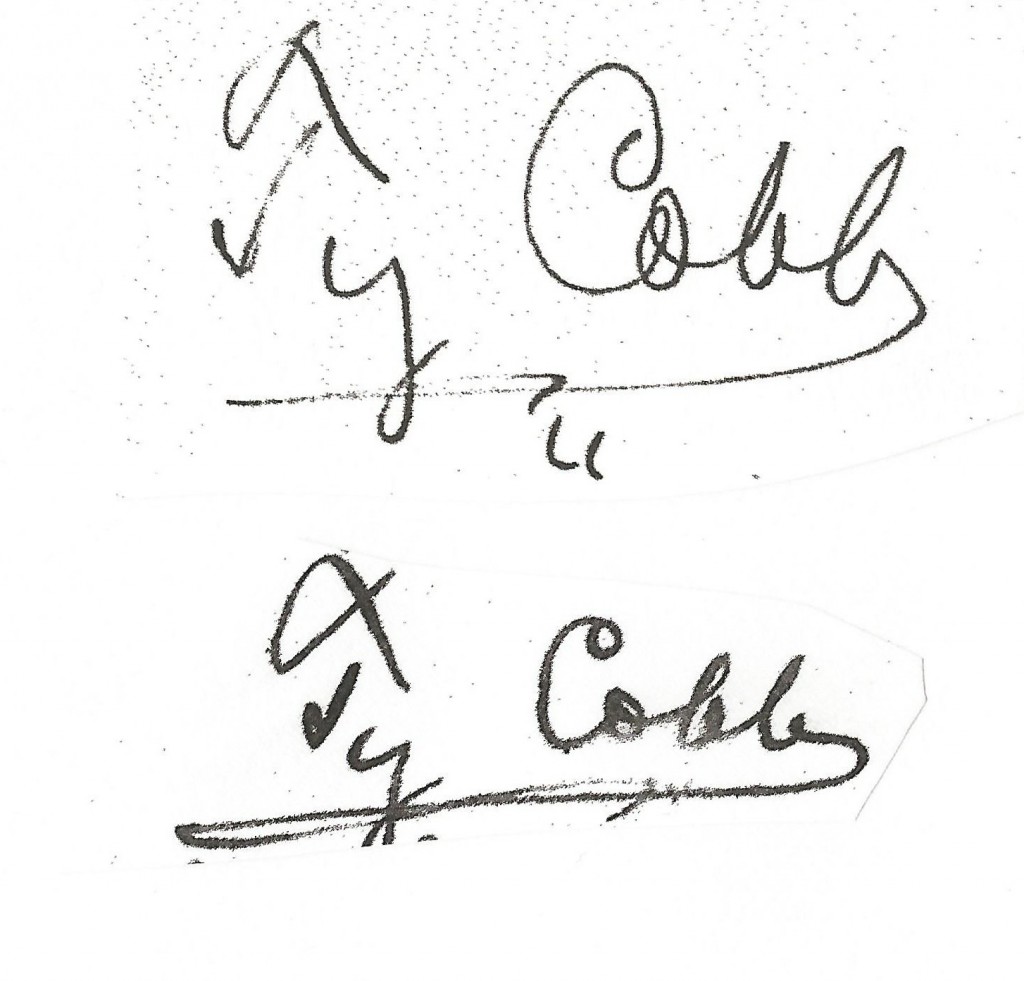 The Ty Cobb signature at the top of the Heritage Induction Day Program shows considerable contrast with other authentic Cobb signatures actually signed by the "Georgia Peach" in Cooperstown in 1939.  The example at the bottom is considered authentic and appears on a 1939 Induction First Day Cover.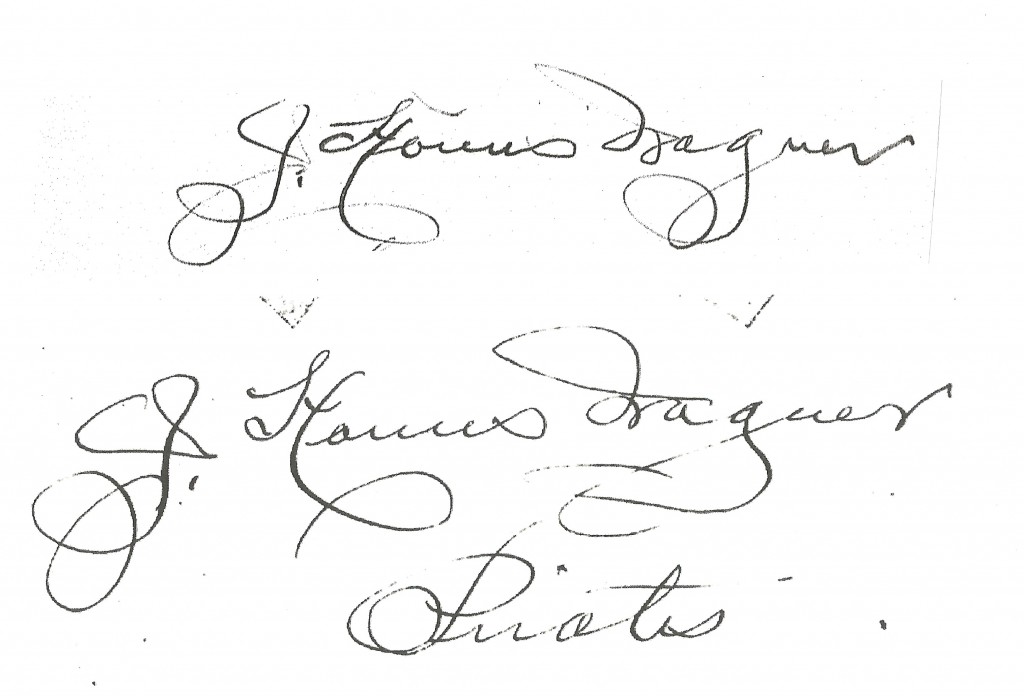 The Honus Wagner signature appearing on Heritage's auction lot is, perhaps the best forgery of the bunch, closely mimicking the "Flying Dutchman's" elaborate signature with fancy flourishes.  In our opinion, close, but no cigar, when compared to another authentic example signed for a Cooperstown resident in person during the 1939 festivities in Cooperstown.  The forgery shows signs of hesitation and an appearance of being drawn and lacks the natural flow of Wagner's handwriting. 
The alleged Babe Ruth signature appearing on the 1939 program is also well executed.  The authentic Ruth signature that appears on the bottom was signed by Ruth on a First Day Cover signed in June, 1939.
Here are some additional 1939 HOF Induction items certified as authentic by James Spence and PSA/DNA.  It is our opinion that they are all forgeries: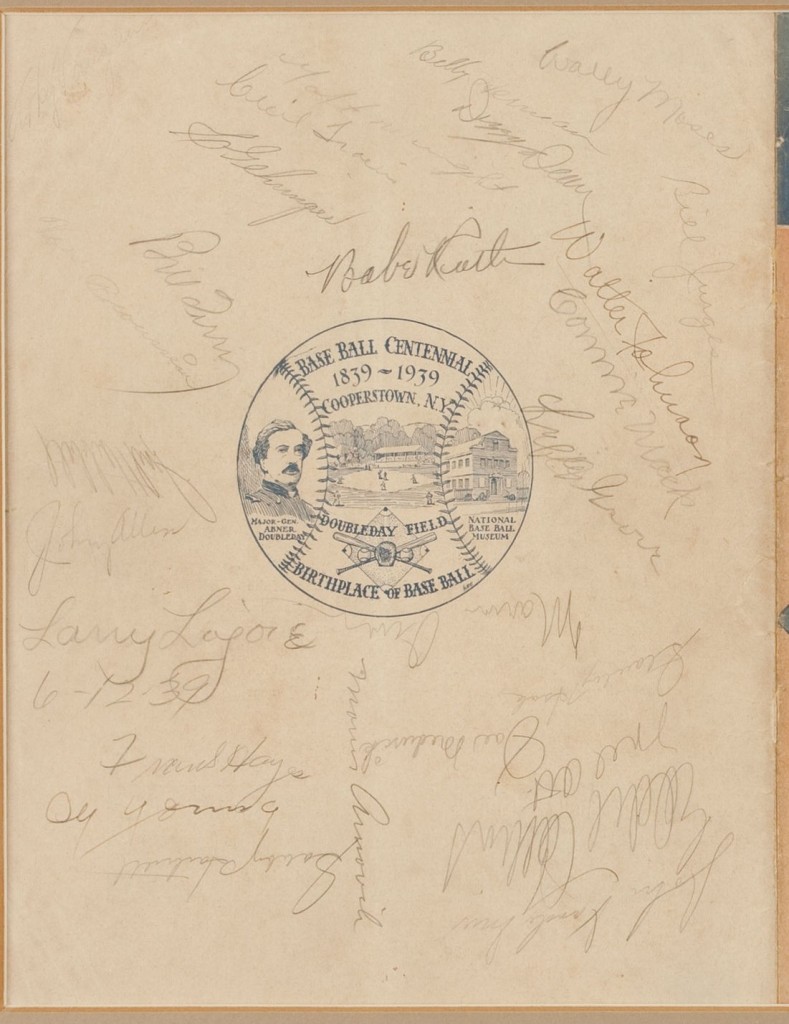 Another 1939 Induction program with alleged signatures of inductees and others.  This item appeared in Heritage's November, 2011 auction but failed to sell.  Heritage offered the item with a "Full PSA/DNA LOA"  and  "an Auction LOA from James Spence Authentication."   The item is, however,  riddled with unimpressive forgeries.  We took note of one forgery in particular of Cy Young.  It's our "considered opinion" this forgery is a dead-ringer for the Young forgery executed on the $41,000 program.  One would expect to see something like this item in a Coaches Corner Auction.
This 1939 Induction First Day Cover that also sold at Heritage features an authentic signature of US Postmaster General, James Farley, and a forged autograph of Honus Wagner accompanied with LOAs from JSA and PSA/DNA.
This 1939 Induction First Day Cover sold at Heritage and features a forged Larry Lajoie signature with an LOA from Steve Grad andZach Rullo of PSA/DNA.
This 1939 Induction First Day Cover features a forged Cy Young signature. It sold for over $5,000 at Heritage with LOAs from JSA and PSA/DNA.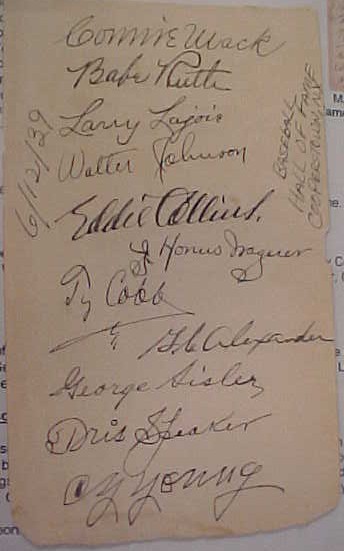 For comparison, here is an Induction Day forgery sold by Coaches Corner with a Christopher Morales LOA.  In our opinion, this forgery, certified by Morales, features better signature examples of Cobb, Alexander and Walter Johnson when compared to the 1939 program that sold at Heritage for over $41,000.  In contrast, the Coaches Corner forgery sold for about $900 bucks.
Not sold on our contention that these are all forgeries authenticated by PSA and JSA?  Stay tuned for our next installment of "Operation Induction" and we guarantee you'll never look at a PSA or JSA LOA the same way ever again.
(UPDATE:  HERITAGE OFFERING BOGUS 1939 INDUCTION PROGRAM INCLUDED IN THIS ARTICLE:  Despite this article's claim that an alleged 1939 HOF induction program is a forgery that was first offered (and did not sell) in Heritage Auction's 2011 Summer Auction, Heritage is again offering the same item in their upconing April auction as indicated on their current auction preview page.  The program is being offered as: 1939 Hall of Fame Induction Program pages Signed by Most Honorees.  The program, as the lot description states, comes with, "Full LOA from PSA/DNA. Auction LOA from James Spence Authentication."  The program features forgeries so poorly executed one would expect to find it accompanied by an LOA from FDE's like Christopher Morales or Donald Frangiapani.  As evidenced in this current article, even a forgery included in a Coaches Corner auction appears to have better execution than this Heritage offering.)
 (UPDATE 2:  Heritage Auction Galleries did not respond to interview requests by Hauls of Shame in regard to the forgeries they are currently offering on their auction website and the $41,000 program they sold this past summer.)