By Peter J. Nash
May 4, 2012
Collector Seth Swirsky is selling his collection of historic baseballs today, including the infamous "Buckner Ball" from the 1986 World Series. The provenance of the ball that rolled through Bill Buckner's legs is rock-solid and well-documented by statements from all parties involved in its acquisition. It was one of dozens of official World Series balls issued by Major League Baseball and used in Game 6 at Shea Stadium. These specially made World Series balls used in post season play were introduced by MLB in 1978 for the 75th anniversary of the Fall Classic.`
Pre-1978, World Series games were played with official balls from both the National and American leagues dating back to the first Series in 1903. One of Swirsky's other balls being sold as lot #80950 in Heritage Auction Galleries' Spring sale is also alleged to be a historic baseball and described as: 1947 World Series Game Four Last Baseball-Bevens Loses One Hitter! The ball is said to have been hit by "Cookie" Lavagetto off of Yankee pitcher Bill Bevens to break up his Game 4 no-hitter. But the provenance on this ball is far from air-tight coming with a 2003 letter of authenticity from Barry Halper claiming he acquired the ball directly from Bill Bevens, and another 2003 letter addressed to Halper from Yogi Berra who wrote, "After we lost, I gave him (Bevens) that ball." Berra appears to have been only referring to the ball thrown to the plate by Tommy Henrich on that day in 1947, not specifically the ball that Halper once owned. Yogi says he gave the last ball in play to Bevens as a souvenir of the game, because "he deserved the ball." In regard to the ball, Halper, in his letter to Seth Swirsky, wrote, "Yogi was really instrumental in connecting the dots."
Heritage states in the lot description that the ball is an "Official AL Harridge" baseball. However, Game 4 of the 1947 World Series was played at Ebbets Field and per long-standing baseball traditions, a National League Ford Frick ball would have been furnished by the home club for use during Bevens' almost-no-hitter.
So, how could this AL ball be the one that was crushed by Cookie Lavagetto on that fateful day in 1947?
The sphere is a vintage c.1947 American League Harridge ball and the inscription "World Series 1947″ appears to be written on the side panel as a period notation. However, it is alleged in the LOA from Barry Halper, provided with the item, that Bevens allegedly signed and added the "Oct. 3 Last ball hit" years later after Halper allegedly purchased the ball and jersey Bevens allegedly wore during Game 4 of the WS in 1947 (and also his 1947 WS ring). The "Last ball hit" inscription is clearly not period and also does not resemble Bevens' handwriting. The ink even appears to be different and another color. Halper in his LOA describes how the ball was allegedly signed for ex-player Pete Ward, and not Halper himself, even though Halper claimed to have purchased the ball and Bevens' Yankee jersey directly from Bevens. Halper wrote:
"Many years ago I acquired from Bill Bevens (author of that near no hitter in the 1947 World Series) the uniform which he wore that day, his 1947 World Series ring as well as the ball from that last at bat which was a hit by Cookie Lavagetto. Years later, I had the opportunity to meet the former 3rd baseman, Pete Ward, for the Chicago White Sox and the Yankees who lived near Mr. Bevens. As a special favor to me, Pete Ward said that he would ask Mr. Bevens to sign the items…"
It is clearly visible that the three surviving notations on the ball are written in three different inks with three different pens. Adding to the confusion, Heritage, in their lot description, also reveals that, "Other earlier signatures have been professionally removed."
Before we further examine the ball itself, we should note that Halper's jersey, which sold at Sotheby's in 1999 for $8,000 was also NOT Bevens' jersey from the day he almost pitched a no-hitter. It is clearly shown in photographs taken on Oct. 3, 1947, that the button placement on Bevens' jersey does not match that of the Halper jersey. Considering the numerous authenticity problems with Halper's uniform holdings and the documented fraud involved in his issuing multiple and false provenance statements for other items (including a million-dollar "Shoeless" Joe Jackson jersey that was determined to be a fake after he sold it to the Baseball Hall of Fame), considerable doubt has been cast on on the legitimacy of the Bevens ball.
Uniform expert and historian, Dave Grob, also confirmed for us that the jersey Halper sold at Sotheby's as Bevens' 1947 Yankee road jersey was misrepresented as evidenced by the button placement. (REA sold the same jersey again in 2001 for $4,591 and Mastro sold it years later in 2006 for $3,361.) When REA offered the jersey in 2001 they described it as Bill Bevens' 1947 World Series uniform and highlighted a letter of authenticity from Bevens, himself, stating that he wore the same jersey in game 4 at Ebbets Field. (The Bevens letter was also sold with the jersey at Sotheby's in 1999.) But as Dave Grob illustrates in a photographic plate, the Halper jersey was most definitely not the genuine article it was advertised to be by Bill Bevens and the three auctioneers: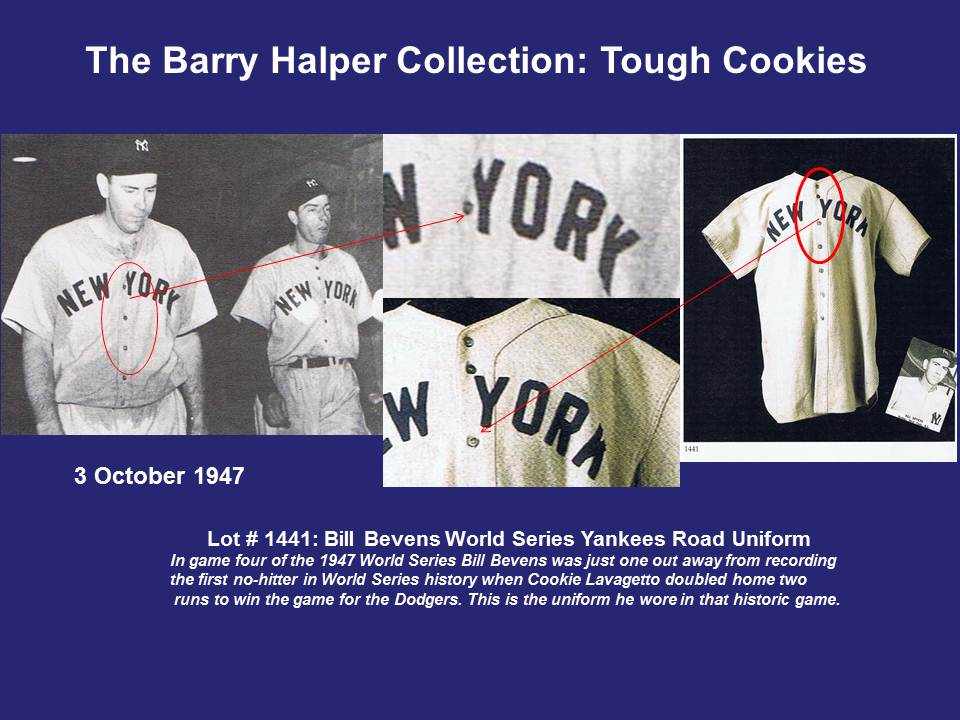 The alleged Bevens ball being offered by Heritage was also previously sold at auction. It was first offered by Lelands in May of 2002 as lot 1231 but did not sell with a reserve of $10,000. In December of 2002, Lelands auctioned it off again as Lot 769, where it sold this time for $6,111.88. Unlike the alleged 1947 jersey that sold at Sotheby's in 1999, the ball was not accompanied with an LOA from Bevens. Lelands only stated that the ball was accompanied by an "LOA. Ex-Barry Halper Collection." The Berra and Halper letters accompanying the current Heritage lot were written after the Lelands auction in January and March of 2003. Lelands didn't mention the fact that Bevens' alleged signature graced an official AL ball.
Our research has found that verifiable and important game-used World Series baseballs from the post-1920 period feature the league markings of the team that was hosting the World Series game.
In 1920, Baseball, added this language to the rules of the game:
"Ball -The President of the League of which the contesting clubs are members shall specify the number of baseballs which the home club must deliver to the umpire prior to the hour set for the commencement of a championship game, and all of such baseballs shall be of the regulation make adopted by the league."
The evidence suggests that these rules were also used for the World Series, and there were no specific modifications made for post-season  play. David Nemec, historian and author of  The Rules of Baseball told us that since 1903 both leagues played by these same rules and that he had no knowledge of any such modifications. Nemec said, "Post-1920, I know of no formal rules issued that would have differed from the rule book both leagues then utilized."
It is important to note that after the beaning death of Ray Chapman in 1920, Baseball instituted new policy regarding the number of baseballs furnished by the home club as a safety measure for players. No longer would dark and dirty baseballs be allowed to be pitched to batters who had considerable trouble seeing them. When balls were soiled, they were replaced with fresh ones. Before 1920 only a few balls were used per game and the NL and AL rules stated as early as 1904:
"Ball- Two regulation balls of the make adopted by the league of which the contesting clubs are members shall be delivered by the home club to the umpire at or before the hour for the commencement of a championship game."
Here are some historic baseballs with strong provenance that support the contention that the home club would furnish all of the baseballs for World Series games:
1977 World Series- Reggie Jackson's 3rd HR ball from Yankee Stadium game, all Official AL balls (This ball is also in Heritage's current auction).
1975 World Series- Carlton Fisk's Game 6 HR ball at Fenway Park, Official AL ball (Sold at Lelands)
1969 World Series- Cleon Jones' "Shoe Polish Ball" from Game 5 at Shea Stadium, Official NL ball.(Sold by Lelands, acquired originally from Jones)
1968 World Series-
Bob Gibson's Game One Victory ball at Busch Stadium, Official NL ball. (Sold at MastroNet by Bob Gibson)
1967 World Series-
Bob Gibson's Game One Victory Game Ball at Fenwas Park, Official AL ball (Sold at MastroNet by Bob Gibson)
1967 World Series-
Bob Gibson's Game Four Victory Game Ball at Busch Stadium, Official NL ball (Sold at MastroNet by Bob Gibson)
1967 World Series-
Bob Gibson's Game Seven Victory Game Ball at Fenway Park, Official AL ball (Sold at MastroNet by Bob Gibson)
1964 World Series-
Bob Gibson's Game Five Last Out Victory Ball at Yankee Stadium, Official AL ball. (Sold at MastroNet by Bob Gibson)
1963 World Series-
Mickey Mantle's 15th WS Home Run Ball at Dodger Stedium, Official NL ball. (Sold at Superior Galleries in 1993, alleged to have been caught by fan James J. Cullen, w/supporting LA Times article)
1962 World Series-
Last Out Ball Game Seven, at Candelstick Park, Official NL ball.  (Baseball Hall of Fame Collection)
1961 World Series- First Pitch Baseballs (2) Thrown by Dummy Hoy and Bill Mckechnie, Game One at Crosley Field, Official NL balls. (Sold at Lelands in 2003)
1959 World Series-
Ted Kluszewski's "Game Five Last Out Baseball" at Memorial Coliseum, Los Angeles, Official NL ball (Sold by Lelands from Ted Kluszewski Collection)
1956 World Series-
Don Larsen's Perfect Game last out ball at Yankee Stadium, markings are not clear but appears to be Official AL ball.
1956 World Series-
Don Larsen's Perfect Game, game used ball at Yankee Stadium, Official AL ball. (Consigned to Christie's in 1994 by NY Daily Mirror sportswriter Lawrence Lewin).
1953 World Series-
Carl Erskine's "11 Strike-Out Game 3 Ball," at Ebbets Field, Official NL ball. (Museum of NYC Exhibition, loan from State Senator Edward Ford).
1951 World Series-
Joe DiMaggio Home Run Ball, Game 4 at Polo Grounds, NY. Official NL ball. (Sold at Hunt Auctions in 2006, consigned by family of fan who caught ball w/documentation)
1945 World Series-
Roy Hughes "Last Baseball Used in WS" Game Seven at Wrigley Field, Official NL ball (Sold at Lelands in 2002 "Obtained from Roy Hughes." Also
being sold
in Heritage's current auction)
1940 World Series-
Bucky Walters' Game Six ball at Cincinnati, Official NL ball (sold at Hunt Auctions by the Walters family)
1939 World Series-
Frank Crosetti's Game Four "Final Put-Out Ball (Last Out of Series)" at Cincinnati, Official NL ball (Sold at Superior Auctions in 1997 and later at Lelands. Ball was sold by Crosetti)
1938 World Series-
Game Two-Last Out Ball at Wrigley Field, Official NL ball. (Baseball Hall of Fame, Gehrig Donation)
1927 World Series-
Lou Gehrig's "last ball of the 1st game of the World Series," at Forbes Field, Pittsburgh, Official NL ball (Donated to HOF by Gehrig's mother)
1926 World Series-
Lou Gehrig's "last ball of the 5th game of the World Series," at Sportsman's Park, St. Louis, Official NL ball (Donated to HOF by Gehrig's mother)
Oddly enough, the only other reference we could find for an auctioneer claiming that a World Series game used ball from the opposite league was legitimate was for an alleged ball from Don Larsen's perfect game in 1956. Lelands offered an Official National League Warren Giles ball from "the collection of a family friend of the Yankees whose father entertained the Bronx Bombers for years." Lelands said the man was "given this ball by Larsen on October 8, 1956." In regard to the ball being an official NL ball instead of an official AL ball, Lelands claimed, "National League balls were sometimes used in AL parks in the World Series."
We asked Mike Hefner of Lelands how they came to this conclusion and he said, "Over the years we have seen some balls from the opposite league that are marked as World Series game balls, including the two Larsen balls. Those had letters from Don Larsen saying they were used in the game."  Hefner agreed that it was the norm for the home team to furnish balls in the World Series but added, "Who knows, maybe a few balls could have got mixed into play for a Yankee and Dodger series since there was no real team travel and the ballparks were so close to each other."
Lelands sold another ball alleged to be from Larsen's perfect game which also was an official National League Warren Giles ball. That ball was sold in 2005 and was allegedly signed by Larsen and Sal Maglie "immediately after the game" for pro basketball player "Moose" Miller. The ball was accompanied by LOAs from Miller and Don Larsen. Miller said umpire Tom Gorman gave him the ball "minutes after" the game ended.
We also asked
Chris Ivy
, of Heritage Auctions, for an explanation of how an AL ball could have been used in Game Four of the 1947 World Series at Ebbets Field. Ivy told us, "While you're correct that the conventional wisdom states that the home team supplied World Series baseballs, this was not a hard and fast rule, and we've encountered a number of well-documented exceptions. Most notably, we refer you to Lot 98 of the
Sotheby's/SCP
June 2006 auction. It's the final out ball from Game Five of the 1947 World Series, the game after the Bevens contest. It's an American League ball from Ebbets Field, consigned by the family of Yankees catcher
Aaron Robinson
, who also supplied a period image of him posing with the ball."  There is, however, no way to prove the ball in the photo is the same ball sold at auction.  Ivy also pointed to the Lelands' offering of the alleged ball from Larsen's perfect game in 1956 and an alleged 1931 World Series ball sold by MastroNet in 2001 that had no supporting provenance. (Heritage's current auction also features
another ball
alleged to be the first home run hit in Game 1 of the 1924 World Series, played in Washington, D.C.  That ball is an official National League ball.)
For the past decade this alleged 1947 World Series ball has been part of the collection of songwriter Seth Swirsky and was featured on his website, Seth.com along with the letter from Yogi Berra, with an earlier date from Feb. 21, 2000. When Lelands sold the ball in 2002 they made no mention of a Berra letter, only stating that there was an "LOA" and that the ball was, "Ex-Barry Halper Collection."
Heritage's current lot description states that, "Berra's letter is addressed to famed collector Barry Halper." It appears that in the letter Berra is just conveying his recollections of giving Bevens the last out ball and does not specifically mention Halper's ball, which was claimed to have been acquired directly from Bevens. Despite that fact, Heritage Auctions describes Yogi's correspondence as a "letter of provenance." The Berra letter Swirsky posted on his website was dated February 21, 2000, but the letter that accompanies the Heritage ball is dated January 14, 2003. The bodies of both letters are identical, as are the Berra signature. Only the dates differ.
We contacted the Yogi Berra Museum in Montclair, New Jersey, to see what Berra and Museum representatives thought about Heritage's characterization of his letter in their lot description of the alleged Bevens ball.  We also inquired whether the museum had any other World Series game balls from Yogi's career.  Museum director David Kaplan responded, "Yogi didn't keep or save any World Series balls.  The only one we have on display is a 1947 ball from a donor, but it doesn't identify which game."  Kaplan continued, "In fact, Yogi tells a story about bringing his 2,000 hit ball home, only to find later his kids had used it to play ball with."  Kaplan directed us to Berra's sons Tim and Dale for our inquiry about Yogi's letter to Halper.  Dale Berra spoke with us, but declined comment.  Neither Dale nor Yogi Berra answered whether the Yankee legend recalled what types of balls were used in World Series play either.
To crack this mystery we thought it might help to ask an umpire who actually worked World Series games when both NL and AL balls were used in play and we were able to track down veteran MLB umpire Jim Evans at his umpiring school in Colorado.  Evans was on the field when Seth Swirsky's 1986 World Series ball rolled through Bill Buckner's legs and on the field when Reggie belted out three home runs in 1977.  It was in regard to that series of 1977 that Evans was able to shed some light on the protocol for baseballs used in the Fall Classic.
Evans said, "I was the plate umpire for game 5 in Los Angeles and before that game someone from the Dodgers brought in 9 dozen balls into our dressing room, they were all National League balls.  You see the teams had lots of balls left over from the season, so they used those in the series and it was the plate umpire's job to rub them up properly with the mud.  Nowadays they tip clubhouse guys to rub them up, but back then us umpires did it ourselves. I wouldn't trust anyone affiliated with one of the clubs to do it, it was my responsibility to get them rubbed right.  This type of thing went back many years when I was on umpire crews with guys like Nestor Chylak and John McSherry.  But 1977 was the first World Series I worked."
We asked Evans if he thought an American League ball could make its way into play at a National League park like the alleged Bevens ball did.  Evans responded, "I don't think so, all of the baseballs were supplied by the Dodgers in my series in '77.  It wasn't until they started making those special World Series balls that someone from the Commissioner's office would deliver the balls to us before the game."  We asked him if a ball could get into play accidentally and he said, "I suppose so.  I could see if a ball or two were left over in my bag from the previous game at the other park.  It could be possible in that type of situation."
We told Evans about the few National League balls alleged to have been used at Yankee Stadium in 1956 for Don Larsen's perfect game and he added, "There's about 200,000 people who say they were at that game, right?  I don't know about the chain of ownership on those balls, all I can tell you about is about the Buckner Ball, I saw Ed Montague walk off the field with that one, I guess he gave it to a Mets official after."
Collecting any game-used item involves a big leap of faith and the alleged Bevens ball still presents more questions than answers.  While its not impossible that the ball could have been accidentally put into play that day in 1947, the provenance issues presented by Barry Halper's misrepresented Bevens jersey compound the doubts already realized due to the league affiliation of the ball.  The fact that Yogi Berra won't answer whether his letter to Halper was an actual "letter of provenance," as the auction house alleges, just adds more to the mystery.
If Yogi talks we're figuring he might offer a Yogi-ism about his letter to Halper:  "I didn't really say everything I said."
UPDATE: The Bevens Ball sold at Heritage for $5,676 and the "Buckner Ball" sold for $418,250.