By Peter J. Nash
May 11, 2012

The 2012 Spring auction season is upon us and collectors have had thousands of lots to choose from in several sales. Anything and everything is up for grabs.  Here are some 19th-century rarities being offered in Robert Edward Auctions' current sale that we can offer some additional information on:
1. REA, Lot 21: 1868 Atlantic BBC Peck & Snyder trade card-  The auction house describes this card as, "being one of the earliest-known baseball cards."  However, research suggests that this card was produced by Peck & Snyder in 1871 (and perhaps as early as the later part of 1870). While the card features an albumen print of the 1868 Brooklyn Atlantics team, the ad featured on its reverse and a period advertisement from the New York Clipper suggest it was sold with other notable Peck & Snyder trade cards during the season of 1871. If there were an earlier version of the Atlantic card dating back to 1868 it would likely appear as a CDV and not in the larger trade card format.
The ads on all of the Atlantic trade cards known to exist feature the caricature of Andrew Peck bearing a "126  Nassau St." address.  Although these known Atlantic cards are trimmed with the addresses removed, it is well established that every trade card featuring the Peck caricature denotes the "126 Nassau St." address.  The ad also indicates that the trade cards for the 1869 Red Stockings and 1870 Mutuals were also available for sale in 1871.  The Mutual card is only known to have the "126 Nassau St." address and caricature on its reverse. (Note: The other 1871 cards the Clipper advertised for sale were not photos of individual players, but rather team photos with composite portraits.  These cards are currently known to exist with a reverse advertisement for J. A. Pierce & Co. of Chicago.  It is not known if the cards offered in this 1871 P&S ad featured their own advertisement or whether Peck purchased the J. A. Pierce & Co. cards wholesale and subsequently resold them.  The P&S advertisements do offer a wholesale price, so it is possible other merchants could have resold the P&S cards and visa versa.)
The "22 Ann St." address featured in this advertisement appears to only have been utilized by P&S in 1869 and perhaps in early 1870.  The alleged 1868 P&S trade card of the Atlantics currently has a bid of $60,000 and the auction house says they know of only two other known images of the card.  There are actually five known versions including the one being sold. The others are: 1. Example featured in Mark Rucker's book, Baseball Cartes, now owned by Corey Shanus; 2. Baseball Hall of Fame Collection; 3. The John Kashmanian Collection (featured in Kashmanian's book); 4. Charles Mears' copy, which appears to have had the original trade card's albumen photo transfered to  CDV-like mount.  When REA's Rob Lifson was interviewed about this card in 2009 for ScrippsNews he said he had only seen one other 1868 Atlantic card and that the back of the Mears example was "definitely different."  The current REA lot description states that the fifth known example is "an essentially impossible-to-obtain "dream card."
2. REA, Lot 23: 1869 Red Stockings CDV with Peck & Snyder Advertising Reverse.  This card features a "22 Ann St." address for the P&S advertisement and further supports the contention that these CDV-sized or "album size" cards were the first 1869 Reds cards produced by the company.  The earliest trade card size issue featuring the 1869 Reds also bears a "22 Ann St." address and an advertisement for Peck and Snyder ice skating products.  It is our opinion these cards are the earliest of the Red Stocking issue in the larger trade card format.  The majority of the trade cards featuring the Reds bear the "126 Nassau St." address and were likely produced from late 1870 through 1871, as evidenced on the 1871 New York Clipper ad.  The current card offered by REA and the others bearing ads for Chadwick's 1869 guide (as well as examples denoting "Sample Copy") should be considered the earliest and only versions of the card verified as being produced during the season of 1869.
3. REA, LOT 968: 1860 Beadle's Dime Base-Ball Player – Henry Chadwick's personal copy! The auction house claims that this lot was Chadwick's personal copy of the first Beadle Guide he ever edited, but the 1860 copy from the New York Public Library (appearing on microfilm above), which bears Chadwick's handwritten inscription, "Beadle's 1860 First Edition," raises some questions.  The offered copy was first acquired in May of 1991 at DuMouchelle's Auction House in Detroit, Michigan.  REA says the auction house, "presented an astounding collection of early baseball memorabilia that is talked about by advanced collectors to this day. It was not stated where the collection came from, but the sale included an extraordinary selection of books and memorabilia that obviously originated from someone involved in the game, possibly as a sportswriter."  With no further provenance, the Beadle guide was accompanied by an alleged period letter of authenticity written by John Doyle attesting to the authenticity of Chadwick's signature.  We're not sure what exemplars JSA used to authenticate both signatures.  In addition, it appears that the authentic copy inscribed by Chadwick from the NYPL is currently missing from the library along with several other important publications including constitutions and by-laws from teams like the Knickerbockers and Excelsiors.  It appears that Chadwick passed along his entire run of his own Beadle Guides to Spalding and they were documented in the 1922 NYPL inventory as: "The Dime Base Ball Player. 1860-62, 1864, 1866-81. New York: Beadle  & Co."  If the auction copy is authentic, it would be at best: "One of Chadwick's personal copies of the 1860 Beadle Guide."
4. REA, Lot 25: 1870 Mutuals Peck & Syder Advertising Trade Card.  The auction house claims: "Prior to the discovery of this card, we knew of the existence of only four examples of the 1870 Mutuals Peck & Snyder trade cards, two of which were trimmed."  They also add:  "It should be pointed out that the two untrimmed examples of this card of which we are aware are not likely to ever be available: "The first example resides in the permanent collection of the National Baseball Hall of Fame in Cooperstown while the other is currently in an advanced private collection of nineteenth-century baseball memorabilia, where it will most likely remain for quite some time."  Our research indicates that there are at least seven of these Mutual cards in existence (featuring the 126 Nassau St. including the one pictured above.)  Based upon the New York Clipper ads by Peck & Snyder, it is also more likely this card was issued in 1871 as the company was still using its "22 Ann St." address on ads into 1870.  Historian John Thorn was nice enough to share with us Peck & Snyder's addresses as they appeared in period New York Street directories:  "1868 NYC Directory listing: 105 Nassau, Peck's home in Jersey City at Erie near Fifth ; 1869: 105 Nassau, home Jersey City; 1870 NYC Directory listing: 105 Nassau; 1871: 126 Nassau; 1872: 126 Nassau; 1873: 126 Nassau;1874: 126 Nassau, Peck's home at 313 West 24th."  (The "22 Ann St." address does not appear in the directories, only on advertisements and products).
5. REA, Lot 28: 1870 Forest City BBC of Rockford CDV with Al Spalding.  REA states that this card along with all of the other CDV and trade card rarities in this current auction were, "recently discovered by our consignor among 135 CDVs and trade cards left to her by her parents, who purchased them over twenty years ago at an antiques shop. Remarkably, also included were two different 1869 Cincinnati Reds cards."  REA specifically mentions how many cards they believe exist in regard to the Atlantic ("only two other examples"), Mutual ("only four examples") Red Stocking ("fewer than ten") and Chicago ("few others are known")  trade cards.  However, in the description for the current Forest City CDV, there is curiously no mention of how many cards are known to exist.  In fact, REA fails to mention that this "newly discovered example" is only the fourth known copy of this card to ever surface.  The first appeared in Mark Rucker's book with a credit to REA president, Rob Lifson; the second sold in the 1991 Sotheby's Copeland Sale (later sold by MastroNet in 2001); and the third example sold at Sotheby's in 1993 (and later at Oser/MastroNet in 2002).   When MastroNet sold the card in 2002 they revealed that the CDV was, "one of the rarest, with only three examples known to exist to date."
The Forest City CDV is a controversial item on account of one documented example having been wrongfully removed from the NYPL's Spalding Collection.  (In the past month Hauls of Shame has identified other stolen items from the NYPL and offered at auction.  Sources indicate these items will be recoverd by the NYPL as part of an on-going FBI investigation into the NYPL thefts.)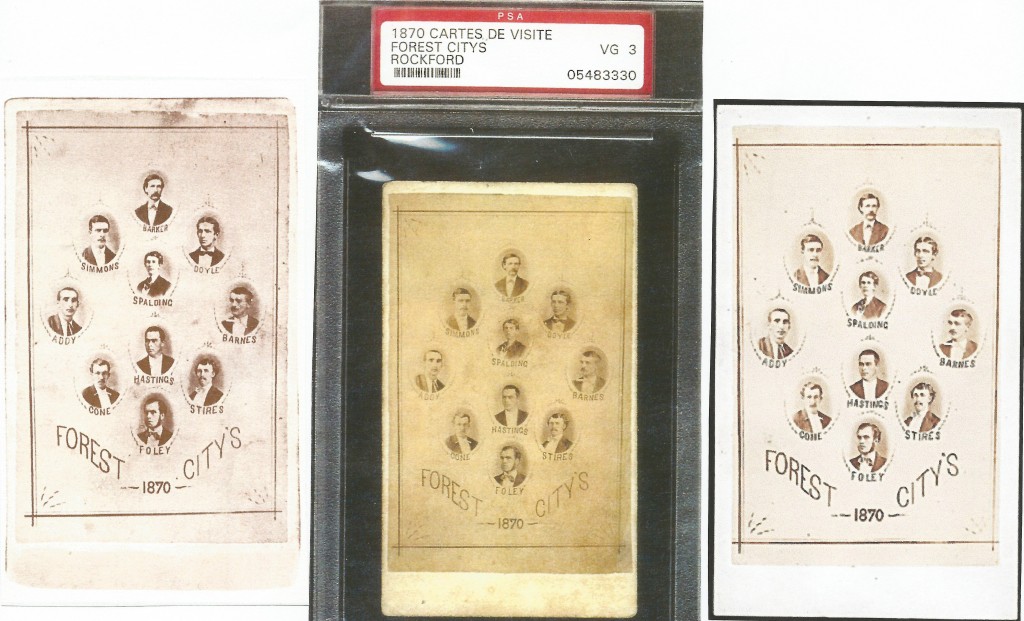 One of these three rare CDV's of the 1870 Forest City BBC is believed to be the example missing from NYPLs Spalding Collection.
The group of "newly discovered" CDVs and trade cards featured in REA's current auction represent fresh-to-the-hobby examples of some of the rarest baseball images known to exist.  If the Forest City CDV being offered is entirely legitimate, it would mean that one of the other three known examples is likely the missing Spalding Collection artifact.
Considering the staggering rarity of all of these cards, REAs current offerings are truly remarkable.