By Peter J. Nash
October 9, 2012
Despite the fact that JSA and James Spence have been exposed making stunning six-figure errors on alleged Christy Mathewson signed baseballs, the embattled authentication company has certified yet another Matty ball for Huggins & Scott Auctions. JSA has authenticated a ball purported to have been signed by the Hall of Fame pitcher on the day his Giants clinched the National League pennant on October 4, 1911. In our prior report, A History of Mathewson Authentications, we illustrated how Spence previously authenticated a forged Mathewson signature alleged to be from 1912, which was actually signed on a ball manufactured from 1923 to 1924. That scenario was an impossibility while the current offering by Huggins and Scott is more of an improbability.
Here's how Huggins and Scott presents its JSA certified Mathewson ball:
1. The auction house claims the ball was from the "1911 Pennant clinching day." Although they say that the ball "exhibits age-induced toning and shows definitive diamond use," they do not allege specifically that the ball was actually used in the pennant clinching game. They do, however, claim that the ball was actually signed by Hall of Famers Christy Mathewson and John J. McGraw, stating, "In Mathewson's hand, an inscription reads: "Oct. 4 1911," which is the day Matty shutout the Brooklyn Nationals 2-0 to clinch the National League pennant.
2. Although the auction house doesn't specifically identify it, they do allude to game use of the ball, which JSA claims in their LOA is an authentic National League Spalding baseball dating from "1902 to 1909″ and bearing the facsimile signature of NL president Harry Pulliam.
The ultra-rare and official Spalding ball from the 1903 to 1907 era bears the facsimile signature of NL President Harry Pulliam who committed suicide in 1909.
3. The ball is referred to as an heirloom, however, no provenance information whatsoever is offered by the auction house to prospective bidders. In their description, the auction house relies solely on the authentication of JSA and James Spence to convey to customers that the ball is genuine.
We contacted Huggins and Scott for more information on the ball and VP Josh Wulken added:
1. "We are not claiming that the ball was used that day or even a game ball. Based on the markings and Pulliam's stamped name that dates the ball to 1902-1909." Wulken relied on the JSA LOA to date the ball.
2. Wulken added, " The only story I have on the ball is from the consignor of it. A couple from West Virginia brought it to our office in the DC area. They claimed that the ball was obtained by their Grandfather and was in their family the entire time." Wulken confirmed that the auction house had no supporting documentation or notarized affidavits from the consignors memorializing the ball's provenance.
3. When asked if his auction house was confident in JSA and James Spence's abilities to authenticate Matty signatures in light of the past errors made Wulken responded, "As for JSA, we stand behind their opinion 100%."
Haulsofshame.com's own investigation into the alleged signed ball revealed:
1. JSA was incorrect in their determination that the ball dated from the "1902 to 1909″ era. The style ball in the auction with parallel red laces was only in use in National League play with Pulliam's facsimile signature from 1903 to 1907. According to ball expert Brandon Grunbaum, of Historyofthebaseball.com, "The baseball in question is a very unique and extremely rare model ball. Baseballs made by Spalding prior to 1908 were constructed using a "single-stitch" configuration, which to an untrained eye looks similar to the conventional "V" stitching method used today, but is sewn together using only one string instead of two, giving it a more vertical pattern. The National League used Spalding's Official League Ball from 1879-1907. This particular baseball, has the modern Spalding bottom panel logo, and National League President Harry Pulliam's facsimile signature stamped in black on the right panel. This change in the "Official League Ball' bottom panel stamping occurred in 1903 and was used until 1907." In 1909 the all-red laces were changed to a multi-colored version with red and black alternating stitches.
2. The Pulliam NL ball itself is one of the rarest baseballs in existence.  We have never seen another example and ball expert Brandon Grunbaum told us, "This is the only one I've ever seen with the Pulliam stamp on the side, and the more modern Spalding logo on the bottom panel."  He added, "It's just super-rare."  You could say its almost seventy-five times rarer than a T-206 Honus Wagner card.  Considering the balls astounding rarity, the probability that the same surviving ball would also bear the authentic signature of one of the scarcest Hall of Fame pitchers would catapult it into the class of one of the rarest baseball collectibles in existence, right alongside the $4 million 1920 Babe Ruth jersey.
3. In 1906 it was reported in the New York Sun that the New York Giants used only "sixty dozen balls this year for its home games."  That means 720 balls used for 77 games, "a fraction of over nine balls a game."  Baseballs were expensive for clubs ($1.25 each) and foul balls and home run balls were retrieved by club employees as normal protocol.  The Sporting Life reported, "A couple of new balls are handed to the umpire when the game begins; new ones are thrown out when when those knocked over the stands do not return promptly; two or three new ones are given to the pitchers before each game for use in limbering up; and sometimes balls knocked into the crowd mysteriously disappear."  Very few baseballs signed in the 1900 to 1907 period have survived and if genuine, the Huggins and Scott offering dated on October 4, 1911, would have been signed anywhere from 5 to 9 years after the ball was used in the National League.  At the least this is a  highly unusual and extraordinary circumstance that should be cautiously considered by any authenticator conducting proper due diligence..
4. This offered ball was manufactured at least five years before the Giants clinched the pennant in 1911 at a time when NL President Harry Pulliam was already dead after committing suicide at the New York Athletic Club in 1909.  Many blamed the suicide on pressure levied upon Pulliam by John J. McGraw after the infamous Merkle Boner cost his Giants the NL pennant in 1908.  To have McGraw signing a baseball bearing the facsimile signature of the man who he reviled after he was recently deceased is also quite remarkable.  The only times we have encountered balls inscribed with dates that do not correspond to the manufacture or game use of the ball, the inscriptions have been deemed highly questionable or outright forgeries.  The New York Sun also reported in 1906 that, "Fresh balls are turned out each season.  There is no need to carry any over, the factories regulating their output according to the demand, which they are able to calculate on to a pretty fine point."  The only way that Mathewson could have signed this ball on October 4, 1911, is if someone obtained the ball several years earlier and brought it to him to sign that day.
5. In 2004, expert Ron Keurajian published an article on Mathewson's autograph for Sports Collectors Digest and stated, "I can honestly say I have never seen a Matty ball that I would feel confident pronouncing as genuine and that comes after more than two decades of searching."   We asked Keurajian for his opinion on the McGraw-Mathewson ball currently being  offered by Huggins and Scott and he referred us to his statement regarding Matty balls written for his 2004 SCD article. (During the past ten to fifteen years there have been over 25 Mathewson signed balls sold at auction with LOA's from either James Spence, JSA or PSA.)
If the signatures on the ball were authentic, both Mathewson and McGraw would have been signing a baseball that was anywhere between five to nine years old, as it was impossible to have been used in that game or any other game during the 1911 season.  The red flags presented by this offering require a much more comprehensive LOA from an authenticator explaining more than just stating that the inscription is, in their opinion, written in the hand of Mathewson.
JSA and PSA authenticated another controversial Mathewson ball (below) for Huggins and Scott in 2007.  That ball sold for $161,000.
The current Huggins and Scott offering also reminded us of two alleged Mathewson signed photographs also dated in 1911.  The first was sold previously by Slaters, Hunt and Heritage where it sold for $14,000 in 2006: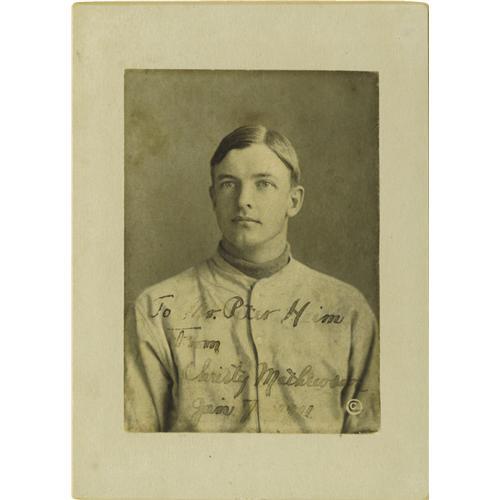 A close up of the inscription and signature authenticated by both PSA and JSA bears a close resemblance to the handwriting on the current Huggins and Scott Pulliam ball: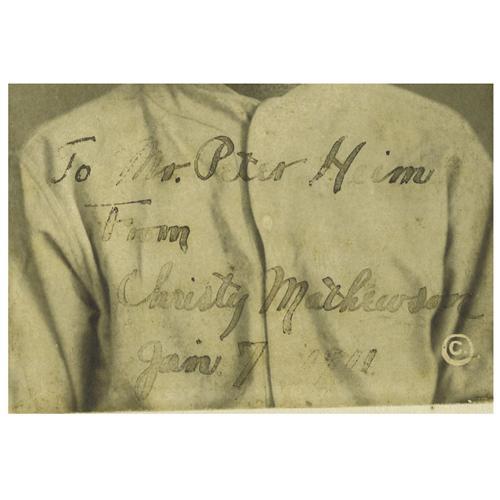 >
The second 1911 signed Matty photograph was authenticated by James Spence for JSA and sold in 2007 for $19,975 at Robert Edward Auctions as originating from the estate of famous Cleveland photographer Louis Van Oyen: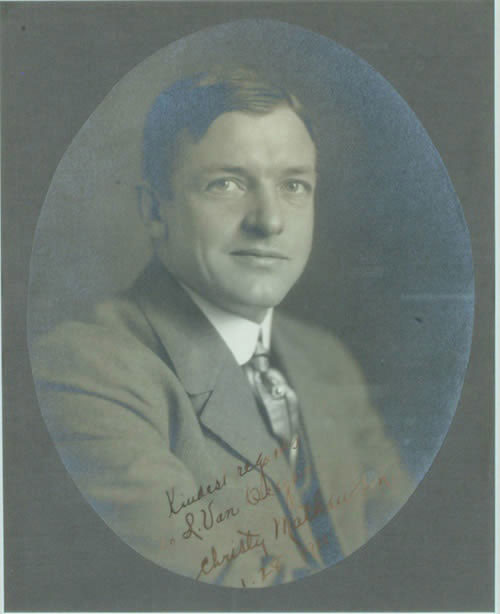 A close up of the handwriting on the Van Oyen Matty photo dated on January 28, 1911, shows little resemblance to the Huggins and Scott offering and the other 1911 inscribed photograph dated on January 7, 1911.  How does JSA and James Spence account for the distinct differences in the handwriting of Mathewson on the two photographs allegedly signed just a few weeks apart?  Why don't the LOA's explain the differences or present exemplars to support their opinions?: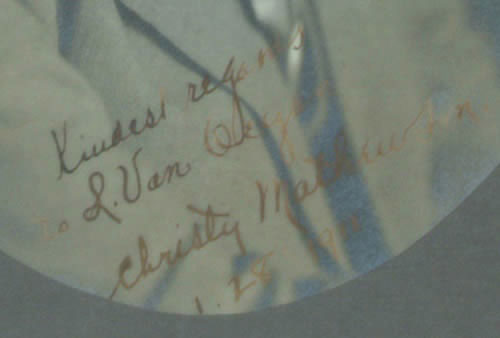 We also showed these examples to expert Ron Keurajian and he again referred us to his 2004 SCD article and the section dealing with signed photographs.  Keurajian said, "As to signed pictures, they are excessively rare as well.  In my 22 years of collecting I have only seen one genuine signed 8-by-10."  Keurajian's article also reminds us that JSA and PSA are also the same companies who regularly authenticate Mathewson secretarial signatures on 1910 Won In The Ninth presentation bookplates (below).
Authentic Mathewson signed baseballs and photographs are the rarest and most sought after artifacts in the collecting world and the desire of gullible collectors to acquire them has created a cottage industry for auction houses and authenticators eager to service their customers.  A good example of the Mathewson madness is a recent alleged Mathewson signature on a c 1924-25 AL ball sold by Pot of Gold Auctions in Arizona with LOA's from Drew Max and Justin Priddy: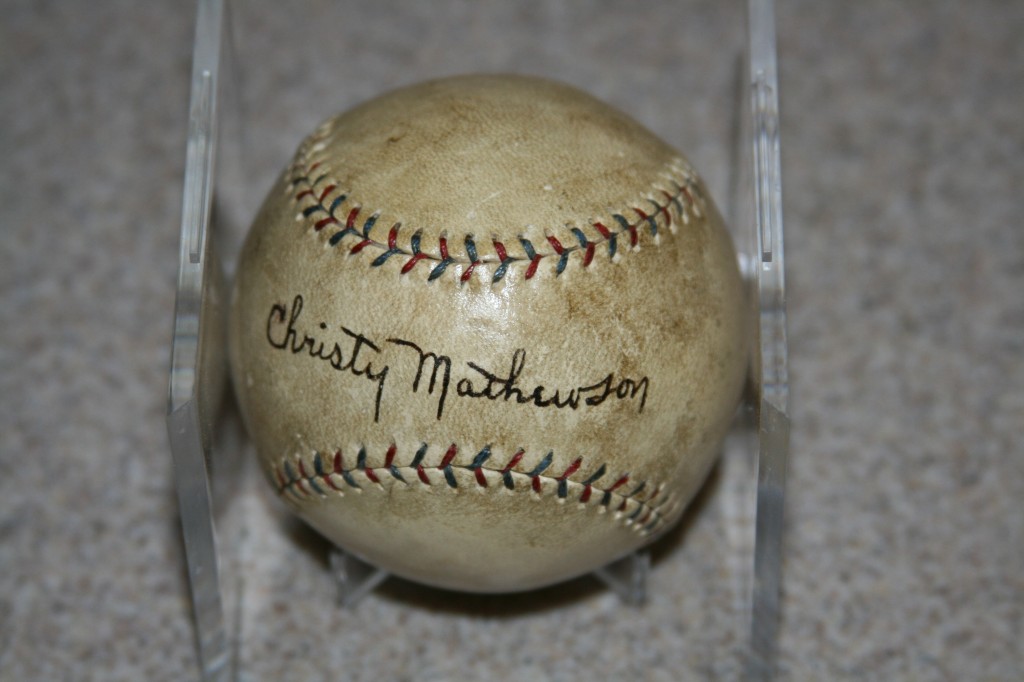 Sources indicate that sales and authentications of Mathewson autographs are  being reviewed by the Federal Bureau of Investigation.
We asked Huggins and Scott Auctions if they had been contacted by the FBI in relation to JSA's authentication of the current Mathewson offering or the Mathewson ball that sold for $161,000. Josh Wulken told us, "We are not at liberty to discuss any communications."  The current Mathewson ball being offered has a bid of $14,000.
Special Agent Jim Margolin of the New York FBI press office was unavailable for comment.
The FBI is also investigating the authentication practices of PSA/DNA in relation to the recent Federal indictments of former MastroNet executives.  Federal agents have also been speaking to collectors about the authentication practices of James Spence and JSA as well as PSA/DNA.
Sources also indicate that the Arizona office of the FBI has been contacted by several collectors victimized by forgeries authenticated by both Drew Max and Justin Priddy.