By Peter J. Nash
October 15, 2012

Last summer AutographNewsLive.com pointed out that PSA had apparently authenticated a Ty Cobb autograph on what was purported to have been a photograph of  the "Georgia Peach", but was actually a classic Charles Conlon image of Cobb's teammate Hack Simmons in 1910.
How could Cobb have signed a Charles Conlon photo of another player?   He wouldn't have.  The photograph was signed in the hand of someone other than Ty Cobb.
The signature resembles a host of other moderately skilled Cobb forgeries that have hit the market and are regularly authenticated by both PSA and JSA.  Both companies have previously made egregious errors on Cobb items ranging from laser-printed forgeries to fakes executed on items manufactured after Cobb's death. Many collectors and dealers who have witnessed these monumental errors have questioned how the 3rd Party Authenticators can offer their services as experts for a fee if they can't even recognize Cobb's genuine handwriting against a myriad of forgeries.
Now, reader and boxing autograph expert, Travis Roste, has pointed out another Hack Simmons Conlon photo allegedly signed by Cobb that was sold at auction in 2010 for $4,500 and was authenticated by both PSA and James Spence Authentication (JSA). The photo, sold by Legendary Auctions, was described as "Graded Mint 9 by PSA/DNA" and noted in the lot description that it may have been "Cobb's own idea to jump high" in the posed photograph.  The photograph is clearly not of Cobb and is correctly identified as Hack Simmons on The Conlon Collection website as photo #PR08010.
The Conlon Collection is owned by the RogersPhotoArchive.com and founder John Rogers was able share some additional information about signed Conlon photos with us.  Said Rogers, "Outside of the famous photo of Cobb sliding into third, I can't recall seeing other signed Conlon photographs.  Conlon didn't market his prints to players or collectors, just the news agencies.  It's a real rarity to see one of his period prints signed by an actual player he photographed."
Roste also informed us that despite the report last Summer pointing out the discrepancy over the Hack Simmons photo and the bogus Ty Cobb autograph, that same example is currently being offered for sale by PSA and JSA authenticator John Reznikoff on his University Archives website for $3,600.
This stunning example of shoddy research and authentication malpractice linked to alleged Cobb signatures joins others made on materials alleged to have been signed by Babe Ruth, Lou Gehrig, Christy Mathewson and virtually every other Baseball Hall of Famer.  Close inspection of other Cobb-certified items by PSA and JSA will likely uncover other forgeries executed in the same hands as the "Hack" Simmons photographs.  With just one Google search we were able to find at least one highly questionable signed Cobb ball sold by Heritage Auction Galleries in 2011 that bears a strong similarity to the Cobb signature on the 2010 Legendary offering.
Cobb forgeries have infiltrated the market on a grand scale in the past several years and many have been certified genuine by the likes of authenticators Justin Priddy, Chris Morales and Drew Max. Those examples, for the most part, rarely make their way into the big-time auction house sales.   However, it appears that outfits like JSA and PSA have also authenticated highly questionable Cobb items ( like the "Hack" Simmons photos and many others) which have been legitimized in major auctions but are in the same class of Cobb fakes as one that sold recently at an auction in the Detroit area. That alleged Cobb-signed ball was misrepresented as having once been part of the Ernie Harwell collection. The Detroit News reported that the ball sold for $12,000 but it included a forged Cobb signature on a ball that was manufactured after Cobb's death.  The ball itself also appears to be a forgery of an Official American League William Harridge ball.
Sources indicate that the FBI is aware of the serious problems with both JSA and PSA's  track record of authenticating Cobb forgeries.  However, one other source, who was recently victimized purchasing over $10,000 in forgeries, told us that the FBI indicated they could not take their case because the dollar amount of the transaction was not substantial enough.
Recently the embattled President of PSA and PSA/DNA, Joe Orlando, took to the company website and his "Taking My Hacks" column to defend the auction houses his company services in what many in the industry consider an incestuous pairing.  Said Orlando, "We are all human. Experts make mistakes. Collectors make mistakes. So do auction houses. How they handle mistakes is what separates a good auction house from a bad one. The fact that they make mistakes just means they are imperfect like the rest of us. Please keep in mind that I am, in no way, coming to the defense of auction houses that ignore evidence that an item is problematic or ones that treat their customers poorly."
(UPDATE) October 16: Our Tips@haulsofshame.com address was informed that there are several Ty Cobb signed baseballs in the current Heritage Auction Galleries Fall Auction that deserve a second look considering the evidence presented in regard to the JSA and PSA authentications of Cobb forgeries placed on photos of Hack Simmons:
1. Here's a ball purported to have been signed by Cobb in 1927  with LOA from JSA:
2. Here's one alleged to have been signed by Cobb in 1949 authenticated by both PSA and JSA: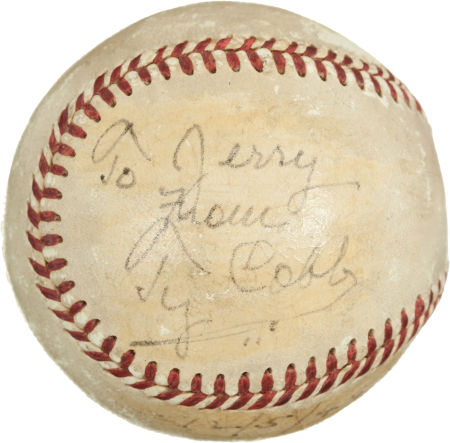 3. This ball is said to have been signed in 1956 and was certified genuine by both PSA and JSA: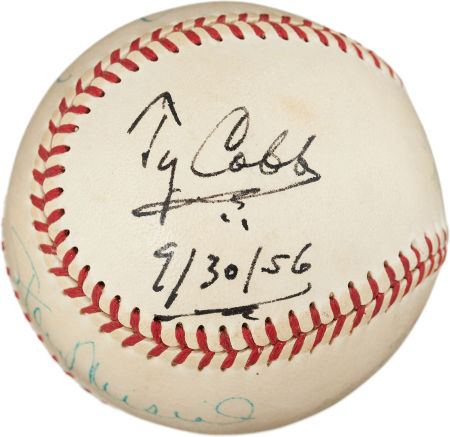 All three baseballs being offered by Heritage have been authenticated by either PSA or JSA, but none of the experts we consulted with would give an opinion stating that they were genuine. We'd like to hear what our readers think of this trio?