By Peter J. Nash
Nov. 29, 2012

-Clean Sweep Auctions has already sold several  letters believed to have been stolen from the National Baseball Library in Cooperstown, NY, and with the offering of  "Lot 490″ in its current auction ending December 13th, it appears that history is repeating itself.  The auction house is selling a letter written by Boston Braves owner Emil Fuchs to Cincinnati Reds owner and National Commission Chairman, August Herrmann. The letter appears to have originated from the Hall of Fame's August Herrmann Papers Collection and was also sold previously by Clean Sweep back in 2009.
-Steve Verkman, President of Clean Sweep Auctions has been notified on several occasions that letters written to Herrmann from NL President John Heydler, St. Louis Cardinals owner Sam Breadon and Emil Fuchs corresponded to similar documents in the Hall's massive Herrmann Papers archive which contains over 45,000 documents and letters that Herrmann received during his career in baseball, which spanned from 1902 to 1928.  The last document sold by Clean Sweep was a letter from Sam Breadon and was originally part of a file of Breadon's correspondence to Herrmann from 1920 to 1926.
-Brad Horn, a spokesperson for the Baseball Hall of Fame, did not challenge the prior sales of the alleged stolen documents from the National Baseball Library and according to auctioneer Verkman said,"There is insufficient information for us to unequivocally state that these were stolen from the Hall of Fame." Verkman added, "The Hall of Fame also distinctly did not ask for it back in any way, or for it to be removed from the auction, only that they welcome it, along with anything else of potential historic value as a donation as they are the main repository of baseball history in the U.S."
-Clean Sweep and Brad Horn did not respond to inquiries about the Herrmann letter currently being offered for sale.
–Jane Forbes Clark, the current Hall of Fame Chairman, and her predecessors have failed to properly investigate the considerable losses from the Hall of Fame collections and have also failed to pursue the recovery of  property and prosecution of at least one known suspect believed to have been involved in the robberies, Mike Gutierrez, of Heritage Auction Galleries.  In the late 1980s Gutierrez sold auctioneer Josh Evans a signed photograph of Babe Ruth that had a Hall of Fame accession number covered with white out.   In 1998, an anonymous source told hobby newsletter The Sweet Spot that he had accompanied Gutierrez on a visit to the National Baseball Library and said of Gutierrez:  "He would go to the photocopy machine, make copies of some of the documents; he made neat stacks of copies," the witness said. "For every 10 items he'd take to the machine, however, nine originals would return to the file. One original would be mixed in with the copies and they would go directly into his briefcase. That briefcase would never leave his side." The eyewitness  also indicated that the documents Gutierrez was copying were from the Hall's Herrmann Papers collection.
-Hall of Fame officials have recovered several rare photographs stolen from the NBL including images of Mickey Welch, Christy Mathewson and Nap Lajoie offered for sale by Robert Edward Auctions, Mastro and Heritage.  These recoveries were made only after Haulsofshame.com and Deadspin published reports illustrating that these photos had evidence of HOF ownership marks and accession numbers.  The confirmation that these photos were stolen from the Hall is just the tip of the iceberg.
-Mark Rucker's book Baseball Cartes (1988) included the Hall of Fame's copy of the 1869 Cincinnati Red Stocking trade card by Peck & Snyder, but sources indicate that the rare card valued at over $25,000 is currently missing and believed to have been stolen from the NBL.  Several copies of this same card have been stolen from the New York Public Library including one that was recovered at this years National.
-Legendary Auctions' current sale includes a few suspect items that may have originated from the New York Public Library's Spalding Collection including a MacIntyre cabinet of Harry Wright and an 1882 cabinet photo of the Providence Base Ball Club.  The library has multiple copies of the 1882 cabinet- all stamped on the lower portion of the card's reverse.  The location and size of the paper loss on the reverse of the cabinet being offered by Legendary suggests it may have an NYPL provenance.
-A Kalamazoo Bat cabinet photo of Charles Bastian and Denny Lyons also being offered by Legendary fits the description of many other missing NYPL items but appears to be one of only three  Kalamazoo Bat cabinets of Philadelphia Nationals players legitimately in private hands.  These three cabinets bear no NYPL marks or identifications and originated from the collection of the late hobby legend Don Steinbach. Besides these three examples of Bastian/Lyons; Fogarty and Clements, we know of no other cabinets of Philadelphia National players that did not originate from the NYPL or Baseball Hall of Fame collections.
-Harry Wright donated all of his personal photographs to the National League before his death and they ended up at the NYPL in 1921 as a donation from the widow of A. G. Spalding.  Missing from the collection are several MacIntire cabinet portraits of Wright.  The paper loss on the reverse of the current Legendary offering is suspicious, but not as definitive as the example sold by Robert Edward Auctions (REA) in 2009, which exhibits the removal of the NYPL stamp and handwritten numeral originally placed in the upper left-hand corner.  That same Wright cabinet was also sold by Barry Halper at Sotheby's in 1999.
-Dennis Schrader's "Little Cooperstown Collection" of 5,000 alleged authentic signed baseballs has received a lot of media coverage lately after an official endorsement by the Guinness Book of World Records as the "Largest Collection of Baseballs Signed by Major League Players."
The collection claims to include incredible rarities including single-signed balls by 19th century HOFers like Pud Galvin, John Clarkson and Old Hoss Radbourn, however, all of these so called rarities are actually poorly executed forgeries.  Here's a Pud Galvin forgery from the collection:
Here's an authentic signature of Galvin from 1879: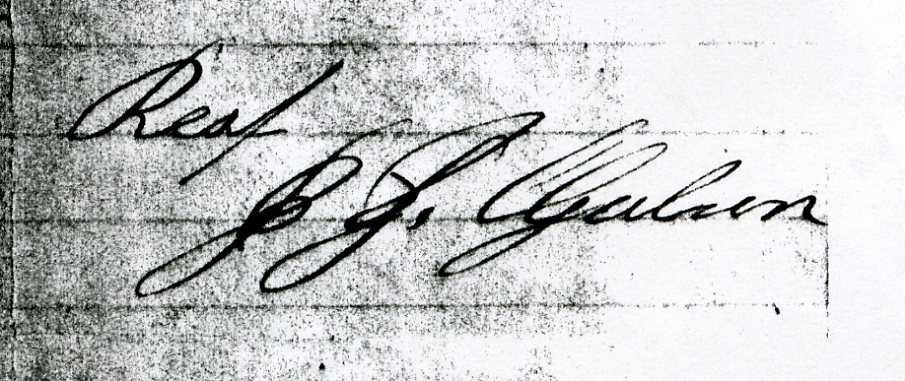 -Pud Galvin signatures are extremely rare and only two authentic examples are known to exist on letters the hurler wrote to an executive of the Buffalo Bison Base Ball Club in the late 1870s.  Both of these authentic signatures are utilized as exemplars in Ron Keurajian's new autograph handbook published by McFarland.  Schrader, Guinness and the St. Petersburgh Museum of History should pick up a copy of the book and educate themselves on the subject of HOFer signatures.  It would save them from exhibiting forgeries to the general public who are also being solicited to contribute funds for a permanent exhibit at the museum in the future.  As it stands, the collection also includes forgeries of Babe Ruth, "Shoeless" Joe Jackson and many others.
-Ron Keurajian covers baseball's "black market" and the issue of institutional thefts in his new book, Baseball Hall of Fame Autographs: A Reference Guide.  Of the Baseball Hall of Fame's collection he writes:  "The amount of signed material  in these collections is mind boggling.  These collections contain many rare and unique pieces.  It appears that these collections were pillaged and many rare signatures were stolen, in particular the Herrmann Collection and the Frederick Long Collection."
In regard to Herrmann letters in particular Keurajian warns collectors:  "Today, any letter or document addressed to Herrman, the National Commission, Tom Lynch, Ban Johnson, Harry Pulliam, Frank Navin, John Heydler, John Tener, John Brush or Nick Young should be considered suspect and its origins must be investigated carefully as it may be stolen."
UPDATE: Bill Mastro Will Plead Guilty to Fraud: Former auction heavyweight, Bill Mastro, has agreed to change his not-guilty plea to a plea of guilty, according to the the United States Attorney's office for Northern Illinois.
Papers filed in Illinois indicate that prosecutors are seeking to change Mastro's plea hearing for a date in February. Mike Monico, Mastro's attorney, said his client will not oppose the request to change the date of the hearing.  Monico also said that his client "is cooperating with the government."
The New York Daily News also reports: "Mastro will apparently acknowledge at the February hearing that he altered the world's most valuable trading card, a Honus Wagner T206 that has fetched millions of dollars in a series of high-profile transactions, including a 1991 sale for $451,000 to NHL legend Wayne Gretzky and former Los Angeles Kings owner Bruce McNall."