By Peter J. Nash
Jan 2, 2013
PSA/DNA just released its "Most Dangerous Autographs of 2012″ list on the company website and although Babe Ruth and Lou Gehrig were the top choices for forgers of vintage signatures, Ty Cobb, "The Georgia Peach", was curiously absent from the list. Wonder why?  All three Hall of Famers are headliners on our own "Worst Authentications" of 2012, the year that kicked off with reports that eBay's Fraud Division had stated in a Dec. 11, 2011, email: "…PSA sucks…so does JSA"  For the first time, JSA-certified items were removed from eBay, however, it appears that  eBay has since dropped the ball on monitoring the leading TPAs.
After viewing this list, we hope collectors, dealers, auctioneers and law enforcement (specifically the FBI) will ask themselves, "If the TPAs can get these wrong, how can we believe anything they certify as authentic?"  In its current report, PSA/DNA claims to have authenticated 350,000 autographs in 2012 and 3 million since 1998.  The company has come a long way since Bill Mastro and MastroNet Inc. crowned PSA/DNA king of a third-party authentication system developed to shield auction houses from liability if they sold fakes.
Earlier today, news came from Chicago that Mastro has cut a deal with the Feds and on February 12th is scheduled to plead guilty to fraud and will supposedly confess to trimming the now infamous T206 Gretzky-McNall Wagner card.   Mastro's confession will likely implicate PSAs card grading division as being complicit in that fraud and speculation in the hobby is that Mastro's plea-deal could extend to the autograph authentication division that was first launched with Mastro employee Steve Grad and Jimmy Spence at the helm in the late 1990s.  How many of the LOAs issued by them since then are worth the paper they are printed on?
Adding to our Top 10 Stories of 2012, here are…..
THE WORST AUTHENTICATIONS of 2012:
1.   The $300,000 Babe Ruth Single Signed Record-Breaker PSA-10:
According to papers filed in Chicago, Bill Mastro will plead guilty to fraud on February 12th and confess that he altered the infamous PSA-8 T206 Honus Wagner card and implicate authentication giant PSA as a company founded upon a fraud.   PSA also hitched its reputation to this alleged gem-mint single signed Babe Ruth ball in the late 1990s when the company started authenticating autographs.  The ball has appeared on the cover of the Collector's Universe stockholders annual report and in numerous company adds heralding its expertise.
PSA and the ball have close ties to Bill Mastro as the ball was previously sold by MastroNet in a 2002 auction for $61,000. The ball was authenticated by James Spence and Steve Grad of PSA/DNA and by Mike Gutierrez for MastroNet. The same ball first appeared at auction in 2000 and was sold by David Hunt of Hunt Auctions in Exton, PA for a then-record price of $72,600. The record price surpassed the sale of another very similar Ruth ball sold by Mastro Fine Sports for $55,660.
At the time the record was broken Mastro told the Maine Antique Digest, "We set the table when we sold a Babe Ruth ball for over thirty thousand dollars back in June at our West Coast auction, and that was considered miraculous. Then a ball sold at Sotheby's Barry Halper sale in September for nearly fifty thousand, and that set the table for us to get almost sixty thousand last November and more than sixty thousand for our Ruth and Gehrig ball. There is a frenzy for these big-ticket mint Babe Ruth balls. Does a better one exist? Probably. There is always a better one."
The Hunt auction description said their Ruth single-signed ball "was acquired on the set of the Babe Ruth Story in California and given by Claire Ruth to a United Artist publicist. It is being consigned by his family and will be accompanied by a detailed letter of provenance from the family along with a letter of authenticity from Michael Gutierrez." The ball was sold with what was said to be its original Reach box as well.
After selling multiple times and escalating in price to the stratosphere this record-breaking Babe Ruth single was sold at Heritage in 2012 for over $300k.
Despite the alleged letter of provenance, autograph expert and author Ron Keurajian, told us, "In my opinion the signature on that ball is not genuine."
Stephen Koschal, first questioned the authenticity Ruth ball and noted its inclusion on the cover of the CU annual report in a report published on Autograph Alert in 2011.
Authenticator and dealer Richard Simon has long been suspicious of the ball and told us this past summer, "I always wanted to have it in hand, for a real examination, because I was never sure if it was good, I am not saying it is not good, I just would like to see it in person and study it."
The record-breaking Ruth ball, along with several others, has long been the subject of controversy and has been part of our continuing Operation Bambino investigations.
2. The $110,000 Alleged Babe Ruth Blazer from the early 1920s Appears to be a Well-Executed Forgery Exposed in the 1990s:
Despite being identified by hobby experts as a long-standing forgery dating back to the early 1990s Heritage wrote this in its October 2012 catalog:
"……none have surfaced that could compete with the aesthetics of this one, which properly garners a 9/10 autograph grade from the folks at PSA/DNA, and a rather stingy 8/10 for the ball itself, presumably based mainly on the slightest hint of toning well clear of the ball's focus. Our catalog imagery should properly indicate that the ball presents effectively "as new" from any reasonable viewing distance. The "Wilson Official League" ball convincingly mimics the appearance of period Official models with its two-toned stitching, another factor adding to the gorgeous early aesthetics."
Other Wilson balls featuring identical forgeries appeared for sale on the West Coast at California Sports Investments in 1996 along with other forgeries featuring 1919 Chicago Black Sox signed balls with Joe Jackson and single signed balls for each of the "Eight Men Out."  One of the Ruth forgeries on a Wilson ball was coupled with a forged Lou Gehrig signature and was sold at Mastro Auctions.  These highly skilled forgeries fooled many until the forgers work was viewed in its entirety in the mid-1990s.  Despite the exposure of this forgers work, Heritage's current consignment director, Mike Gutierrez, included this exact same ball in his 2005 MGA auction sale.
After Hauls of Shame questioned the Ruth ball's authenticity during the auction it failed to reach Heritage's hidden reserve price and did not sell.
Our conclusion: Considering the skill that Ruth forgers have exhibited over the past two decades, how sure can anyone be that their JSA or PSA certified Ruth ball is authentic?
3. Rotten Peach: The Laser Copy Ty Cobb Cut Signature That Got Certified and Encapsulated by PSA:
This one appeared for sale on eBay and was discovered and identified as a forgery by author and Cobb expert Ron Keurajian who actually owned the authentic original government postcard that the forger used to copy with what appeared to be a laser printer.  Keurajian had posted the Cobb signature as an exemplar in an article he had written online several years earlier.  The man who submitted the autograph to PSA and defended its authenticity, Donovan Aribe, has since vanished from the autograph scene.
4. "Candy Cummings" Throws a Curve to PSA/DNAs new "Autograph Facts":
After making a big deal out of what a great resource its "Autograph Facts" section would be for collectors visiting the PSA website, 19th century pitcher, "Candy" Cummings helped illustrate the deficiencies in the company's expertise and skill in evaluating rare signatures.  PSA/DNA included the alleged exemplar above as an ultra-rare and authentic Cummings signature that would likely command over $25,000 if genuine.  However,  the signature is bogus and is merely a secretary's handwriting from the office of the Buffalo Base Ball Club in the late 1870s.  The secretary wrote Cummings' name on the back of an actual letter he sent to the club and also on the group of additional letters posted below-all in the same hand as the alleged Cummings signature.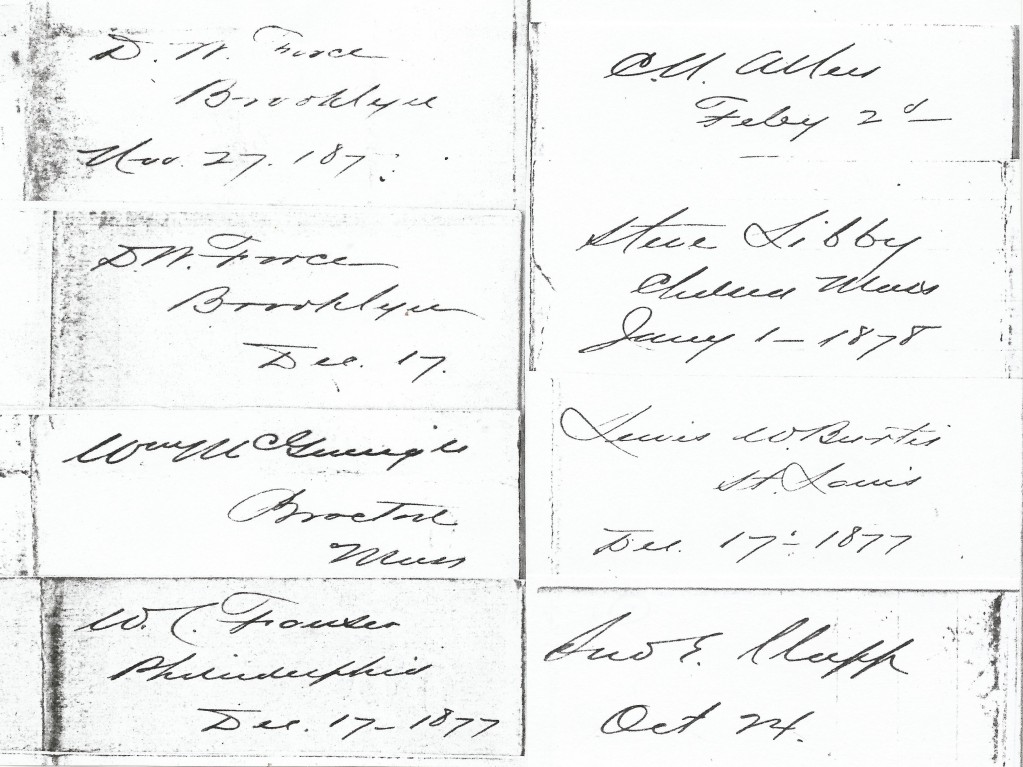 What's even worse is that PSA also posted an example of Cummings' authentic signature (below) from one of the actual letters he sent to Buffalo—and they still got it wrong.  The secretarial style signature appears on three existing Cummings letters addressed to the Buffalo BBC.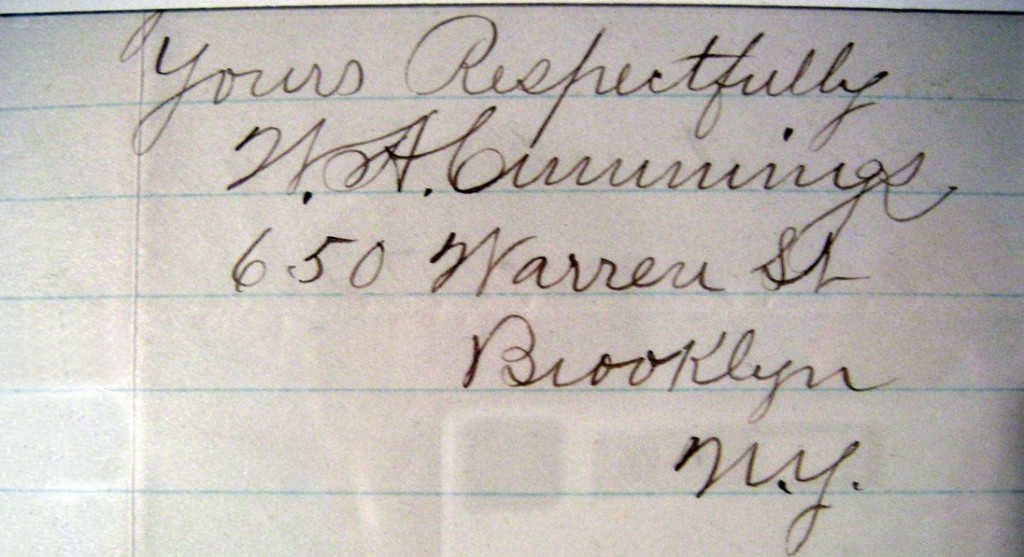 Above is the authentic Cummings signature that also appears on the PSA site.  Its hard to believe a company holding itself out as a leader in the industry and trying to protect collectors couldn't ascertain which example was written by the man alleged to have thrown the first curve-ball.
5. The Ty Cobb Single Signature Blazer on a Little League Ball Made After He Died
This ball appeared pre-certified by PSA and JSA on Heritage Auction Galleries website and we reported it for Deadspin: " The auction house and the authenticators PSA/DNA and JSA seem to have overlooked the "Leather Cover" stamp on the ball manufactured by Wilson. Baseballs used to be made strictly of horsehide until the mid 1970s when companies changed over to cowhide. Sean Flynn from Wilson told Deadspin that the company's baseball manufacturing engineer confirmed that the ball allegedly signed by Cobb in 1959 was actually "made in the 1970s."
Despite the fact that Heritage took the ball as a consignment and posted it on its auction preview calling the Cobb ball, "Perhaps the finest we've ever encountered," Chris Ivy claimed that the ball had never been examined by any experts. This despite the online auction listing stating, "Full LOA from PSA/DNA. Auction LOA from James Spence Authentication."  As a result of the embarrassing episode for the auction house,, Ivy stated, "We intend to change our policy and figure out a way to add the "authentication tags" only after authenticator's visits."   It should be noted that in-house Heritage employee, Mike Gutierrez, is an authenticator for JSA.
6.  The Cy Young Autograph Signed on a Giles NL Ball Made After He Died.
Ball expert Brandon Grunbaum of Historyofthebaseball.com exposed this gem as a fraud after it was certified authentic by Pawn Stars authenticator Drew Max.  The signature, alleged to have been signed by Young, was signed on a National League ball manufactured when Warren Giles was league president and after Young had passed away.  Case closed.
7.(Tie) David Wells' Single-Signed Christy Mathewson Ball and Huggins & Scott's "Magical Mathewson Ball"
SCP Auctions offered this questioned Christy Mathewson ball with an LOA from only one of the major TPAs and did something remarkable for an auction house; they stated that another company said they would not authenticate it.  SCPs catalog disclosed:
"Includes a full LOA from JSA.
NOTE: This ball was submitted to PSA/DNA who rendered an opinion of Not Authentic."
PSA said it was a forgery and JSA certified it.  This was, to the best of our knowledge, the first time an auction house has publicly disclosed such information to bidders.
One thing about Mathewson PSA and JSA can agree upon is their belief that bookplates for Mathewson's book "Won in the Ninth" were actually signed by the Hall of Fame pitcher.  Several copies with JSA and PSA LOAs were sold at auction in 2012 despite the fact that expert Ron Keurajian has repeatedly illustrated that the signatures are secretarial and not in Matty's hand.  Several auctioneers including Mike Heffner, of Lelands, agree with Keurajian's opinion.
8.  The Walter Johnson "Train-Wreck" Single-Signed Ball Removed From eBay by its Fraud Division:
This ball showed up on eBay with a sticker price of almost $80,000 as a Buy-it-Now.  The 80-grand was due in part to the fact the ball was accompanied by an LOA from Jimmy Spence of JSA.  But eBay's fraud division disagreed with Spence's determination when they took the listing down due to "authenticity issues" with the ball.
From our story:
"The Walter Johnson autograph appearing on the alleged 1920s to 1930s baseball that was offered for sale doesn't resemble the authentic signature of the Hall of Fame pitcher nicknamed "The Big Train." When shown the image of the ball appeared on the eBay website expert Ron Keurajian told us he was already aware of the ball and noted that the Johnson signature was "apocryphal". He added, "In my opinion the signature on that ball is a forgery." Hauls of Shame shares that opinion about the signature that lacks the fluidity and feel of Johnson's handwriting and appears to be labored and executed in a not-so-steady hand.
The signature, originally authenticated by JSA in 2010, was touted by the seller as "The Finest Walter Johnson Single Signed Baseball in the Hobby JSA," however, it appears that the eBay seller may be another victim of authentication malpractice committed by a third-party authenticator."
The Johnson ball appeared on SportsMemorabilia.com for $108,798.64 with its JSA LOA.
9. The David Wells Negro League Signed Baseball With Alleged Sigs of Josh Gibson and "Candy Jim" Taylor:
This Negro League baseball from 1942 allegedly signed by Josh Gibson, Satchel Paige and a host of other obscure and rare legends from the Homestead Grays and K.C. Monarchs was offered in 2012 by SCP Auctions who wrote: "Our research indicates that this ball was most certainly game used from one of those teams classic battles during the 1942 season." But the ball is clearly not an official Negro League baseball from that time period and several experts we spoke with doubted the authenticity of all the signatures on the ball. The signatures appeared to be at odds with exemplars from a period document signed by Homestead Grays players that is part of the Newark Public Library's "Effa Manley Collection"and document from that collection cast further doubt on David Wells' alleged 1942 Negro League signed baseball. The document is a receipt for payments made to players for the 1944 Negro East-West all-star game. All of the players and coaches receiving payments for that game had to sign the document, including "Candy Jim" Taylor who is featured on the ball.  The Taylor signature and others discovered at the library by author Ron Keurajian suggest that the Wells ball is a forgery.
10. The Lou Gehrig "Stunning Jet-Black Forgery" Certified Authentic by JSA and PSA:
This Lou Gehrig ball was sold at Legendary's 2012 sale and was billed as a "stunning jet-black high-grade signature" of the Iron Horse.  It is jet black, but it is a labored and slowly drawn signature that bears all the characteristics of a non-genuine Gehrig.  With its two fancy LOAs from JSA and PSA it sold for close to $30,000.

The letters collectors receive with their auction purchases bear the signatures of authenticators James Spence and Steve Grad who formerly worked together at PSA after Bill Mastro and MastroNet first formulated and instituted the third-party authentication process in 1999.
11. Rocky Marciano's $25,000 autographed Boxing Gloves are Withdrawn from Auction after being Exposed as a Forgery by Boxing Expert:
Boxing collector and expert Mark Ogren of FightToys.com posted the alleged Rocky Marciano gloves on Net54 and revealed that the signature was nothing close to Marciano's handwriting and actually resembled the handwriting of a restaurant owner named Mario, who had written a second letter of authenticity in addition to the LOA from PSA and Steve Grad.  Auctioneer Ken Goldin withdrew the gloves from the sale.
12.  The Cooperstown Baseball Centennial Program Featuring Genuine and Fake Signatures:
Forged 1st Day Covers and programs have proliferated the marketplace and a good example this year was Robert Edward Auctions (REA)offering of this program featuring forgeries of several Hall of Famers.  Experts told us the signatures in black or dark ink executed by Clark Griffith, Cy Young and Postmaster Farley were genuine, but all of the signatures in blue were not authentic, including Ty Cobb, Eddie Collins, Tris Speaker and Connie Mack.
Experts also identified another similar Induction program riddled with HOFer forgeries that sold for close to $10,000 at Heritage in May.  Heritage noted the item came with a: "Full LOA from PSA/DNA. Auction LOA from James Spence Authentication."
13. The Lou Gehrig "Not-So-Sweet-Spot" Ball Authenticated by JSA and PSA: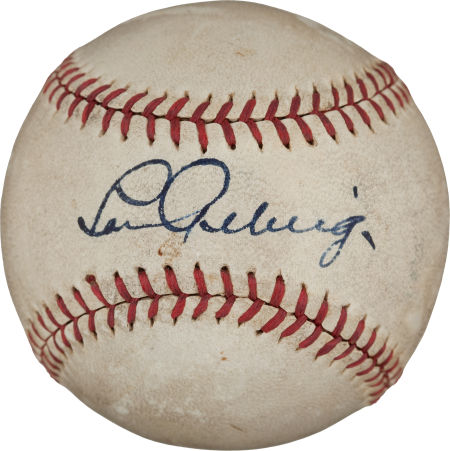 Author and expert Ron Keurajian goes into detail about his opinion of Lou Gehrig balls signed on the sweet spots of period baseballs in his new autograph handbook. Keurajian notes in his Gehrig signature study:  "A common forged ball (of Gehrig) is signed on the sweet spot with an overly large signature.  Gehrig signed in a confined hand.  A genuine signature is small and takes up very little space on the sweet spot."  The Heritage ball had a big signature and fetched a big price of over $44,000.  Keurajian adds, "The forged Gehrig signatures, on the other hand, take up the entire sweet spot and are twice as large as a genuine signature.  If you examine one of these balls with a large signature on the sweet spot, study it carefully as it is likely a forgery.  Most Gehrig single-signed balls are signed and inscribed on the side panel."
14.  The PSA Authenticated and Slabbed Rocky Marciano 3×5 that wasn't Rocky Marciano:
This egregious error was also spotted on eBay by boxing expert Mark Ogren, of FightToys.com The signature is clearly that of Rocky Graziano, but had a clipping of Rocky Marciano's name attached to it.  Looks like PSA looked at the Marciano clipping and not the signature itself, or maybe they looked at the signature and their skills are just that bad.
The signature above is a genuine Marciano and  even novices could not mistake the encapsulated signature for that of the champion.
15.  PSA and JSA Authenticator Herman Darvick Fools Pawn Stars with Fake" Shoeless Joe" Jackson; PSA Shoots Down His LOA: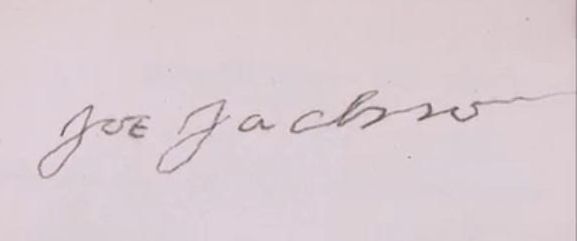 Herman Darvick sold a few bogus Joe Jackson cuts a few decades ago and at some point authenticated a book allegedly signed by "Shoeless Joe" on the inside page.  The Jackson signature is an obvious forgery and it allegedly fooled Rick Harrison of the Pawn Stars who purchased it for $15k.  If you think Pawn Stars is real too, Rick lost 15 big ones because of Darvick's shoddy work and worthless LOA (below).
When the book was taken to PSA, the company Darvick works for shot down the opinion of their own authenticator and his  LOA deeming the Jackson autograph non-genuine.  The PSA letter to the Pawn Stars (below) states, "we regret to report that your item did not pass PSA/DNA authentication."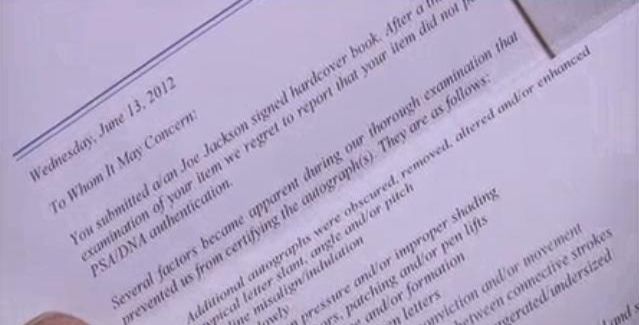 16.  JSA Certifies as Authentic a Vaudeville Contract that was never signed by Cap Anson, but maybe by his Daughters:
These Cap Anson contracts have been around for decades ever since Bill Mastro acquired them from the Anson family.  While that trove included many authentic Anson signatures to use as exemplars, somehow Jimmy Spence and others have authenticated these documents despite the fact that Anson never signed on the dotted lines of these theater contracts.
Authentic Anson signatures like the one above illustrate that the theater contracts bear no resemblance whatsoever to Cap Anson's handwriting.  SCP sold the contract for over $3,000.
17.  A Very Shaky (Restored) Mel Ott Single with LOAs From Jimmy Spence and PSA:
This Mel Ott ball was sold in Heritage's Fall 2012 sale with LOAs from JSA and PSA as well as a disclaimer that the ball had been "restored" with several previous signatures removed from the ball.  Every expert we consulted with stated they could not certify this problematic ball as authentic.
18. A Jimmy Spence Authenticated $29,999 Single-Signed Goose Goslin Ball is Removed by eBay's Fraud Division:
The eBay fraud division's withdrawal of the $29,999 Goose Goslin single signed ball was due to "authenticity issues."  James Spence has a checkered history authenticating signatures alleged to have been signed by Goose, especially yellow Hall of Fame plaques as reported in the past on Autograph Alert.
19. Couple Buys A Pile of Crap Authenticated by Drew Max at "Pot o' Gold" Auctions in Vegas: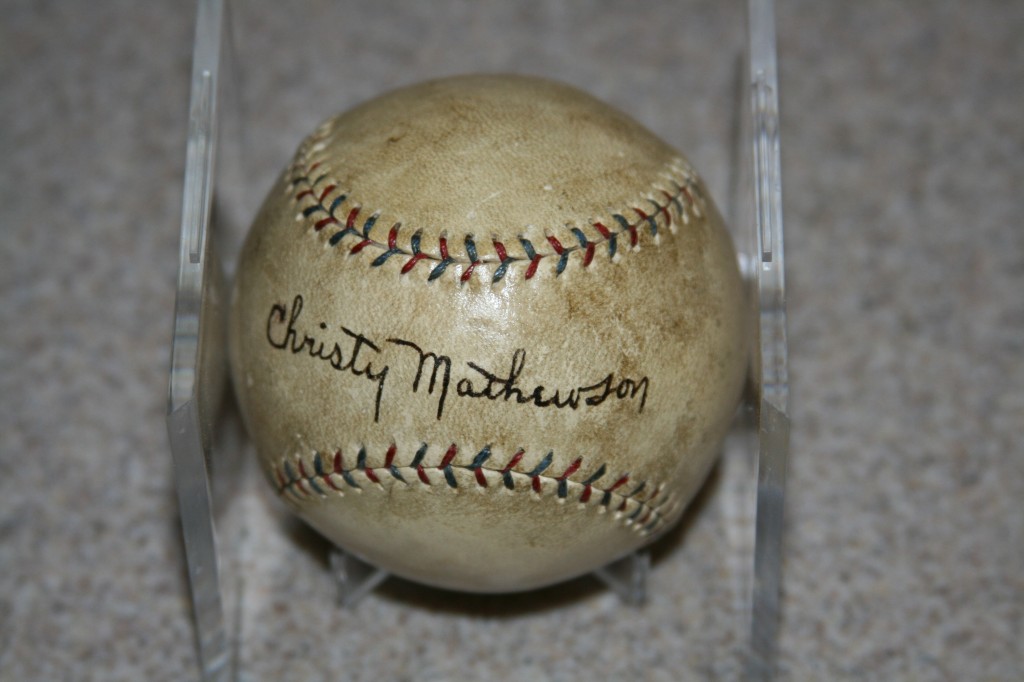 A couple contacted Hauls of Shame earlier this year to report their purchases of several Drew Max LOAd items including baseballs allegedly signed by Ruth, Mathewson and others.  The couple paid over $25,000 at several Pot O' Gold sales before they realized they were buying outrageous fakes that even PSA or JSA wouldn't authenticate.  All of them, however, came with the Drew Max seal of approval, including the horrid Christy Mathewson forgery illustrated above.
20.PSA/DNA Says Autographs Peyton Manning Signed For His Own Foundation Are Fakes:
Here's a letter we received from a reader and his experience with PSA and his Peyton Manning autographs:
"What I am about to tell you is almost unbelievable. I am authorizing you to publish this under one condition. I want you to just state the facts. I think when someone just slams a company and bad mouths them the reader loses interest. I have two goals ultimately. One to make sure that collectors out there know that Mr. Gretzky and Mr. Manning are actually signing fan mail that they receive. Two, to draw attention to the fact that PSA is not trained to indeed judge if any autograph is indeed authentic or fake.
I have been collecting autographed cards for many years. I recently acquired several Peyton Manning autographed cards by way of the PeyBack Foundation. I also have sent to Wayne Gretzky and received several cards, books, pucks, etc back from him c/o of his business.
In April, I sent in 20 cards to PSA to be authenticated. 6 Peyton Manning, 13 Wayne Gretzky, and 1 Michael Jordan. In May I received back my submission. PSA concluded that 19 of the 20 items I sent in were not authentic. The only one that was "real" was one of the Wayne Gretzky cards.
I sent off an email to the PeyBack Foundation regarding how I was very upset about receiving back cards signed by someone other than Peyton. To my surprise I received a response from Pat Breen at the PeyBack Foundation. She/He said they were Peyton's personal assistant and that no one other than Mr. Manning signed the cards that were sent into the foundation. I was floored. She was even so kind as to send us two autographed 8 x 10 photos."
BONUS: THE BEST AUTHENTICATION OF 2012:
The Ed Delahanty signed envelope from 1903-
After authenticating a signature not signed by Big Ed Delahanty and also misspelled D-e-l-e-h-a-n-t-y, JSA finally got it right and authenticated a genuine postal envelope executed in the hand of Hall of Famer Ed Delahanty.  The envelope appeared at Legendary's auction at the 2012 National and the Delahanty signature was spelled correctly.  The postal cover addressed to Delahanty's wife in his hand originates directly from the Delehanty family and even has a period notation written by Del's wife indicating that the cover was written in her husband's hand.
Contrary to its prior authentication of the misspelled secretarial signature executed by Delahanty's manager, Billy Shettsline (above), JSA appears to have come to its senses and actually certified the genuine article.  Of course, both PSA and JSAs mistakes led Hunt Auctions to sell the misspelled example for over $35,000 and a similar c.1899 Philadelphia signed team sheet also executed by Shettsline.  JSAs website says that "Delehanty" letter is still "under review."
The authentic Delehanty autograph, however, only sold for half the price of the bogus, misspelled "Delehanty" secretarial letter.  Maybe that's because Legendary Auctions noted in its lot description that although JSA issued an LOA, Steve Grad and PSA declined to write an LOA for the rare item.  Legendary said:  "Although PSA/DNA could not render an opinion due to the paucity of Delahanty exemplars, this extraordinary offering is accompanied by the provenance of a full LOA from JSA."
It should also be noted that back when the non-genuine and misspelled "Delehanty" letter sold for $35,000 Hunt Auctions was given for comparison purposes a copy the very same signed envelope as well as Delahanty's personal betting ledger for 1903.  The ledger contained over forty pages of the sluggers genuine handwriting.