By Peter J. Nash
Sept. 23, 2010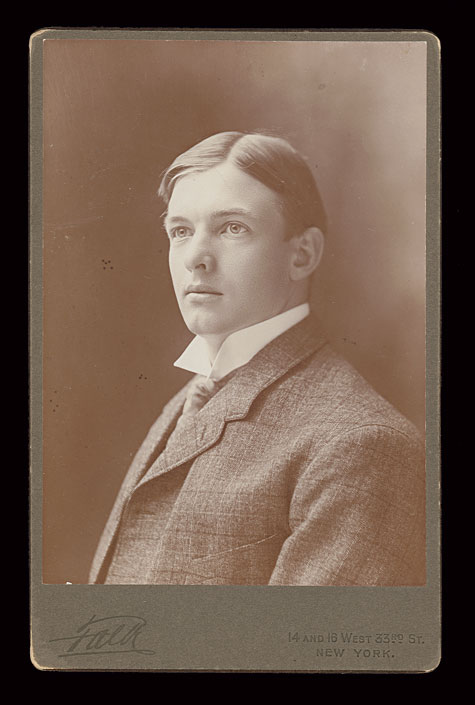 This Falk Studios photo of HOFer Christy Mathewson was stolen
The jig is up! Collectors around the country have been reading the recent reports on Haulsofshame.com and they are identifying and reporting to our "Tips" line, both public and private sightings of baseball treasures that have been stolen from the National Baseball Library in Cooperstown, New York. While it seems like the Baseball Hall of Fame would much rather sweep the evidence of a growing scandal under a very large rug, new evidence of the thefts is surfacing at a most alarming rate. It's a national disgrace, and Haulsofshame.com is the only media outlet covering the disturbing story of the massive thefts from baseball's national shrine.
Crooked collectors, auctioneers, authenticators and dealers have profited from the black market trade of the Hall of Fame's treasures, while purchasers of the contraband material are finding themselves holding some very expensive bags. These unfortunate collectors are learning what to look for on items that have been wrongfully removed from the Cooperstown museum. The scope of the scandal appears to be growing rapidly and past donors of materials to the museum, which relies solely on donations to enrich its collections, are wondering how this all could have happened?
Clay Marston, of CanadianBaseball News.com, has donated items to both the National Baseball Hall of Fame in Cooperstown and the Hockey Hall of Fame and Museum in Toronto.  Following the reports on Haulsofshame.com, Marston learned of the large scale thefts from Cooperstown and, as a donor who made the choice to entrust the Hall of Fame with his own donations, Marston is dismayed.  Responding to one of our articles Marston wrote, "The revelations are most chilling and extremely disheartening for those of us who have actually donated a number of one-of-a-kind items to the National Baseball Hall of Fame." 
Michael T. Mauro, of Hamden, CT, donated a score card from Babe Ruth's first game as a Boston Brave, and like other donors expressed disbelief when he heard of the thefts from the museum.  Said Mauro, "I love the Hall of Fame, its one of my favorite places.  I wanted to donate something so I could contribute to this great institution.  What a shame that someone could walk off with these pieces of history. I just hope they get everything back."  
Rare, one of-a-kind photographs and historic documents detailing the day to day business of baseball at the turn of the century have vanished from the Hall of Fame's collection, but thanks to the vigilant eyes of our readers, many of these gems will hopefully make the pilgrimage back to Cooperstown, like fans do every year.
Here are some of the startling new discoveries submitted to Haulsofshame.com's "Tips" line:
This is the reverse of the rare Falk cabinet photo of Christy Mathewson, which shows the letters "PD" written in red marker, a designation written by Hall of Fame employees on photos to show that the image rights are "public domain."   This past May, when New Jersey Auction house Robert Edward Auctions attempted to sell a rare cabinet card of Hall of Fame pitcher Mickey Welch marked "PD" (but altered to appear as "BOB" instead), the FBI stepped in and stopped the sale.  Collectors learned that the "PD" mark was something that they should avoid at all costs.  Honest collectors have also decided to report sightings of other stolen items like the cabinet photo of Hall of Fame legend Christy Mathewson.
Even baseball card issues like the Sporting Life W-600 cabinet cards from the turn of the century have surfaced in private hands:
  This W-600 Sporting Life Cabinet of Boston's Ed Abbaticchio was stolen from the HOF, as evidenced by the "PD" designation altered to read "BOB," in red marker, on the reverse. The card was graded and encapsulated by SGC and sold by MastroNet in a 2008 auction.
 
In addition to photographs and baseball cards, rare, handwritten documents by Hall of Famers are being discovered as well.  A steady stream of stolen letters have appeared recently in the sales of Heritage Auctions in Dallas, Texas, but it appears that scores of other documents have been sold, "under the radar," privately.  A perfect example of this is a rare letter written by John Montgomery Ward to Baseball's National Commission.  The National Commission was headed by Cincinnati Reds owner August Herrmann, and the Hall of Fame collection features the "Herrmann Papers" collection, which includes all of Herrmann's Reds and National Commission correspondence spanning from 1902-1927.  This letter written by Ward would be valued between $10,000- $20,000 if it was legitamately sold at public auction.  An honest collector sent this image to us:
This past week Hall of Famer Nap Lajoie's name was in the news when Sports Illustrated published a story about his battle for the 1910 AL batting title with Ty Cobb.  Thanks to our "Tips" line Lajoie's name is also in the news as we expose this Carl Horner cabinet photo of Lajoie as stolen goods:
Additional "Tips" have come to our attention in the form of old advertisements publicizing the sales of stolen items from the Hall of Fame collection.  One in partiicular was a March 24, 2000 ad from Sports Collectors Digest placed by Virginia dealer Kevin Keating.  Keating offered a May 15, 1924 letter written by Hall of Famer and NY Yankee manager Miller Huggins to August Herrmann for $9,950.  Keating indicated in the ad that he acquired the stolen letter (and others) from the 1999 Sotheby's Barry Halper Collection auction.  The Halper Collection and the Sotheby's Halper Auction in 1999 were riddled with items stolen from institutional collections, including the Baseball Hall of Fame.
The New York office of the Federal Bureau of Investigation is presently investigating similar baseball thefts from the New York Public Library's A. G. Spalding Collection and FBI spokesperson Jim Margolin has indicated that the Cooperstown thefts are out of their jurisdiction.  An investigation into the Hall of Fame thefts would have to be conducted by the Albany, NY office of the FBI.  Albany FBI special agent Paul Holstein recently told Haulsofshame.com that he could "neither confirm nor deny" if an investigation into the Hall of Fame thefts was underway.
Brad Horn, the Hall of Fame's Senior Director of Communications was traveling and unavailable for comment.
The revelation of additional stolen Hall of Fame photographs being sold to collectors comes at the same time the Cooperstown museum announces its initiative to digitize the National Baseball Library's 500,000 photographs.  The plan involves a partnership with the EMC Corporation, which will sponsor the digitization of the collections.  The Hall of Fame's hope is that their collection of images will be available for fans online within the next three years.  We can only hope that the Hall recovers their missing photograph holdings in time for them to be included as part of their ambitious project. 
Thanks to honest collectors passing along these vital sightings of stolen items, the Hall of Fame just may have a head start in their efforts to recover what's been swallowed up by the black market of baseball artifacts.