Staff Report
Feb. 21, 2013

Heritage Auction Galleries planned for it to be an extravaganza featuring stunning sports artifacts selling for record prices, but what its Platinum Night Auction in NYC has devolved into is a sad commentary on the apparent ineptitude of the Third-Party authenticators (TPAs) JSA and PSA and their head honchos James Spence Jr. and Steve Grad.
Two of the entries have already been withdrawn from the sale as chronicled by The New York Post and others may follow depending on the outcry from collectors and perhaps a visit to the Platinum event by the New York office of the Federal Bureau of Investigation.  We haven't seen this many problems on alleged top-flight items sold in New York City since the infamous Halper Sale at Sotheby's in 1999.  Some of these Heritage lots could have competed on the Upper-East Side with Halper's "Fake 500 HR Signed Sheet"; "Lou Gehrig's Last Glove"; and the record-breaking and dubious single signed Babe Ruth portrait ball.
Haulsofshame.com took to the streets and tracked down several of the experts in the field who we rely upon and asked for their "considered opinions" on the current Heritage Platinum Night offerings. We've withheld the identities of the experts for fear of getting them banned from future Heritage extravaganzas and auction sales.
There are still lots of other impressive authentic items in the Heritage sale including Olympic memorabilia from Mike Eruzione, a collection of material being sold by Walter Johnson's family, an authentic 1927-28 Lou Gehrig Yankee road jersey, an authentic Christy Mathewson letter, an authentic signed Babe Ruth Bat, a nice Gehrig signed portrait, Curt Schilling's "Bloody Sock" from 2004, a green jacket from The Masters and,  oh yeah, the earliest Red Sox letter with a signature of Babe Ruth that is believed to have been stolen from the Baseball Hall of Fame's Herrmann Papers Archive.  We're sure that one is real, as is Heritage's Mike Gutierrez, who authenticated many other Herrmann letters of Mathewson, Huggins, Jennings, Clarke, McGraw and others for the Sotheby's Barry Halper Collection sale in 1999.  Heritage was sued this week in a Dallas, Texas, court by the Augusta National Golf Club, who claim the "Green Jacket" being offered was stolen property.  It appears the Masters has more respect for a piece of clothing than the Baseball Hall of Fame has for historic documents from the Herrmann Papers Collection, as Cooperstown has made no such effort to recover its property.
As for the ten lots chosen in this report, they represent an estimated low-end auction value determined by Heritage to be close to $500,000.
HERE'S THE TOP-TEN:
1. The Finest 1927 New York Yankees Team Signed Baseball on Earth (Sold For $149,375)
Heritage Estimated Value:  $200,000-and up
One expert said: "It's a well executed forgery , but where they failed is that each signature is too uniform , disregard the same color ink. After almost 100 years the ink absorbed to leather should be more obvious , you can almost see it still laying on top.  The odds on all (players) signing with the same pen are almost non existent but assuming they did,  some would have signed with a lighter hand than others and there would be a degree of fading on certain signatures , there is none. Gehrig for one signed with a very light hand, especially for a big man, that is why on most of the real Gehrig signed balls his signature is almost always light (less ink to surface in original application) , not the case here. There are many other clues…."
Another said: "If Steve Grad signed off on this one, I could only imagine what's in store for Rick and the boys on Pawn Stars.  Would Drew Max even authenticate this ball?  The amount of hesitation in the application of the signatures is amazing and gives the autographs an appearance of being "drawn," not executed the way a person would sign normally with some reckless abandon."
As well as: "All the writing seems to be the same size. It doesn't make sense. Typically you have one or two players who will write larger or smaller. A forger however will typically try to mimic the signature and thus the writing all is the same size because it was done in the same hand."
An offer for HA: "Maybe if Heritage pulls the ball they can send it to the FBI labs at Quantico. Virginia, for analysis, so they can definitively show them the ball is a forgery.  I could put them in touch with some one who should be able to help with that.  The FBI will tell them its a fake."
We relayed that message to Chris Ivy and he responded with this:
Heritage is 100% confident in the authenticity of the 1927 Yankees team signed baseball or it would not be included in the auction. We are one of the very few auctioneers that employs not one, but both of the two most respected and trusted firms in the industry—PSA/DNA and James Spence Authentication. Both of these services have authenticated the autographs on this ball without reservation. The baseball derives from the personal collection of Earle Combs, the Hall of Fame center fielder for the 1927 New York Yankees and includes a letter from the close personal friend to whom the ball was given by Combs. As such, Heritage is completely comfortable with the authenticity of the baseball.
It was only in the past ten years or so that an exhaustive study of the minor variations in stamping styles on Official American and National League baseballs determined that the A.L. balls used in 1927 were a one-year style. In other words, American League baseballs made in 1926 and before, and 1928 and after, are physically different in their stamping styles from the 1927 model. The Combs team ball is the correct 1927 one-year style. So the suggestion that a supposed forger would have known this fact prior to the ball's first public appearance in 1999, then could have tracked down a pristine example of that exceedingly rare style to use for his forgery, and lastly had the skill to perfectly execute these autographs to pass the finest authenticators in the industry is truly preposterous.
If the winning bidder would like to have the baseball sent to the FBI labs at Quantico, VA, then we would be pleased to work with them to help facilitate that process prior to the settlement of the auction and as long as the process did not damage the baseball in any manner. No reasonable person would believe that Heritage would risk a significant financial loss by marketing a piece in which we did not have complete faith, and we emphatically stand behind the authenticity of this baseball, as do the top experts in the autograph authentication profession.
2. The Only Known 1932 New York Yankees Team Signed Photograph (Sold For $33,460)
Heritage Estimated Value: $30,000-and up
One expert said: "They all appear to be very slowly written and if you compare signatures on multi- signed pieces it becomes pretty apparent that the same hand signed these."
Another opinion: "This is probably the worst piece. I absolutely hate the Ruth signature. Notice the spacing alone between the "t" and "h" in the Ruth. Then look at the Gehrig. Good night. Each signature appears to have been signed extremely slowly. Just look at the Bill Dickey and Lefty Gomez. Just horrific! 100% fake in my opinion."
3. Lou Gehrig Single Signed Baseball
Heritage Estimated Value: $30,000-$50,000 (Withdrawn)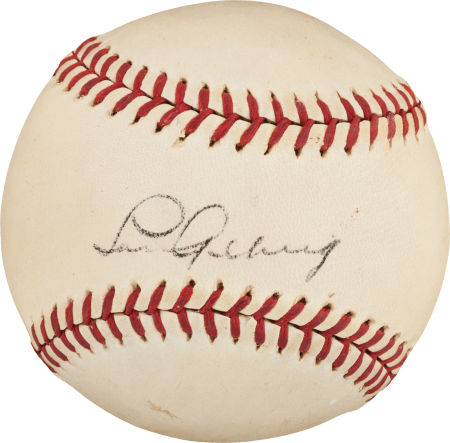 One expert opined: "First off, the forger was attempting a Gehrig-style signature from earlier in the 1930s.  I've never seen anything close to that in 1939, but beyond that the signature itself isn't even a credible attempt at the earlier version.  It is just not Gehrig's hand.  His signature has a quick flourish and this one is slow and labored."
This ball was featured in our last report which detailed the likelihood Gehrig could have even signed the 2-star style OAL Harridge baseball that bears his alleged signature.  Even after withdrawing the ball from the sale and seeing all of the evidence presented in our report related to the signature and the Reach baseball Chris Ivy told us this:
"PSA/DNA experts and James Spence Authentication experts reviewed the Gehrig ball in person and they stand behind their authentication of the piece."
A comparison of the two signatures on the current Heritage Auction ball and the 2008 Mastro ball (left, top and bottom) with the two signatures from the Lelands 1939 Yankee team ball and the 2013 REA Ruth and Gehrig ball (right, top and bottom) shows a striking disparity in similarities.  The Heritage and Mastro examples appear to be signed by the same hand (but not Gehrig's) and the Lelands and REA examples are both signed by the same hand–Lou Gehrig's.  Apparently Steve Grad (PSA) and Jimmy Spence (JSA) are still sticking with their original determination that the Heritage offering is authentic.  Every expert we consulted with disagrees and points to the visual evidence above.  The illustrations don't lie.
The great irony (or tragedy) here is that while Grad and Spence stand behind authentications on the Heritage and Mastro Gehrig balls, they also authenticated the genuine ball which will appear in REA's Spring sale.  Lelands didn't need the combined expertise of Grad and Spence for their ball, they could figure out it was authentic all on their own.
4. Final Out Ball From the 1917 World Series From HOFer Red Faber
Heritage Estimated Value: $40,000-50,000 (Withdrawn)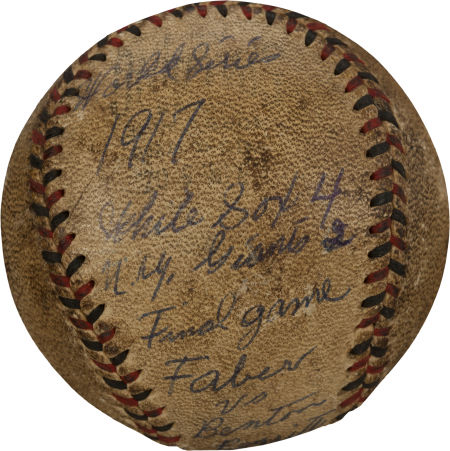 "This ball is probably the greatest lesson not to take second-hand provenance as gospel.  Just because something came from a certain person who says the item is from a major event doesn't necessarily mean it is true. Red Faber himself could have even got it wrong, let alone a forger who might attempt to create a game-used ball and provenance."
As Ivy and Heritage extol the virtues of the alleged source of the 1927 Yankee team ball, they should look to this Faber ball for a reality check.  The 1927 Yankee ball originates from an alleged neighbor of Earl Combs and when asked several times to produce the said neighbor's letter, Ivy has failed to produce it.  The bogus 1917 World Series' "Final Out Ball" came with an affidavit from an actual family member let alone an alleged neighbor.
One expert said: "Neighbor, Garage sale, Grandpa, …..same old story, but even if the neighbor story was plausible at some point in the last 80 years,  the media starving for stories would have done a human interest piece on it and there might be accompanying evidence …again NONE. Its very simple using census records as a basic starter to even back track the "neighbor" story to arrive with a name,  and then instead of taking up multiple paragraphs telling us about the 1927 Yankees which we already know, use that space to illustrate the paper trail …Not done because there likely is none."
If there is, Heritage won't furnish it or make it public.  Why?
5.  Single Season Home Run Record Holders Multi-Signed Baseball (Sold For $8,962)
Heritage Estimated Value: $20,000-$30,000

Several experts said: "Tragic, Ruth way off";  "A disaster"; and "A train wreck."
The experts reaction to this this melting pot of the Steroid-Era Sluggers and the "clean" Yankee legends was strong and the consensus was that the Ruth signature was definitely a forgery.  Attempts to reach Barry Bonds and Mark McGwire to ask if they actually signed the ball were unsuccessful, but an expert familiar with the signatures of both was highly critical of the signatures comparing them to many in-person examples he had obtained.
The ball was sold by Mastro for $32,766 in November of 2000.  One expert we spoke with speculated that the ball may be the same one identified in the book Operation Bullpen, which states, "In his investigations FBI Special Agent Tim Fitzsimmons saw a Ruth ball with a price tag of $10,000. Then there was the Ruth-Roger Maris-Mark McGwire combo-signed ball that Fitzsimmons saw in 1999 after McGwire broke the single-season home run record. Its asking price was $500,000, and it almost certainly was a Greg Marino forgery."  The passage appears to be referring to the Bonds and McGwire signatures, as one source told us, "That Ruth is no Marino."
Another opinion: "It makes no sense, absolutely no sense why anyone would add Sharpie black signatures of Bonds and McGwire to a ball supposedly signed by Ruth & Maris. And then to make them look not even authentic is just plain bad."
One expert opined: "The ink on the Ruth is applied unevenly and it even looks as if there were starts and stops in the course of applying the signature.  It looks more like it was "gone-over" in spots, rather than being a real Ruth."
6. 1944-45 Babe Ruth Signed Albertype (Type I) Hall of Fame Plaque (Sold For $22,705)
Heritage Auction Estimate: $30,000-and up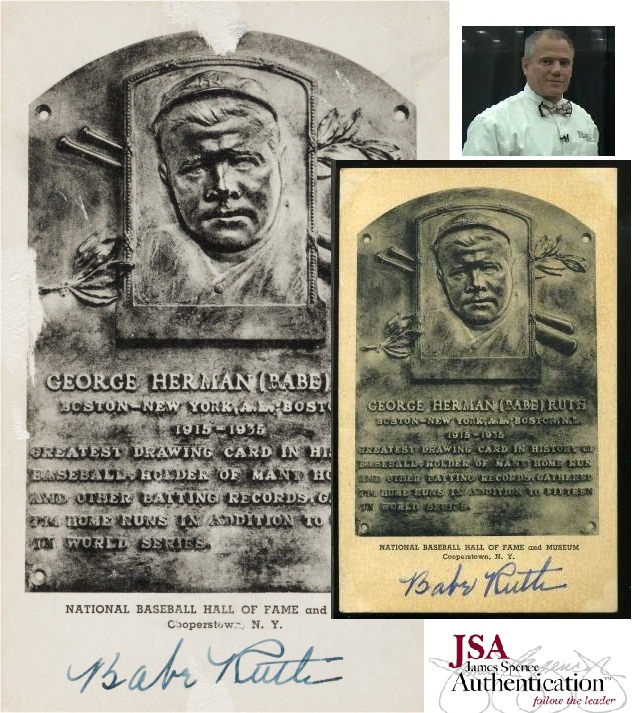 Some experts wondered if this could be the work of the late Ron Dross, but additional information revealed that Dross' specialty was "Artvue, not Albertype HOF plaques."  Still JSA & PSA's work authenticating Black & White HOF plaques is inadequate to say the least.
Authentications of player plaques of players like Jesse Burkett have cost collectors a fortune (as HOS will detail in upcoming reports).  Ron Keurajian believes the only authentic Ruth plaque to surface is the example sold at Philip Weiss Auctions in 2009 for over $60k.  Every expert we asked concurred with author Keurajian,  One said, "The signature shows hesitation and looks off, I'd stay away for sure."  Another simply said, "It's apocryphal."
7. 1930's Lou Gehrig & Tony Lazzeri Dual Signed Baseball (Sold For $9,261)
Heritage Estimated Value:  $10,000-and up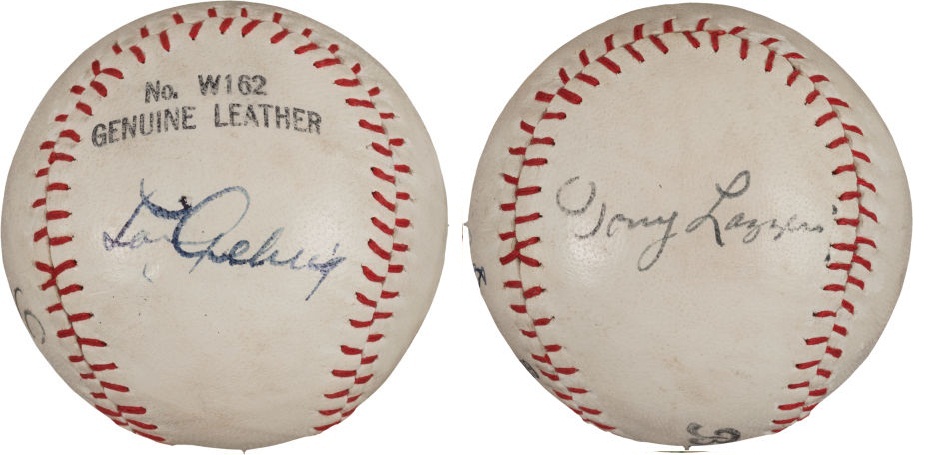 One expert opined: " The Gehrig is particularly awful. That is new ink traced over. There is no possible way that ink is 73 years old at best. Just no way!"
Another expert said: "On the  Gehrig-Lazzeri ball , based on (the) scan, the ink could still be wet, obvious it was recently applied."
Another said: "To see the wide ranges of different handwriting found on these Gehrig signed balls is scary.  The TPA's are authenticating examples that are so far off from each other, its unbelievable.  Look at the stoppages, mistakes and the letter formation on this ball.  Simply not Lou Gehrig."
8.  An Exquisite 1932 New York Yankees Team Signed Baseball (Sold For $35,850)
Heritage Estimated Value: $15,000- and up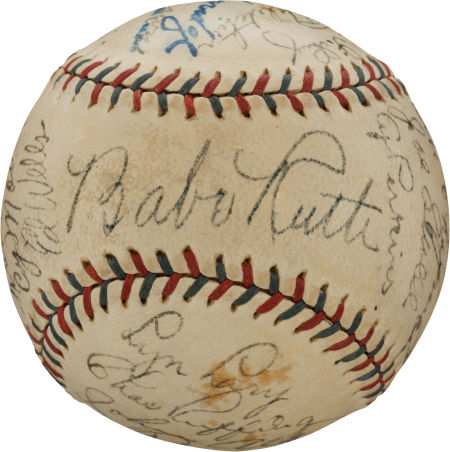 "Its filled with labored signatures that give away the fact they were all created in the same unsteady hand."
9. 1927 New York Yankees Pitching Staff Signed Photograph (Sold For $13,145)
Heritage Estimated Value:  $10,000-and up
These alleged autographs of the Yankee staff are signed on an authentic wire photo and most collectors might not question their authenticity.  One expert we spoke with, however, called the Yankee pitcher autographs "Garbage."  He pointed to "slow and labored strokes of the pen" and was critical of letter formations and what he viewed as an assemblege he could not call genuine.
Another opinion: "This piece is insane. Just look at it. Was it signed last week? The ink is incredibly bold on some but then appears faded on others. Fading doesn't discriminate. Notice how strong Dutch Ruether is but George Pipgras right next to Reuther's signature is faded. It looks as if someone used new fountain pen ink to forge all the signatures and then used lemon juice or ammonia to fade some of the signatures. The ink on Reuther and the earlier signatures cannot be older than 10 years in my opinion."
10. 1940's Babe Ruth Single Signed Baseball (Sold For $35,850)
Heritage Estimated Value: $20,000- and up
One of the experts said: "Giant question !!!! if the scan is accurate why has the "branding" faded (on sweet spot) but not the signature ?"
Another said: "Like most forged Ruth balls this one is executed slowly and poorly with none of the bounce a real Ruth exhibits."
In his book, Ron Keurajian points to Ruth forgeries being "signed in a methodic way" and lacking the "up and down and bouncy strokes."  This ball is a good example of what he described in his book.
Another opinion: "It is another one of these high-grade Babe Ruth's that is slowly executed and lacks the fluidity of an authentic Ruth signature.  It's as if the forgeries have become the exemplars when it comes to Ruth balls."
This assemblage would not have been possible without the pairing of TPA's Steve Grad and Jimmy Spence with auction executive Chris Ivy, son of Heritage Auction Galleries CEO, Steve Ivy.  We're hoping this trio can learn from their mistakes and that future reports like this one will not be necessary.
But for now, one of the most prominent collectors in the hobby told us this:
"As a high-end collector who has purchased an unaltered Wagner, over a dozen Babe Ruth game bats, dozens of game used Hall of Famer flannels and some of the best babe Ruth autographs known to exist, I find it disturbing that so many items I planned on bidding on in the Heritage auction have been deemed stolen or fraudulent."
UPDATE:  Alleged Fakes Sell At Platinum Night Event in NYC and #11 Jackie Robinson Single Joins Notorious Group (PSA Agrees???)
11.  Jackie Robinson Single Signed Baseball (Sold For $26,290)
Haulsofshame.com reader Brian West informed us that he noticed Heritage's Jackie Robinson single offered in the Platinum Auction only had a JSA letter of authenticity, so, he inquired of PSA/DNA via their Quick Opinion service and received an answer.  West told us:  "The ball was described in the catalog as authenticated by JSA. I used the PSA quick-opinion option on their website ($10) and they sent me an email with their "likely not genuine" opinion."
After we got that news, Richard Simon sent us an unusual listing of a Jackie Robinson replica ball on eBay featuring what looks like the exact same autograph as the Heritage offering (above right).
When our experts viewed the Robinson single last week, the consensus was the ball was a forgery (We guess that PSA/DNA agreed?).  The ball allegedly sold this evening for over $26,000 with its JSA LOA.
We have a request going out to Heritage's Chris Ivy for an explanation.