By Peter J. Nash
May 30, 2013

For Updates Scroll to Bottom:
The buzz about the movie 42 was growing and the upcoming anniversary of Jackie Robinson's Major League debut on April 15, 1947, only added to the excitement. Hollywood's take on the baseball pioneer's story was ready to hit theaters and the number "42″ was creeping into everyday conversation and the mainstream media.  On MLB's special day in 2013 every Major League player would be wearing number "42″ in honor of Jackie.
Memorabilia hawkers were sure to capitalize on the 42 hype as MLB issued special "Jackie Robinson Day" baseballs and even TMZ joined the fray posting a celebrity Q&A called, "I Own a Cool Piece of Jackie Robinson History."
Enter Brandon Steiner, the founder and CEO of the successful Steiner Sports Memorabilia company, the leader in the "hand-signed and game-used" memorabilia industry having partnerships with the New York Yankees and Major League Baseball.  While the bulk of his business revolves around current stars Steiner recently ventured into the world of high-end vintage memorabilia and helped fatten up the college fund for Don Larsen's grand-kids by selling the actual uniform Larsen wore for his "Perfect Game" in the 1956 World Series.  The perfect Yankee pinstripes fetched a cool $756,000.
As the 42 movie premiere and "Jackie Robinson Day" approached, Steiner busted-out another World Series relic with a link to the Brooklyn Dodgers:  The baseball glove Jackie Robinson used in World Series play in 1955 and 1956.  The glove was slated for sale in a new "ground-breaking" auction of vintage memorabilia, a big step up from Steiner staples like Yankee Stadium dirt and the autographed balls that make their way into the gift-baskets of Derek Jeter's one-night stands.  Robinson's glove was the type of treasure that the Steiner PR machine could pimp in every media category.  Steiner was ready to do what he does best; convincing customers that they can't live without whatever his company is selling along with the claim that the company "prides itself on 100% authenticity."
On his first stop, Steiner spoke with Michele Steele on her ESPN show, Mint Conditon, and stressed the importance of the baseball treasure introduced as "a 1955 World Series game-used Jackie Robinson glove."  Considering its importance and its ties to an American icon, Steele said she'd never heard of such an item ever being sold and asked, "How do you know it's real?"
Steiner responded confidently, "We photo match."  He added, "You gotta go through a lot of photos especially on this particular item, there's no Jackie Robinson gloves that we know of especially with game use, used in the 1955 World Series.  Probably even the last glove he ever wore.  It's a rare glove.  We've done a lot of photo matches and everything works out."
Steiner's answer suggesting that he had identified the same glove in actual photos satisfied Steele who moved on to ask about the rarity and value of the leather mitt that her guest said could approach "seven figures."  Steiner said, "We're hoping that the glove goes for over half-a-million and up towards a million.  It's going to be interesting to see the interest here with the movie coming out and that kind of excitement."
The ESPN segment ended with Steele adding, "It would not be an understatement to say this is a Hall of Fame worthy item."
Steele's observation was more revealing than she knew for in Cooperstown, New York, another Rawlings baseball glove attributed to game use by Robinson was sitting in a museum display case at the very same Baseball Hall of Fame she had referenced.  In fact, the Panini card company (formerly Donruss) had just issued a trading card set featuring select Hall of Fame artifacts including Robinson's mitt identified as the "Glove Used During The Official Game" on April 15, 1947.
Now, if there existed a million-dollar glove attributed to Jackie Robinson, the one on display at the Hall would surely fit the bill.  The glove said to have been worn on his hand that historic day has been photographed and presented in Hall of Fame publications, but the claim made by Pannini on its card has its own issues as Robinson played his initial game at 1st Base while the Hall's is a fielders glove.  The card also states that the glove was used "during his Hall of Fame career."
That issue withstanding, it appears that neither Steiner Sports or ESPN picked up the phone to check with Cooperstown to see what they actually had on display.  On the day of Robinson's anniversary Steiner's Executive-VP, Steve Costello, brought the Robinson glove onto the set of Fox Business News to appear on the show "Markets Now" after the premiere of the movie 42 raked in $27.3 million, making it the number one movie in America sixty-six years to the day of Robinson's historic game."
Like ESPN's Steele, the FOX host asked Costello if the glove he brought on the show was the real-deal, asking, "Are you sure of that?"  Costello responded, "It's the only Jackie Robinson glove in existence and as we were talking about earlier it's been photo-matched.  The provenance is the 55 and 56 seasons when he played both second base, third base and left field."
The FOX host prodded further, "But how do you know for sure beyond a shadow of a doubt that this is the glove?  It's a Rawlings, couldn't it be just another Rawlings that looks almost exactly like it, how do you tell?"
Costello assured him, "Well, it goes through a huge, huge process which goes along the provenance of when the glove was made, when Rawlings gloves were made in that era and on top of that this glove has actually been photo matched."
Again, Costello, like his boss Steiner, was focusing on this concept of what they call "photo-matching" and said on camera, "And photo-matching is something that we have done with the Don Larsen jersey last year, and that means that it unequivocally is that glove."
"100-percent," the host asked? "100-percent photographic evidence," Costello responded, despite the fact that neither he nor Brandon Steiner had furnished any of the alleged "photo-matches."  The FOX host even questioned whether the Hall of Fame might have a glove, or spikes, or a hat attributed to Robinson and Costello again answered, "There's absolutely no (Robinson) glove there."  Said Costello, "Back then it was just a guy wearing a glove out to play and he wasn't thinking of historical significance."
Although the TV hosts were asking relevant questions about whether the glove was authentic, none of them asked where the glove actually came from.  Where had this historic lump of leather been for the past half-century since Dem Bums finally became World Champs in 1955?  What was the real story?
According to an April 10 article published on the Paul Fraser Collectibles Newsletter, "The glove has been consigned along with a game used bat and caps, which were reportedly discovered in a New York City building in which Robinson once rented an office."  On April 11th, Steiner issued a press release stating that a letter of authenticity was provided by Dennis Esken who was identified as being "renowned in the industry."  In the press release Esken said, "This rare gem is the only Jackie Robinson glove known to exist.  It was discovered in NYC tucked away in a garage, wrapped in plastic."  The New York Daily News published their own report claiming that while "Most of the time it's nothing but marketing hyperbole," this time "Steiner Sports actually delivers." Esken told the News, "It is definitely Jackie's glove.  It is real."
The primary source claiming that the glove was actually game-used by Robinson was Dennis Esken who is listed in Steiner's lot description for the glove as the "lead Glove Authenticator." Esken has been collecting game-used gloves for decades and has been identified by the Daily News in other reports as "one of the nation's top glove experts."  In 1999, Esken made waves when he showed up at the Sotheby's sale of the Barry Halper Collection and informed auction consultant Rob Lifson that a lot sold as a "circa 1960″ Mickey Mantle glove was actually manufactured as late as 1964.  Esken says Lifson dismissed his claim as "just an opinion" having sold the glove to actor Billy Crystal for $239,000.  But Esken says, "I told him it was a fact, not an opinion.  He just didn't want to hear it."  Several years later Rawlings senior glove designer Bob Clevenhagen backed up Esken's claim when Crystal  called him asking what year his Mantle glove was manufactured.  According to the New York Daily News, Clevenhagen told Crystal that the glove was"Made no earlier than 1964 and most likely used in 1966."  The episode bolstered Esken's credibility as an expert in the murky waters of memorabilia authentication.
But Esken isn't just an authenticator, he's a collector who has authenticated gloves in his own collection attributed to Mickey Mantle in 1956 and 1961, Yogi Berra in 1960 and Roberto Clemente in 1968 .  Esken loaned his 1956 Mantle World Series glove to the Hall of Fame where it was on display for five years and recently loaned his 1961 Mantle glove to the Yankees who exhibited it in their museum for a year.  Esken's public display of his gloves at the Hall and Yankee Stadium has also bolstered his profile and likely contributed to his being chosen by Steiner to authenticate its Jackie Robinson glove.  Or not.
Steiner's lot description notes that Esken also applied "some restoration" to the glove, but they don't mention that this very same Jackie Robinson glove was offered for sale at an American Memorabilia auction just last year on the anniversary of Robinson's debut.  The glove was offered in its original unrestored state with the same letter of authenticity drafted by Esken and dated October 12, 2012.  The Las Vegas auction house offered the glove as a "Mid-1950s Jackie Robinson Game Used Glove" stating that it was the only Robinson glove known to exist and claimed "we have a photo of Robinson holding this exact glove as well as others that are available."  Alas, another claimed "photo-match."
The photograph posted by the auctioneer was a famous image of Robinson packing up his equipment at his Ebbets Field locker after being traded to the New York Giants in December of 1956.  Robinson is holding what appears to be a Bob Dillinger Rawlings model glove similar to the auction lot.  In essence, the auction house was claiming that Robinson was holding their glove and that it was his last.  But a close examination of the glove in the photograph as compared to the actual glove American Memorabilia was selling reveals definitively that both gloves are, in fact, not the same.  The interior side of the index finger on the glove pictured in Robinson's own hand clearly exhibits two punched holes for the glove's lacing while the American offering exhibits just one hole.  It's an anti-photo match.
The glove didn't sell in the 2012 auction failing to receive an opening bid at the reserve price of $75,000.  Now, one year later, the exact same glove appears in Steiner's auction with a minimum bid price of $42,000 and already has a current bid of $310,835 with only three bids having been placed.  The chain of events has several executives in the auction industry scratching their heads. How'd this happen when there isn't even one visible "photo-match" posted on Steiner's website which advertises the glove as the one Robinson used in his "Final Season and 1955 World Series."  Steiner also indicates that the reserve price set on the lot has been met.
Players in the 1950's were known to use several gloves each season usually breaking in one or two new ones at Spring training and then using them throughout the long 154 game season.  One of Robinson's contemporaries, New York Giant Hall of Famer Monte Irvin, recalls using several each season.  Says Irvin, "Most of us used two or three, sometimes four, but once you got a good one you tried to stay with it.  If you used it too much you'd wear it out.  You wouldn't practice with it, you'd make it your game glove."
From his residence in Florida, Robinson's former Dodger teammate in 1954, 55 and 56, Don Zimmer, told Haulsofshame.com that he also used several gloves.  "I'd use one, but I'd also have a back up glove and when I went between second base and shortstop I'd change gloves.  I'd use a Lonnie Frey (Rawlings) model and switch to a (Wilson) A 2000," said Zimmer.  When asked if Robinson had different gloves for each position Zimmer said, "I don't know for sure but I'd think he would have."
Taking the claims of Irvin and Zimmer on face value it would seem prudent to research existing photographic evidence of Robinson wearing baseball gloves in 1955 and 1956 in order to support the rather lofty claims made by Esken and Steiner who also claim to have other photos available showing Robinson wearing the glove.
Surprisingly, some Internet sleuthing quickly yielded a Lelands auction lot offered in 2006 showing Jackie Robinson and his teammates wearing their gloves just before Game 1 of the 1955 World Series.  (Another search yielded a second current offering on eBay which reveals the photo was published just six days before Game 1 of the 1955 Series.)  As can be seen clear as day, Robinson is wearing a glove with an open web unlike the Steiner glove which features a Rawlings closed "solid-V-Anchor" web.  Robinson played Game one through Game 6 at third base for the Dodgers but was benched by Walter Alston in the deciding Game 7.  Like Zimmer stated, its possible Robinson used this glove for play at a particular position during 1955.  So, how could a definitive claim be made that Robinson wore the Steiner glove in the Fall Classic?
Taking it a step further, a review of the 1955 MLB World Series Video reveals several scenes featuring views of the actual glove Robinson was wearing on the field during actual games.  At 10:08 of Game 2 in the video Robinson is shown wearing a glove with a web similar to that of the Steiner offering, but at the end of Game 3 and at 17:38 of Game 4 Robinson is shown wearing a full, closed web that differs from the Steiner glove.  None of the views from the 1955 Series match the glove that Robinson posed with for the news photo published on September 22, 1955.  If this exercise proves anything it's that claims for a glove's game-use need to be backed up with sufficient visual evidence and that players used multiple gloves during the course of a season and even in a single World Series.
That being said, the Steiner website provides very little to support their "photo-match" claims for the glove they hope will realize upwards of $1 million at auction.  The only visual given is a scan of a page headed: "Dennis Esken-Glove Authenticator-The Ball-Stops Here," which states the World Series game use and includes two very small undated images of Robinson wearing his glove at Spring training in Vero Beach, Florida.  We called Steiner numerous times for the past few weeks requesting its alleged "photo-match" evidence, but received nothing.
After contacting Victor Moreno at American Memorabilia, we were referred to Dennis Esken who provided us with larger files of the two images he claims prove that Robinson actually wore the Steiner offering.  The overall basis for his claim is the number "42″ written in black ink on the right side of the glove's strap to the left of the Rawlings label. (The glove was missing its original Rawlings label so Esken attached a makeshift replacement patch "for aesthetic purposes.")  Esken claims that the glove Robinson is wearing at Vero Beach depicts the same handwritten "42″ that is found on the glove strap of the Steiner offering.  The enlargement he provided showed a "42″ placed in what appears to be the same section of the glove as the Steiner glove.
Esken knows his gloves and no doubt can also identify which models Robinson was known to wear.  Photos from the period show him wearing several different models in images taken during his Dodger career.  As for the photo he says supports his claim Esken says, "The photo isn't dated but I know that the glove was made in 1954.  That photo is from 1955 or 1956.  The glove isn't brand new."  Esken believes he may have received the glove in Spring Training.  He adds, "The glove is also a "U" laced palm.  Therefore, I don't really need a photo to date it like other authenticators."
Esken claims to have knowledge of certain glove nuances that were incorporated by Rawlings glove makers on examples for certain players.  Esken is unwilling to share much of that knowledge publicly as he claims that such information would aid forgers trying to create fraudulent game-used items.  What Esken also won't answer, however, is where the Robinson glove actually came from and who consigned it to the American Memorabilia auction in 2012.  All he told us was that it "was found by an old Russian woman in a building that Robinson once leased office space."  Steiner VP Brett Schissler told the Daily News that the glove was accompanied by a bat (also in the Steiner auction) and a hat that the News reported were all given by Robinson to "a New York area-family he leased office space from after he retired from baseball."  The News also reported that the family "sold the glove to a collector who consigned it to Steiner."
When the glove appeared for sale in 2012 the owner of the glove under the name "JRMemorabilia" posted a message at CollectorsWeekly.com on its "Show & Tell" message board and stated, "This glove has been in my family for years along with 3 other items.  It has been examined by experts and it is one of our family's prized possessions."  The owner mentioned that the glove had the "iconic jersey number "42″ written in black felt tip on the intact wrist strap" and the only comment on the post was left by American Memorabilia telling collectors they could click on an auction link and bid on the glove.  The owner also posted a Robinson bat on the site stating, "PSA GU 9 Jackie Robinson game used bat.  It has been in my family for a few years along with three other items.  It is one of our most prized possessions."
Who was the mystery owner of this small group of items attributed to Jackie Robinson?  Was it the old Russian lady and her family or someone else?  And did they own a parking garage or the building Robinson leased office space in or perhaps both?  Did the family sell the glove to the "collector" before the American Memorabilia sale or were they the consignor?  Neither Victor Moreno or Dennis Esken are willing to reveal the details.  Moreno told us he was not at liberty to disclose the identity of a consignor or details of a "private transaction after an auction."
Still,  even with the most solid provenance from the player himself or his family, it is extremely difficult to actually prove a specific player ever used a glove on the field in an actual game or for a certain period of time.  Unless a glove has a particular mark or imperfection that is readily identifiable, like the written "42″ on the Steiner glove, it is tough to distinguish iron-clad authenticity.  When Steiner sold Don Larsen's Perfect Game jersey last year the authentication involved comparisons between the pinstripe alignment of the jersey against photos of Larsen from the game in 1956.  Every point of analysis was a match.  It was the opposite outcome of a situation that arose last month when  Haulsofshame.com broke a story about the million-dollar jersey alleged to have been worn by Reggie Jackson when he hit three home runs in Game 6 of the 1977 World Series.  Although the jersey was consigned by Jackson, himself, the pinstripe alignment was not the same as what appears on the Game 6 video of Jackson hitting each home run.  Sports Cards Plus, which featured the jersey on the cover of its catalog, pulled the jersey from the sale.
As stated, gloves are more difficult to identify on the field at a certain time.  The photo provided by Eskin suggests that the Steiner glove is the same Rawlings BD model that Robinson used and has the number "42″  handwritten on the glove strap in a space that appears to be the same as the "42″ in the photo.  But, unlike Yankee pinstripes, it is not possible to definitively confirm that both of the numbers written on the glove and this photo are the same.  The angle of the photo and the resolution of the image are not enough for Esken or Steiner to say the glove is "unequivocally" Robinson's.  It does look like it is the same glove, but considering the secrecy behind where the glove originated, you still have to consider that someone may have tracked down the right model glove and forged the "42″ in the same spot using period photos as a guide.
Based upon Esken's own analysis, the handwritten "42″ makes or breaks the glove.  But with an unverified "photo-match" from an undated Spring Training photo it is difficult to see how Steiner can claim game use in the 1955 and 1956 World Series, let alone an unequivocal claim that it was once owned by Robinson.
With an alleged current bid topping $300,000, someone out there is really rolling the dice on that handwritten "42″.  There had to be other photographs showing Robinson wearing a Rawlings BD model glove with a 42 written on it.  There had to be some more supporting evidence to justify the Huffington Post publishing an article stating, "The Market For Jackie Robinson Memorabilia Soars."
After reviewing perhaps one hundred more photographs of Robinson we stumbled onto Bill Burgess' excellent website Baseball Fever and found posted what appears to be Robinson playing third base in a game wearing the exact same glove Steiner is offering.  The ivy on the outfield wall reveals the game was at Wrigley against the Cubs, but at first glance all you can see is that Robinson is wearing what looks like a Rawlings model glove with an Anchor-web.  It wasn't until we enlarged the image that we realized the 42 was present and it wasn't until we turned the image upside down that we were able to see that this 42 was strikingly similar to the Steiner offering.  Without a high-resolution image of the 42 it is still difficult to reach a definitive conclusion.  Burgess had no information that indicated when the photograph was taken.
Placing Robinson on the field in one undated photo at Wrigley (and posing at Vero Beach in another), however, is a far cry from establishing that the same glove was "game-used" during the 1955 and 1956 World Series.  The video tape review of the 1955 Series has already revealed that Robinson wore an open-web glove in Game 2, but how could anyone ever prove it was this same glove considering how many gloves Robinson was known to use in the course of a season?  Even proving that a handwritten 42 on a glove is a "photo-match" isn't quite enough.  We even found Robinson wearing another 42 glove in yet another undated photo from the same time period.
A Getty image shows Robinson posing at Spring Training and resting on his knee is a glove featuring a jet-black 42 on what appears to be another Rawlings Dillinger model.  When that image is enlarged and compared to the Steiner glove's 42 it is evident that both gloves are different.  Two different gloves with two different 42's.  Was this second glove used in the 1955 or 1956 World Series, too?  Without verifiable proof, it is impossible to say.  To say either glove was used in the World Series without providing any additional proof is a misrepresentation.  You also have to consider the possibility that the Spring training "photo-match" Esken found is actually this glove and not the Steiner offering. With some more research, maybe the same 42 will be unearthed, captured on film or on a photograph taken on the field in October of 1955 or 1956.  Or maybe not.
Don Zimmer remembers how he and Robinson used to mark their gloves with numbers or initials using a laundry marker on the strap.  "Jackie and us guys would put the numbers on the gloves so they wouldn't get lost.  Back then we wouldn't bring them in the dugout, we'd leave them on the field at the end of the inning.  Sometimes guys would do crazy things and take the glove and put shaving cream or a garden snake in it."
Hopefully the $310,000 bidder going after the Robinson glove won't fall victim to a more serious surprise and a false sense of security thinking that he's purchasing what Steiner, ESPN and FOX have already advertised as the actual glove Jackie wore when Dem Bums finally brought a title back to Brooklyn.  For now, the evidence just isn't there to support such claims.
When we asked Dennis Esken if he overreached in his 2012 LOA with the claim of World Series use in 1955 and 1956 he said, "They (Steiner) didn't ask me for anything.  They didn't ask me for the ones (photos) I had.  They just want to sell it.  They want to make maximum profit, that's all the auction houses want to do."  According to Esken, Steiner didn't conduct the photo-matching they claimed on ESPN and FOX, they just used his old LOA.  Esken also said he'd send us any other supporting photos he could find.  Calls yesterday to Steiner auction rep Michael Kleinman and the Steiner Media office were not returned.
Dennis Esken, who is identified on his LOA as a "renowned glove expert" summed up the entire Robinson glove mystery with this:  "It's the perception of these collectors.  Perception becomes reality."
UPDATE (May 31): Glove collector and expert, Dennis Eskin,  contacted Haulsofshame.com after this article was published and wanted to add to his previous comments.  He said: "I tried to accommodate you the best I could have.  I do not give out my photos for public knowledge.  They can research just like I had to!  The Jackie Robinson glove is the real deal.  The new owner of that glove can meet me and will get all the details.  He is the only one that is entitled to it.  He paid for that along with the glove."
UPDATE (May 31 5:55 PM):  STEINER SPORTS RESPONDS TO HAULS OF SHAME REPORT ON $310,000 JACKIE ROBINSON GAME-USED GLOVE
In a telephone conference this afternoon, Steiner Sports CEO, Brandon Steiner, and Vice President, Steven Costello, responded to the May 30 report published by Haulsofshame.com about the auction lot alleged to be a game used glove used by Jackie Robinson in the 1955 World Series and the end of his career as well.  Both Steiner and Costello stated that they relied solely on the expert report issued by Dennis Eskin and that they had not conducted their own independent authentication of the glove.  Costello said, "Steiner is very committed to authenticity and we always rely on experts.  We were told Dennis is the leading glove authenticator in the country."  In regards to the claim that the glove featured in the auction was the only Robinson gamer known to exist Costello added, "We called the Hall of Fame to check that and the Hall said they did not have a Robinson glove on exhibit .  I believe FOX also called to check that too." Steiner and Costello were unaware of the Pannini trading card featuring the Hall's Robinson glove until they saw our published report.
When asked whether the claims of game use in the World Series of 1955 and the claim that the glove was used in 1956 and the end of Robinson's career Steiner and Costello agreed that the information revealed in the report illustrated that the claims made by authenticator Dennis Esken were not verifiable.  Costello said that the auction lot description would be updated to reflect the new information that had been presented.  Costello also stated that the additional photo revealed in the article, "Shows Robinson actually wore the glove."
Brad Horn, a spokesperson at the Baseball Hall of Fame, was unavailable for comment and on vacation until June 3.  Costello and Steiner also said they had someone in Cooperstown visit the museum today to confirm that a glove attributed to Robinson was not on display in the museum.  It is likely the glove was removed from the exhibit to be photographed for the trading card.
In addition to the Robinson glove believed to be included in the Hall of Fame's collection, New York auctioneer, Josh Evans, of Lelands, also told us in an interview that he had handled another game used Robinson glove.   Said Evans, "I sold a glove, the first baseman's glove seen in the famous and memorable photo taken in Robinson's den."  It is believed that was the glove Robinson used in his first game for the Dodgers in 1947.  Over the past few decades,Lelands has handled numerous items consigned directly by Robinson's widow, Rachel Robinson, and the Robinson estate.
UPDATE (June 3): The Jackie Robinson Game Used Glove failed to receive another bid and sold at Steiner Sports "Ground-Breaking" auction for $373,000 (including buyers premium).  Despite acknowledging that there was not sufficient evidence to support claims the glove was used by Robinson in the 1955 and 1956 World Series, Steiner also failed to update or correct the lot description. Steiner started the bidding at $42,000 and noted a secret reserve price was in place.  After the auction opened for bidding at the beginning of May only three bids were executed and the bid escalated to $310,000 with Steiner noting that the reserve price had been met.
The Steiner final price failed to pass the the prior record price for a glove sold at auction set by Barry Halper when he sold Lou Gehrig's alleged "Last Glove" at Sotheby's in 1999 for $387,500.  Despite Halper's claims regarding that glove, Gehrig's authentic last glove was on display at the Baseball Hall of Fame as a donation from the Gehrig family.  Halper purchased the glove from Gehrig's teammate Babe Dahlgren, but inconsistencies in the stories told by both Dahlgren and Halper suggest that the glove was misrepresented and a six-figure fraud.
(Considering the potential value and historical significance of an artifact like Jackie Robinson's World Series glove, we'd like nothing more than to help prove this glove is the one, so if anyone has any other photographs, film or supporting documentation please forward it to: Tips@Haulsofshame.com )
Supporting Documentation:
Here is a Gallery of Images Showing Jackie Robinson Wearing Baseball Gloves Which We Utilized For Research Purposes:
Images From c.1945-1950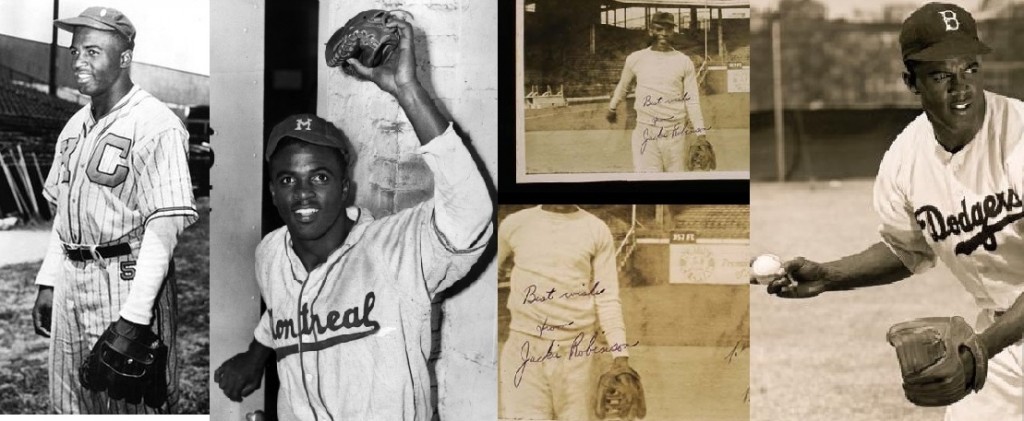 Images From c. 1951-1954
Images From c.1954-1956