By Peter J. Nash
June 20, 2013
Self-proclaimed authentication heavyweights Steve Grad of PSA/DNA and Jimmy Spence of JSA have lots of explaining to do for boxing autograph aficionados now that they're engaged in a battle of opinions over a controversial Rocky Marciano letter which was consigned to the current auction at Lelands.
The letter appearing as lot 110 in the Lelands catalog was just withdrawn last night by the auction house even though it has a JSA sticker affixed to its reverse representing its alleged authenticity and attesting that Marciano signed the letter on what appears to be the boxer's official stationary and letterhead. Lelands' removal is likely related to the withdrawal of a similar letter on the same stationary back in March of 2012 by Paragon Auctions.  In its lot description Paragon specifically noted, "JSA has informed us that these letters are secretarial."
Asked about the withdrawal, Josh Evans, of Lelands said, "I just don't feel comfortable.  I'd rather err on the side of caution."  Evans said he first learned of the controversy from a client a few days ago.
JSA's determination that the document was not actually signed by the boxing champ who hailed from Brockton, Massachusetts, is at odds with Spence's own prior authentications and numerous sales of similar letters sold at auction with accompanying letters from Steve Grad and PSA/DNA, including another current auction offering on eBay. But boxing autograph expert Travis Roste has recently determined that the alleged Marciano signatures are not even secretarial and that the letters themselves are bogus and feature fantasy commentary attributed to Marciano voicing his opinions on Muhammed Ali, Sonny Liston and others.
What is astounding, but by no means surprising considering PSA/DNA's track record, is that Steve Grad and PSA President Joe Orlando feature one of the bogus Marciano signatures on the company's "PSA Autograph Facts" page as an authentic Marciano exemplar. So, in a nutshell, JSA is battling its own contradictory opinions, while PSA/DNA marches on blindly promoting a forgery as a genuine signature on an item that has sold on average for over $2,000.  Travis Roste told us, "There's a lot of people who bought those letters who are going to want refunds.  What's Joe Orlando going to do?"
He might not do much, as PSA has recently ignored other monumental blunders including an authentication of an alleged photo and autograph of Baseball Hall of Famer Jimmy Collins.  Despite a Haulsofshame.com report illustrating definitively that the man featured in the PSA-authenticated photo is not Jimmy Collins and that the alleged signature on the photo was misspelled "Jimmie" instead of "Jimmy,"  PSA/DNA has continued to display the item as an authentic exemplar on the PSA Autograph Facts page. The company's inaction in removing and correcting its flawed authentication is now being viewed as PSA engaging in what some see as outright fraud with intent since PSA has full knowledge they are deceiving their customers and the general public.  PSA did remove non-genuine signatures of Smilin' Mickey Welch and Candy Cummings after Haulsofshame.com exposed them in additional reports, however, PSA has continued to misrepresent the bogus Jimmy Collins photo as the real-deal.
Travis Roste provided us with several authentic examples of Marciano's signature from his website AutographPlanet.com and they starkly contrast the signatures featured on the alleged letters being sold to collectors as legitimate examples.  When compared side by side it is evident that the questioned letters exhibit a more uniform look spanning over the period of an entire decade while the authentic versions show changes over time in Marciano's signature and exhibit certain characteristics that are not found on the letters.
One of the most prevalent differences between the authentic examples and the signatures on the questioned letters is the way the ending "o" in "Marciano" is constructed.  After examining a large group of letters Travis Roste told us, "You look at the end of the "o" in Marciano in the fakes and they are all the same, they meet up perfect with the circle. In the real Marciano's, a lot of them flip over the top back to the left.  You don't see that even once in ten years of the signed letters." Another element that is problematic relates to the formation of letters in his first name "Rocky."  Roste added, "In all the fakes, the "o" and "c" in Rocky are super small, 1/10 the size of the capital "R."  Some are barely visible but in real Marciano signatures, as shown, the "o" and "c" are normal size, about 1/4 to 1/5 the size of the capital "R" in Rocky. And all the fakes over the ten year purported period are all very small and all look the same. This is a huge red flag."
We agree with Roste and are of the opinion that all of the Marciano signatures on the Reinmuth letters were executed in a hand different than that of Rocky Marciano.
Beyond the actual signatures, the problems with the letters extend to the factual content and even the identity the recipient himself.  All of the questioned letters are dated between 1961 and 1969 and are all addressed to an alleged writer named William H. Reinmuth Jr. from a magazine called "Sports Quest."  In 2011, a selection of the letters made their way to John Cameron the author of the biography Redemption: The Life and Death of Rocky Marciano.  On his website, Cameron first said he thought the letters were "remarkable, offering Marciano's own insights into his career" but soon after thought that "there is something about them that sits wrong."  Cameron could not verify the authenticity of the letters because he could not verify the source.  Cameron could not confirm the existence of "Sport Quest" and in relation to Reinmuth could only verify that the address on the letters did exist.  Cameron even asked Rocky Marciano's brother if he had heard of Reinmuth or the magazine and was told by Marciano that the letters "may not be legit."
On his blog in 2011, Cameron wrote, "If these letters are fakes, then the author knows his stuff for on the surface the contents seem to shed little light on Rocky himself, yet with a little digging, the information is not that remarkable, most can be culled from research, biographies, interviews and the like."  Our own research reveals that a William H. Reinmuth was a professor of Chemistry at Columbia University and died in 1983 at the age of fifty-one.  The New York Times reported that Reinmuth was survived by "his wife Joan, a daughter, Amy, and two sons, Jared and Kriston."  In one of the suspect letters Marciano wishes Reinmuth a Happy New Year in 1967 writing, "May you, Connie and little Eric enjoy."
Haulsofshame.com contacted Cameron for his reaction to Leland's pulling the Marciano letter from its current auction and the author said, "Just to let you know, I dug as deep as I could into these letters and I do not believe they are genuine."  Cameron added,  "Another thing that made me seriously contemplate the authenticity of these letters was the letterhead on each.  Sure, Rocky had paper with a letterhead, it was his trademark in correspondences to writers and journalists. I have seen several letters from Marciano to other journalists plus some private correspondences and the letterheads on these are not the same as (those) purported letters, plus over the years the letterhead was prone to change, whereas those on the letters, regardless of claimed date, remained constant."
Considering the serious problems with the handwriting itself and the questions regarding the authenticity of the source and the identity of the recipient, William Reinmuth, how could PSA/DNA and JSA have authenticated so many of these dubious documents? How could Jimmy Spence of JSA determine that they were "secretarial" letters rather than outright forgeries?  The situation is reminiscent of the determination of Spence and JSA that a Babe Ruth letter accompanying an alleged lock of Ruth's hair was a "non-malicious secretarial" when it was, in fact, an outright forgery which matched another Ruth forgery found on Barry Halper's famous 500 Home Run Club signed sheet.  The sheet featuring the forged Ruth signature was sold at Sotheby's in 1999 by Rob Lifson and Halper for over $57,000, while the bogus hair and the letter authenticated by Spence was sold by Lifson and Robert Edward Auctions in 2007 for $38,000.
The ineptitude of Spence and JSA assisted Lifson in selling bogus Babe Ruth hair to a customer who put his faith in Spence's opinion just as another bidder had when Lifson and Robert Edward Auctions sold one of the forged Marciano letters in 2006 with a JSA LOA for $2,610.  That letter was also authenticated by Steve Grad and Mike Gutierrez for PSA/DNA.  PSA has a history of authenticating boxing forgeries as evidenced further on its PSA Autograph Facts page where the company also illustrates a forged/secretarial signature of boxing champ Bob Fitzsimmons as an authentic exemplar.  An outspoken critic of PSA, Travis Roste has shown publicly that the signature on the website is not genuine and was executed by the boxers wife, but PSA and Joe Orlando have ignored that evidence and have continued to present the bogus signature as authentic.  The non-genuine signature bears no resemblance whatsoever to other authentic signatures also appearing on the PSA Autograph Facts page dedicated to Fitzsimmons' autograph.
Considering that PSA's Steve Grad is the new authenticator for the History Channel show Pawn Stars, it would be interesting to see what he would say now if one of these letters walked into the Las Vegas store.  Will PSA and Grad admit they have made astounding authentication blunders spanning over several decades or will they commit fraud as they have in the cases of the company's authentications of the bogus Jimmy Collins and Bob Fitzsimmons signatures (just to name a few)?  Since both PSA and JSA have authenticated so many of the bogus Marciano letters already, the revelation that they are forgeries will surely have collectors asking auctioneers and dealers for refunds and compensation.  The entire episode will also serve as additional evidence for agents from the Federal Bureau of Investigation who have been keeping a close eye on the business practices of both of the embattled authentication outfits.  In addition to instances of "authentication malpractice" and mistakes, the FBI has spoken to several dealers and collectors who allege that both PSA and JSA have also committed outright fraud and have engaged in racketeering.
One hobbyist who asked not to be named summed it up like this, "I used to think that they were innocent mistakes, but its becoming painfully obvious that these mistakes are intentional, which crosses the line from stupid to illegal."
Another collector said, "This Marciano mess shows that PSA and JSA just don't know what they're doing.  They're either not examining the items at all or they are just exposing their lack of skill.  They are not experts."
UPDATE (Sat. June 22): Haulsofshame.com has obtained copies of several of the forged letters from Rocky Marciano to William Reinmuth and here are some excerpts revealing more about the content:
"My opinion is that Liston took this kid Clay too lightly and didn't respect his ability in any way.  In the fight game you can never do this.  No matter how much any opponent bragged or yelled before our fight I never took him for granted.  Maybe Liston learned something the other night that could help him in the rematch.  Take care and Keep punching."- February 28, 1964
"To me a man's religious choice is his own personal decision and should stay that way.  I will tell you that I was as shocked as everybody else by Clay being so publicly loud about it.  I don't agree with the way he uses an opportunity to promote his religion and an upcoming fight all at the same time.  I believe that just like politics and religion, a fighter shouldn't use his popularity and fame to try and spread the word and influence others about his religious beliefs.  It should be kept separate from fighting." – January 9, 1967
"You are right about the growing public disgust for Clay regarding his decision not to fought in the "White mans' army."  Yes I did take offense at that and some of his other statements……..I spoke with Joe Louis again the other day and he told me that he reminded Clay that he wound up as better and prouder American as a result of his hitch in the army.  He said that Clay just went on about not being treated equal in his own country and that he wouldn't take part in killing on foreign soil and that he would fight on this soil so that his people would be recognized as equals here." -May 16, 1967
"Received Ali's letter yesterday regarding his situation.  He asked if I would be willing to write a letter of support for his Judge at the upcoming court date."-September 19, 1967
"Received a call from the great Mickey Mantle yesterday and he had me doubled over laughing.  He said I should have held out for more money and that I should have taken less money as long as I would go down in the history books as having a win over Ali.  But you know that Mickey has a way of putting things in his own hysterical way!"- May 24, 1969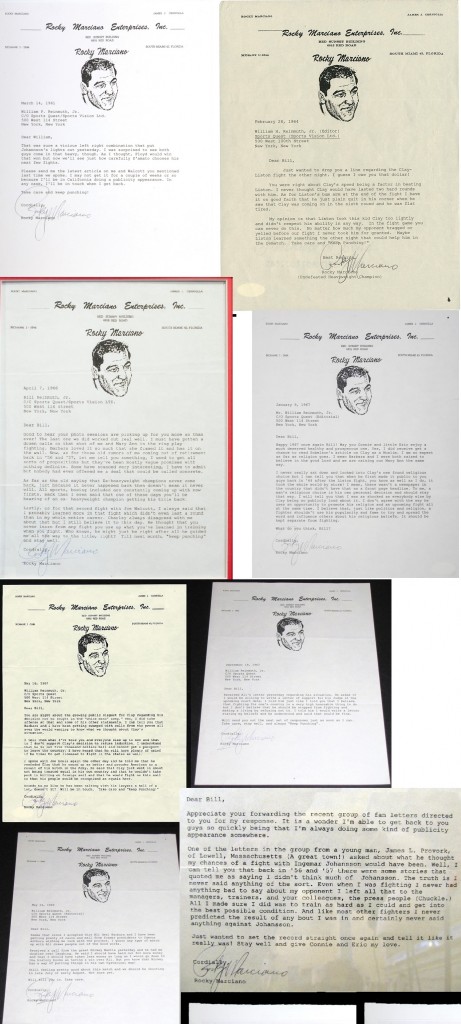 Above is a selection of some of the the forged Marciano letters that have appeared for sale at public auction.