By Peter J. Nash
December 4, 2013
UPDATE: #101: Fox-Philly Fools PSA/DNA & Jimmy Spence with a Phony Mike Schmidt. Click here for video.
Third-Party Authentication giants PSA/DNA and JSA have cornered the market as the official "alleged experts" endorsed by the major sports and collectibles auction houses and even the online auction giant eBay.  PSA/DNA's lead authenticator, Steve Grad, has even snagged a spot on the History Channel's hit show Pawn Stars as their new-preferred on-air expert for autographed materials.
The TPA's are advertised as the gold standard of an autograph industry fraught with fraud, deception and forgery.  In the past even the FBI has claimed that over 50% of the signed collectibles in the marketplace are counterfeits. That being said, the so-called TPA experts claim to have decades of "hobby experience" and special skills that qualify them to both approve and reject anything and everything that comes their way ranging from books signed by Pablo Picasso to dumbells signed by Babe Ruth.
But do the TPA's live up to their press clippings and endorsements from auction heads who pay for their services and at the same time advertise on the TPA websites?  The incestuous relationship between the auctioneers and the authenticators has been in place ever since Bill Mastro hired autograph dealers Steve Grad and Jimmy Spence to work for Mastro Fine Sports Auctions as authenticators back when he ruled the hobby with an iron fist.  Mastro even bought out Grad's "entire inventory" of autographed material when he hired him.  Adding to the incestuous nature of the relationship, Grad and Spence went on to authenticate their own items being sold by Mastro.
Years before Mastro plead guilty to one count of mail fraud and trimming the now infamous Honus Wagner card, he was formulating a system to help protect himself and his fellow auctioneers by establishing and promoting the TPA system.  His goal was to create an authentication policy that protects the auction house or seller from any liability whatsoever when selling bogus autographed materials.  Likewise, taking Mastro's lead, the TPA's have also shielded themselves from any liability by stating that their LOA's are nothing more than an opinion and guarantee absolutely nothing.  For Mastro and his fellow auctioneers the scheme was pure genius.
Over the years the TPA's have dodged lots of bullets and even survived a not too flattering report published in Barons in 2006 called "Kinda Sorta Genuine."  In that report Barons writer Neil Harris described how a Philadelphia FOX-TV affiliate taped then-PSA/DNA expert Jimmy Spence authenticating an alleged Mike Schmidt autograph that had actually been created by a FOX artist.  Examining the signature Spence opined, "Very, very typical of the way he would sign.  Good speed, good letter formation, and reflects authority and spontaneity." When Spence was then told on camera it was created by a graphic artist who forged Schmidt's signature, he told FOX: "He did a fine job."
Barons detailed litigation against PSA regarding controversial authentications and noted in its headline: "Sometimes Even The Experts Can Be Fooled."  Nearly a decade after that article was published confidence in the TPA's appears to be waning as even eBay's lead fraud investigator, John Gonzales, has voiced his own opinion about the TPA's, headed by Joe Orlando and Jimmy Spence, stating in an email obtained by Haulsofshame.com: "I know PSA Sucks, JSA too.
Say it ain't so, Joe (Orlando).  What about your motto, "Never get cheated"?  Sure, PSA and JSA can pick out obvious Pud Galvin and Old Hoss Radbourn forgeries in the Guinness World Record "Little Cooperstown" exhibit in Florida, but what about the "100 Worst" gems in this report?
An individual who identified himself as a former JSA employee recently told Haulsofshame.com:  "James Spence Authentication is a scam.  Pure and simple.  The so-called "authenticators" working for JSA  have had no formal training in the area in which they claim to be professionals."
A group of several highly competent experts we spoke to agree with Gonzales' opinion and the views of the JSA employee and believe that people are getting cheated more than ever as the TPA's issue countless worthless LOA's tantamount to counterfeit currency.  All we can do is refer collectors, dealers and law enforcement to the alleged crime scene evidence-It's all here, everything from the Nimitz Nazi signature fiasco on eBay to the infamous Sal Bando video on FOX. We'll let our readers decide.
Quoting the JSA and PSA/DNA LOA's the following represents the "considered opinion" of Hauls of Shame and several experts in the industry we consulted with.  Like both JSA and PSA/DNA, Hauls of Shame offers this "Worst 100″ adhering to (verbatim) the same principles included in the terms and conditions of every JSA and PSA/DNA submission:
"Certification and authentication involves an individual judgment that is subjective and requires the exercise of professional opinion, which can change from time to time.  Therefore, (HOS) makes no warranty or representation and shall have no liability whatsoever to (the reader) for the opinion rendered by (HOS) to any submission."
THE WORST 100 AUTHENTICATION BLUNDERS MADE BY PSA/DNA & JSA:
Compliments of Steve Grad and James "Jimmy" Spence Jr.
1.  The Magically Appearing Honus Wagner Autograph & The Trimmed PSA-8 Gretzky-McNall T206 Honus Wagner (Tie)-

When it first appeared in a Mastro auction in 1999, Honus Wagner's alleged signature on a 1939 Baseball Hall of Fame Induction first-day cover was so light it was barely visible to authenticators Jimmy Spence and Mike Gutierrez who graded it a 2 out of 10.  But three years later when the same item was consigned to Robert Edward Auctions the Wagner signature had miraculously darkened and Spence noted it was now an 8 out of 10.  Spence did not, however, note that when he had authenticated the item previosly he could barely see the signature.  The "magical Wagner autograph" transformation is reminiscent of the PSA-8 T206 Honus Wagner card that PSA graded before they were writing LOA's for autographs.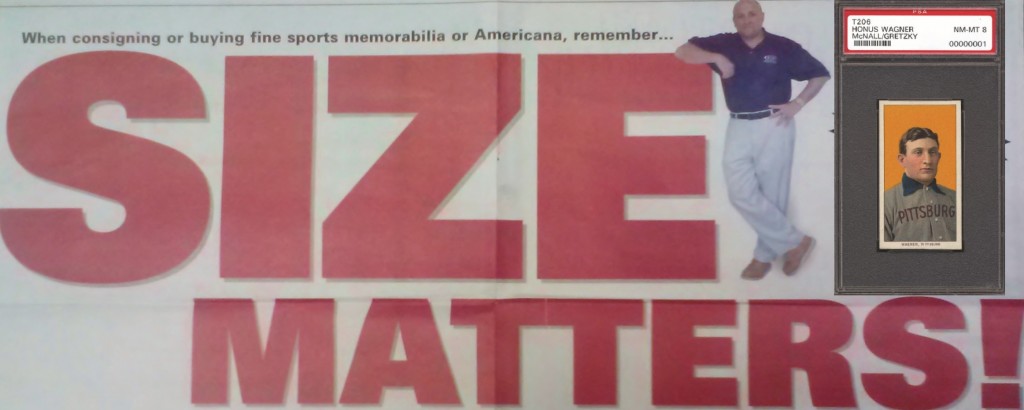 Last summer (and in Court this past October) ex-hobby kingpin Bill Mastro (above) admitted to trimming and altering the famous card some time after he and his partner, Rob Lifson, purchased the card in a Long Island card shop in 1985.  In addition, PSA grader Bill Hughes once told the New York Daily News that he knew the card was trimmed at the time it was graded in 1992.  Appearing on an ESPN 30 for 30 documentary, PSA founder David Hall says he graded the card and that he didn't believe it was trimmed.  Several sources say Hall is lying and that the grading of the trimmed Wagner shows that the authentication giant's reputation was founded on a fraud.  The authenticated enhancements of Honus' signature and his tobacco card speak volumes about the company that claims to have authenticated over 20 million collectibles to date.  In both cases, the authenticators made egregious errors, however, it is believed that PSA graders knew the T206 Wagner card was trimmed prior to examination and that Jimmy Spence of PSA/DNA turned a blind eye to the "magical appearance" of Honus Wagner's signature on the Cooperstown cover sold by Robert Edward Auctions.
2.  The Misspelled and Bogus $35,000 "Ed D-e-l-e-h-a-n-t-y" Letter-

Both PSA and JSA wrote letters of authenticity for a misspelled signature of Hall of Famer Big Ed Delahanty (above left).  The signature appeared on a  letter sold by Hunt Auctions which originated from the archives of the Hillerich & Bradsby Bat Company in Louisville, Kentucky, but the letter was actually written by Delahanty's manager Billy Shettsline who incorrectly spelled the slugger's name, D-e-l-e-h-a-n-t-y.  Although an authentic example of Delahanty's signature originating from surviving Delahanty relatives (above right) was published in 2002 by his biographer, Dr. Jerrold Casway, Jimmy Spence of JSA and Steve Grad of PSA authenticated the letter although it did not resemble the players authentic handwriting.  Based upon the flawed authentication by both companies a collector purchased the bogus letter for over $35,000 and when it was later included in an REA auction, it was withdrawn from the sale after Casway went as far as proving that the real Ed Delahanty was in Cleveland on the day that the secretarial letter was written in Philadelphia by Shettsline.
In 2012, a relative of Delahanty and his biographer consigned to Legendary Auctions an authentic envelope from 1903 addressed to "Mrs. Ed J. Delahanty" which was executed in Delahanty's own hand (above right).  Hunt Auctions was presented with a photocopy of this envelope when they sold the bogus letter and it was also illustrated in Casway's biography, Ed Delahanty in The Emerald Age of Baseball, published in 2006.  When Legendary submitted the envelope for authentication Jimmy Spence of JSA wrote an LOA certifying it as Delahanty's genuine signature while Steve Grad and PSA declined to render an opinion on the item although they examined the original authentic document in person.  The rare and authentic Delahanty signature sold for under $20,000, almost half the price that the fake and mispelled "Delehanty" letter had sold for six years prior.
3.  The Al Pacino-Al Ruddy Signed "Godfather" Script Fiasco On Pawn Stars-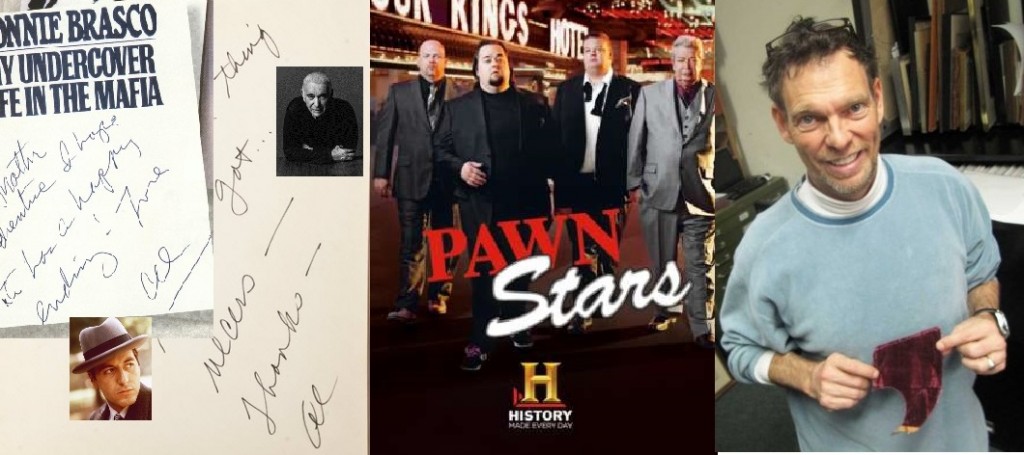 PSA/DNA authenticator John Reznikoff appeared on the hit TV show Pawn Stars and authenticated a Godfather movie script he said was signed by actor Al Pacino.  But when watching the episode along with several million viewers autograph aficionado Todd Meuller and Godfather movie producer Al Ruddy recognized that the script was not signed by Pacino, but rather by Al Ruddy.  Despite that fact, Reznikoff told Rick Harrison, "All of the signatures that I've seen of Pacino, they have that little extra loop in the middle–that loop is there and the way it connects to the "L" is consistent with his known signature.  So, I would say based on the circumstances, this is Al Pacino's signature."
4.  The Signed Photo of Jimmy Collins That Is Misspelled, Bogus And NOT Even A Photo Of Jimmy Collins-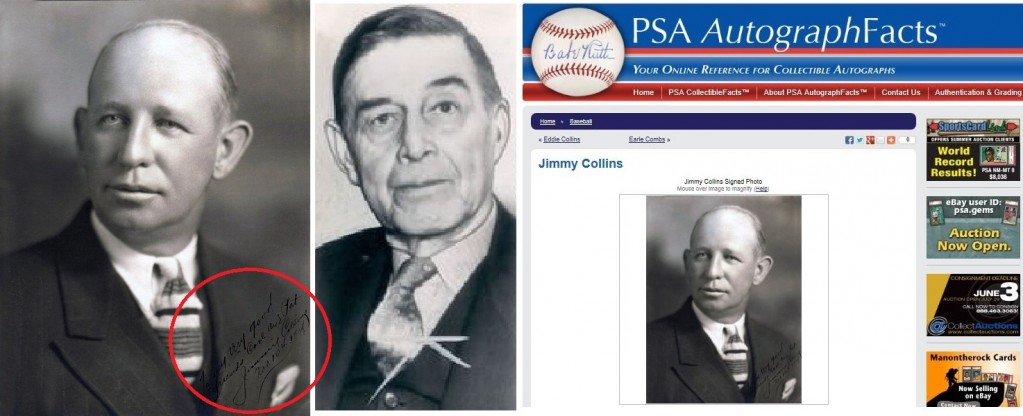 PSA's online reference resource known as "Autograph Facts" features an alleged inscribed photo of Boston Red Sox legend Jimmy Collins but the photograph features a portrait of a man who is clearly not Jimmy Collins and has the first name misspelled "Jimmie" in the inscription.  Despite these facts, PSA still holds this bogus item out as authentic on the "Autograph Facts" page for Collins.  If legitimate, a signed Collins photo would be worth over $25,000.
5.  The Infamous Admiral Nimitz Letter Signed 10 Years After He Died-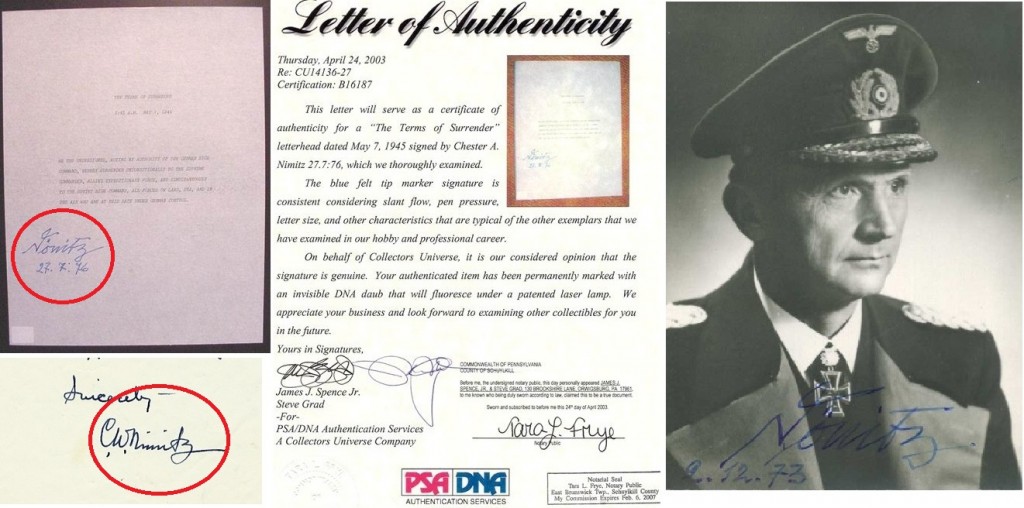 Both Jimmy Spence and Steve Grad authenticated a letter actually signed by Nazi General Karl Donitz as a genuine letter signed by Admiral Nimitz (above, top left).  Both worked at the time for PSA/DNA and their LOA (center) noted the document was signed by Nimitz despite the fact it looked nothing like a genuine Nimitz signature (above, bottom left).  Not only did it not resemble a Nimitz signature, the document was dated in 1945, and the signature dated in 1976, ten years after Nimitz died.  A genuine Donitz signature is also found on his portrait above (right).  Autograph Alert reported:
"We start by going to eBay item number 6589943097, Admiral Chester W. Nimitz, Terms of Surrender Certified by PSA/DNA…  The signature of Karl Dönitz is very common and it would be near impossible to find an auction house or dealer who has not sold his signature at one time or another. Exemplars are plentiful. However, the "experts" James Spence and Steve Grad sign off on a PSA/DNA Certificate of Authenticity dated Thursday, April 24, 2003, Re: CU14136-27, PSA/DNA Certification Number B16187 (see below). These "experts" state this Surrender Document was signed by Chester Nimitz. This is the first time we discover that it was our own Admiral Nimitz who surrendered the German Forces to the Allies in the European Theatre. An amazing historical discovery. Incredibly, he also managed to sign and date this copy over ten years after he died."
6.  The Ty Cobb Laser Printed Forgery Authenticated And Encapsulated By PSA-

Author Ron Keurajian recognized this bogus PSA/DNA encapsulated Ty Cobb cut signature on eBay because he owned an identical and authentic original Cobb signature on a 3 x 5  card in his collection.  Turns out that PSA authenticated a laser copied forgery of Keurajian's example which he had previously published online in an article about Cobb's handwriting.

7.  The Jack Johnson 1948 Leaf Card Allegedly Signed By Johnson After He Died-
The authenticators outdid themsleves with this examination as they failed to identify a forgery and also failed to check what year the boxing champion died.  Johnson died on June 10, 1946 almost two years before the Leaf trading card was created in 1948, but that didn't stop Jimmy Spence and JSA from authenticating it. Autograph Alert broke the story in March of 2011 and asked: "How in the world was any research done on this signature by James Spence to pass this horrible forgery as genuine? Again, we ask James Spence to come forward and tell us what he did to determine this signature of Jack Johnson is genuine? What did he do time wise for the money he was paid to authenticate this item? Where in the world did he find even one exemplar to make such a horrible guess? What credentials does James Spence have to be an autograph authenticator?"
8.  The Forged Rocky Marciano "Reinmuth" Letters Still Used As Exemplars On PSA "Autograph Facts"-
For years PSA and JSA authenticated a series of letters allegedly written by Rocky Marciano from 1961 to 1969 to an alleged sportswriter named William Reinmuth in New York City, but closer examination of the letters by boxing experts including Travis Roste of AutographPlanet.com determined that the letters are forgeries.  After authenticating them for years Jimmy Spence changed his opinion of these letters last year claiming they were authentic but secreterially signed for Marciano.  Spence, however, was wrong again as the letters were further determined forgeries sent to a non existent sportswriter at a non existent publication.  Unbeknownst to the authenticators several boxing historians and authors had already claimed the letters were fakes.  PSA used an exemplar from a "Reinmuth Letter" on its "PSA Autograph Facts" page and despite reports of the forgeries still includes the non-genuine signature on the company website.

9.  The Heritage Ty Cobb Signed Little League Ball Made After He Died; A DEADSPIN Special Report-
Heritage Auctions offered this baseball and described it as one of the best condition Ty Cobb single signed balls in existence until we published a report at Deadspin proving that the ball Cobb allegedly signed was actually a Little League ball manufactured after his death in 1963.  The auction house, which also employs former PSA and current JSA authenticator Mike Gutierrez, said the ball was pre-certified by PSA/DNA.
10.  The REA Forged Babe Ruth To Gary Cooper Photo-
This photograph surfaced in the hobby in the 1990s and was sold by Mastro Auctions for over $20,000 with an LOA from PSA/DNA. More recently it was identified as a forgery in author Ron Keurajian's book, Baseball Hall of Fame Autographs:  A Reference Guide and also appeared for sale at Robert Edward Auctions in May of 2013.  Despite knowledge of Keurajian's opinion and additional testimony from Gary Cooper's daughter stating her family collection never included such an item, REA sold the forgery anyway.

11.  The Halper/REA- Jimmy Spence "Non-Malicious-Secretarial" Babe Ruth Forgery With Fake Ruth Hair-
Super collector/fraudster Barry Halper once told the New York Times he acquired a lock of Babe Ruth's hair from a man in Iowa along with an actual letter of authenticity from the Babe verifying his own hair.  But when Halper went to sell the collection at Sotheby's in 1999 his friend and auction consultant Rob Lifson chose not to include the hair and letter in the sale because the Ruth signature on the letter had been questioned.  After Halper's death in 2005, his widow consigned the hair and letter to Lifson's auction house (REA) and it was included in a 2007 sale based upon the opinion of Jimmy Spence that the Ruth signature was a "Non-malicious-secretarial."  The letter and the hair sold for $38,000 based upon Spence's claim but upon closer review after the sale it was determined that the Ruth signature on the alleged Iowa man's letter matched the handwriting of another questioned Ruth signature Halper had on his famous 500 Home Run Club signed sheet.  In 1999, Halper told Sotheby's that the Ruth signature was acquired by him in person at Yankee Stadium on Babe Ruth Day in 1948, but years earlier he told Ruth's biographer, Robert Creamer, that his father gave him that sheet of paper with Ruth's signature already on it.  Experts have deemed both signatures outright forgeries and the Ruth hair bogus.
12.  (TIE)  12 a. The Lou Gehrig Rubber Stamp Authentications-
When Lou Gehrig was diagnosed with ALS and his health was deteriorating he used a stamp to sign all correspondence he prepared while working for New York State's Parole Board.  Unfortunately, expert Jimmy Spence couldn't distinguish the difference between authentic writing and a stamp when he certified a 1940 parole letter stamped by Gehrig as the genuine article (above right).  The relatively worthless letter sold at Hunt Auctions for close to $10,000 based on Spence's certification.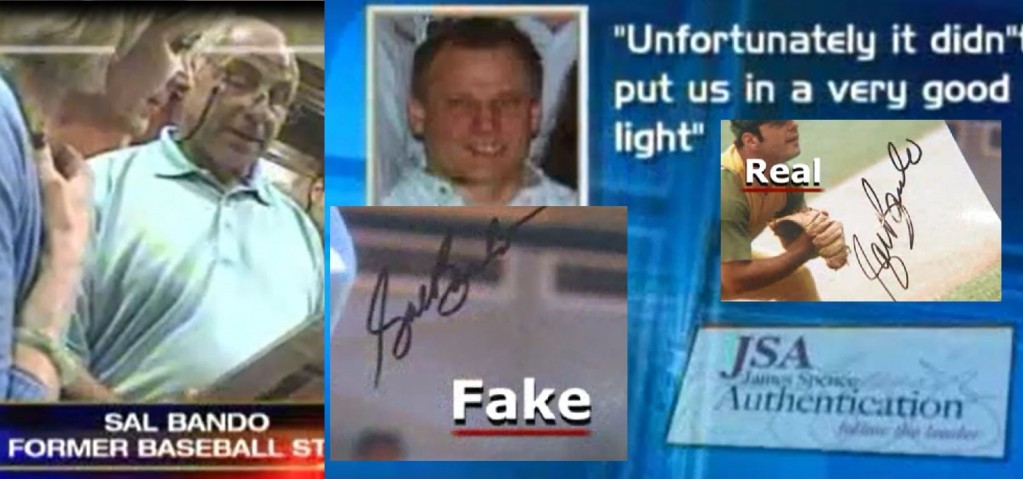 12 b. The Forged Sal Bando 8 x 10 & The FOX/Chicago TV Crew Ambush of Jimmy Spence's JSA Crew-
Perhaps one of the most embarrassing incidents of authentication malpractice for JSA and Jimmy Spence occurred in relation to the authentication of an "in-person" autograph of a living person, ex-MLB player, Sal Bando. FOX Chicago ran a sting operation on Spence & Co. at a Bando signing and had a network staffer forge Bando's signature on an 8×10 and then presented that same photo to JSA authenticators at the show who were offering their "additional LOA" although it was an "in-person" signing.  JSA authenticator Larry Studebaker took one look at the forgery and then issued a JSA LOA.  FOX reporters confronted the show promoter who was apologetic and mortified while JSA head Jimmy Spence admitted the episode "Didn't put us in a very good light."  Click here: to view the infamous video FOX vs. JSA
13.  The "Shoeless" Joe Jackson Darvick-Authenticated-Forgery "Walk-In" On Pawn Stars-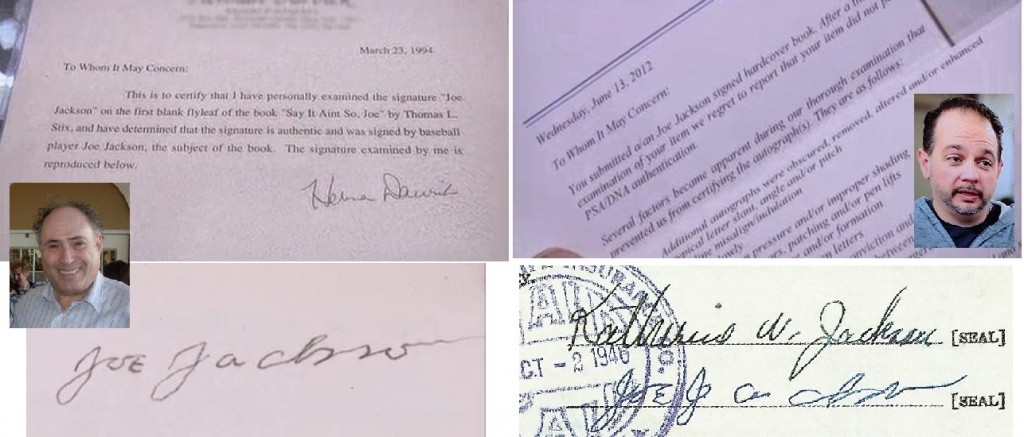 When someone walked onto the set of the Pawn Stars show with an alleged signed book by "Shoeless" Joe Jackson, store owner Rick Harrison sent it out to PSA/DNA for authentication.  Steve Grad and PSA responded with a rejection letter for the item which actually came with a 1994 LOA written by former PSA and current JSA authenticator Herman Darvick. Hauls of Shame could not find one expert who was of the opinion that the Jackson signature authenticated by Darvick was genuine.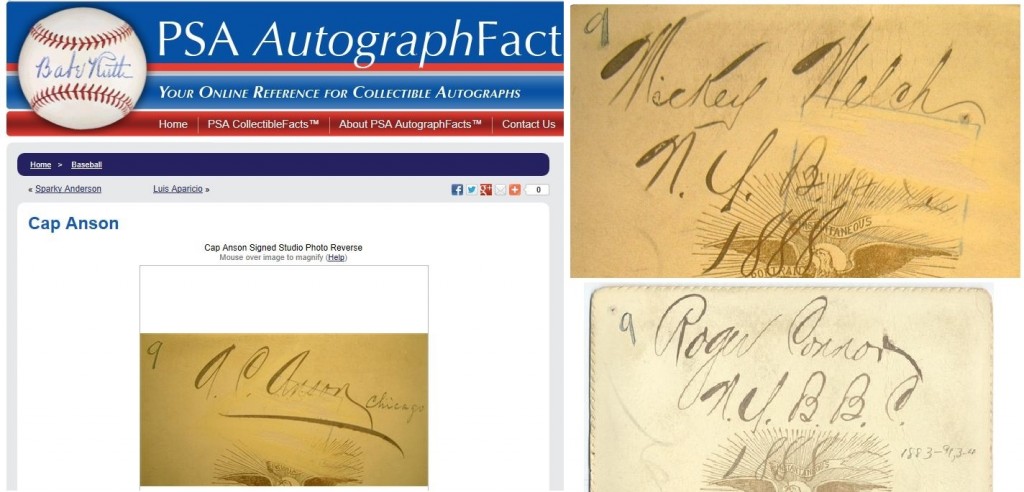 14.  The Bogus Cap Anson Signature On A Photo Stolen From The NYPL-
This photo was selling for as much as $5,000 in 1979 based on the belief that it was signed by Cap Anson.  The alleged signature, however, is nothing more than a period identification of Anson which matches several other identifications on similar Stevens cabinet photos in the NYPL's Spalding Collection.  PSA and JSA authenticator Mike Gutierrez wrote an LOA for the photo when it was offered by SCP Auctions in 2004 and currently it appears on the PSA Autograph Facts page for Anson as an authentic signature despite knowledge of published reports definitively illustrating it is non-genuine.
15.  The Bogus "Smilin Mickey" Welch Signature On A Cabinet Photo Stolen From The NYPL-
This Mickey Welch cabinet was also signed in the same hand as the alleged Anson cabinet photo and is not an authentic signature of Welch.  Despite this fact PSA included this as an exemplar on the PSA "Autograph Facts" page for Welch and removed the signature after Haulsofshame.com published a report showing it was not genuine and was also stolen from the NYPL collection.  If genuine the Welch cabinet would have been worth upwards of $50,000.
16.  The Harry Wright Telegram NOT Signed By Harry Wright & Authenticated By JSA-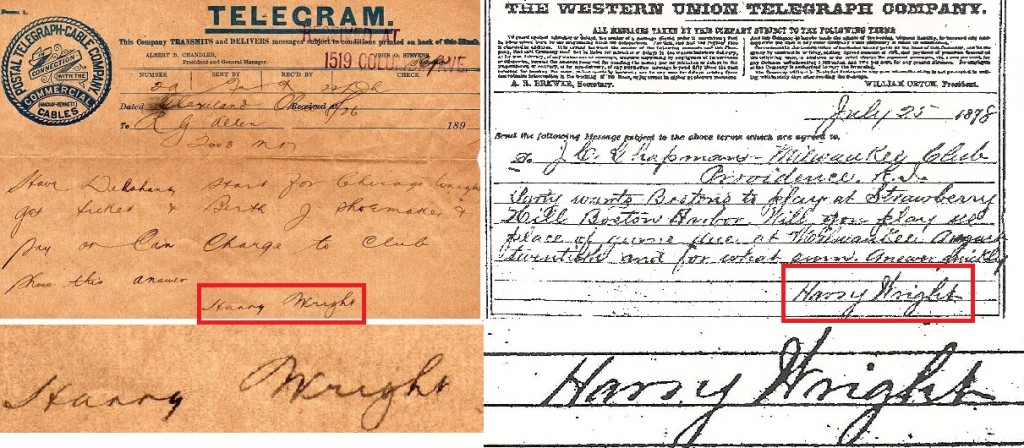 Jimmy Spence authenticated this telegram that the "Father of Professional Baseball" sent to Bob Allen in 1894.  Spence opined in a JSA LOA that the telegram sent (top left) was actually signed by Harry Wright when, in fact, telegrams of that era were never signed by the sender and were prepared by a telegram company employee on the receiving end of the transmission.  The only signed copies of Harry Wright telegrams would be the original copies he filled out at the telegram office on the sending side.  Wright saved many of these and they are found in the one surviving Wright Correspondence Scrapbook in the New York Public Library's Spalding Collection (top right).  When compared to the telegram Spence authenticated, the authentic originals at NYPL show that Spence authenticated Harry Wright's name written by a telegraph operator (bottom left) as opposed to an authentic autograph of Wright from the NYPL (bottom right).  Several original drafts of telegrams actually signed by Wright have been stolen from the NYPL collection.
17.  The $8 Million-JFK-Marilyn Monroe Forgery Scandal Involving PSA's John Reznikoff-
Perhaps the most infamous episode related to the authentication of alleged historic documents invloved PSA/DNA's John Reznikoff before he joined Collectors Universe as their alleged "historical expert."  In 1999, The New York Times reported how Reznikoff had authenticated and sold millions in forged documents attributed to JFK and Marilyn Monroe that if authentic would have re-written history.  Reznikoff's partner, Lawrence X. Cusack III, was alleged to have discovered the trove of documents but after Reznikoff and others authenticated them, ABC News hired forensic specialists who determined they were fakes.  Reznikoff had presented the fakes to experts like Charles Hamilton and had also arranged what the Times reported was a scheme that involved, "selling a handful of documents to (expert Kenneth Rendell) and the other expert, and then buying them back through a front man."
In September of 1997, on ABC's 20/20 reporter Peter Jennings confronted Reznikoff's partner and asked, what the Times reported as, a "profusely perspiring" Cusack if he had forged the documents himself.  Cusack responded, "No sir, I did not.  No , no, no, no, no."  In March of 1998, Cusack was charged by the government in what the Times said was a "scheme to forge the papers and sell them for more than $7 million."  Reznikoff was not charged but the Times reported that, "Mr. Reznikoff met again with Mr. Cusack and secretly taped a conversation in which Mr. Cusack admits that he confessed in their earlier conversation, the complaint said. Prosecutors did not provide a transcript of the tape or describe the contents further. Lawyers said Mr. Reznikoff made the tape on his own and later gave it to investigators."  On September 18, 1999 the Times reported that Cusack, "The man who sold hundreds of forged documents supposedly written or signed by John F. Kennedy was sentenced to nine years and seven months in prison yesterday, a stiffer term than usual, and ordered to pay $7 million in restitution to victims of his scheme." According to US Attorney Thomas C. Rubin, Cusack had pocketed $5 million from the forgeries and Reznikoff split $2 million with a third partner.
18.  The Forged Rocky Marciano Signed Boxing Gloves Authenticated By PSA/DNA-

Boxing collector and expert Mark Ogren of FightToys.com posted some alleged PSA-authenticated Rocky Marciano gloves on Net54 and revealed that the signature was nothing close to Marciano's actual handwriting and actually resembled the handwriting of a restaurant owner named Mario, who had written a second letter of authenticity in addition to the LOA from PSA and Steve Grad.  The gloves were entered as a lot in a Goldin Auctions sale and upon the posting of Ogren's information, auctioneer Ken Goldin withdrew the bogus gloves from the sale.  PSA even refused to respond to Goldin's own inquiry about the authentication.  Ogren had previously exposed flawed PSA authentications of two other alleged Marciano-signed gloves which were actually signed by his manager Charley Goldman.
19.  The REA-Babe Ruth Nursing Home Forgeries Certified Authentic By Jimmy Spence-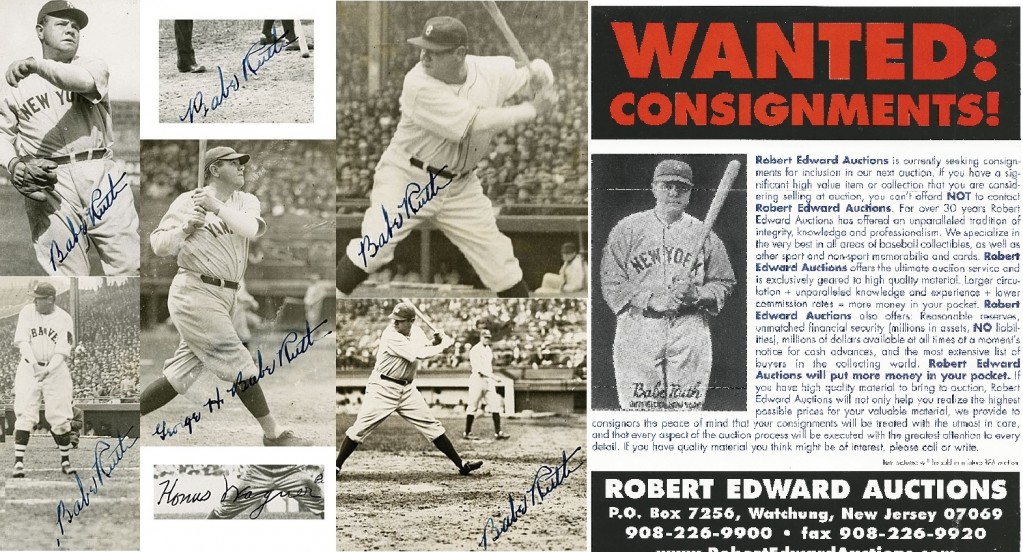 This lot of alleged forgeries appeared in an REA auction with little revealed about the true provenance of the photographs.  The auction only presented an unsubstantiated story that the items came from a deceased sportswriter who was once in a nursing home in Maine and a bevy of fancily signed LOA's issued by Jimmy Spence and JSA attesting to their authenticity.  A close inspection of the alleged Ruth signatures, however, revealed an assortment of red flags as none of the photographs were inscribed or personalized and all appeared on unusual second generation photos.  Over a dozen hobbyists and experts agreed that every one of the Ruth signatures appeared to be a forgery.  One of the photographs was even signed "George H. Babe Ruth" without an inscription.  In our voluminous exemplar files we could only find several instances of Ruth signing "George H. Herman Ruth" on documents and contracts and "George H. Babe Ruth" on 1935 All-America Board of Baseball certificates.  REA didn't even mention the unusual nature of this ultra-rare version of Ruth's signature and upon grilling the consignor saw that there were holes in the flimsy provenance tale.  REA removed the photos from the sale "at the request of the consignor" and issued no public explanation from Spence or JSA to customers who had already bid up the group up to over $30,000.  If authentic, the JSA-certed photos could have realized a sale price of $75,000 to $100,000.

20.  The Judy Johnson Perez Steele Card Signed After He Was Dead-
AutographAlert broke this story: "According to one of our readers, Coaches Corner Sports Auction is auctioning off a PSA/DNA Certified as genuine a Judy Johnson Perez Steele Celebration card (above left). Lot #888 currently at $50 having 6 bids. PSA/DNA's certification # is 83049796. "Judy Johnson was in a coma (from which he never woke) before these cards were sent to press. There is simply no way he could have signed it, but that didn't stop PSA/DNA from giving it the thumbs up."
Another expert said: "Celebration set consisted of 44 cards…pre-deceasing the release of the card issue were Lefty Gomez, Billy Terry and Judy Johnson." Yet another expert states: "The set was intended to feature all 44 living Hall of Famers. Though not all the players gave signed on. Sometime between the design and the release, three players – Lefty Gomez, Judy Johnson and Bill Terry passed away making the autographed set complete at 41 cards."
21.  The Heritage 1927 New York Yankee Green Ink Team Ball Forgery-
This ball (above, center) appeared in Heritage's Platinum Auction in NYC in February of 2013 and several experts we spoke with called it out as non-genuine.  One expert said: "It's a well executed forgery , but where they failed is that each signature is too uniform , disregard the same color ink. After almost 100 years the ink absorbed to leather should be more obvious , you can almost see it still laying on top.  The odds on all (players) signing with the same pen are almost non existent but assuming they did,  some would have signed with a lighter hand than others and there would be a degree of fading on certain signatures , there is none. Gehrig for one signed with a very light hand, especially for a big man, that is why on most of the real Gehrig signed balls his signature is almost always light (less ink to surface in original application) , not the case here. There are many other clues…."
Another said:"All the writing seems to be the same size. It doesn't make sense. Typically you have one or two players who will write larger or smaller. A forger however will typically try to mimic the signature and thus the writing all is the same size because it was done in the same hand."
22.  The Heritage Alleged 1927 Yankee Team Photograph (Ex-Wolfers)-
Although it sold for close to $30,000 at Heritage, experts identified this photo (above right) as a poorly executed forgery and a re-tread item from an early 1990s Richard Wolfers sale when it was authenticated by Mark Jordan (now an HA consignment director).  One expert we spoke with said: "This is probably the worst piece. I absolutely hate the Ruth signature. Notice the spacing alone between the "t" and "h" in the Ruth. Then look at the Gehrig. Good night. Each signature appears to have been signed extremely slowly. Just look at the Bill Dickey and Lefty Gomez. Just horrific! 100% fake in my opinion."  The piece made the HOS "Top 10 Alleged Forgeries in the HA Platinum Auction."

23.  The Lou Gehrig to Kiki Cuyler Forged Single-Signed Baseball-
This ball was created by a well-known 1990s forger who flooded the market with high-end fakes which, when examined all together , revealed tell tale signs of forgery.  Jimmy Spence, however, got fooled and authenticated this fake for Mastro Auctions years after the forger was outed.
24.  The Babe Ruth to Kiki Cuyler Forged Single-Signed Baseball-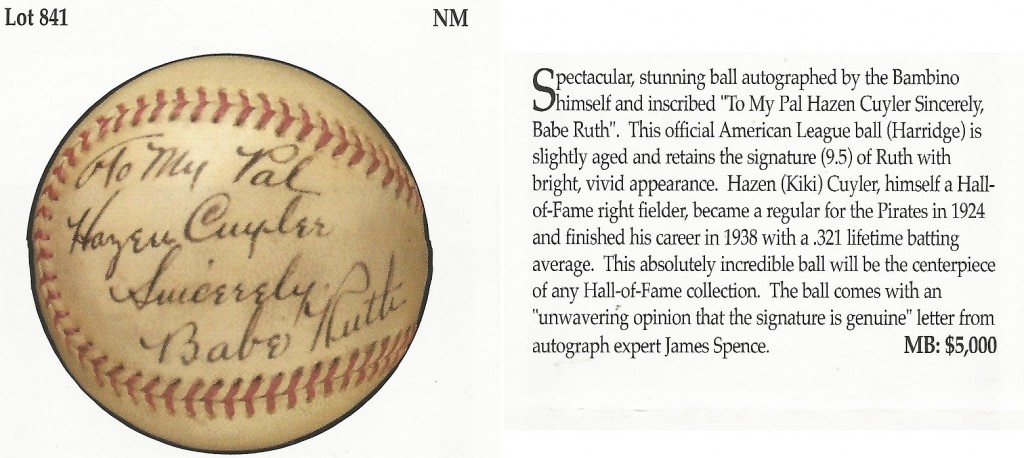 Spence was also fooled by this forgery and wrote yet another LOA despite the ball having been created by the same forger.  The auction lot description noted Spence's "unwavering opinion that the signature is genuine."

25.  The Roy Campanella PSA/DNA-Slabbed-Stamped Signature-
After Roy Campanella's tragic car accident he used a stamped signature for autograph requests (left).  Incredibly, PSA/DNA actually encapsulated one of these stamped signatures and certified it as an authentic Campanella signature.  What more can we say?

26.  The Rocky Graziano Autograph Authenticated And Slabbed As Rocky Marciano By PSA/DNA-
PSA slabbed this index card as a Rocky Marciano signature because a news clipping was pasted to the card incorrectly identifying it as such.  PSA obviously didn't even examine the autograph which was actually signed by Rocky Graziano.  Yet another example of an authenticator failing to examine the actual signature and issuing a dead-wrong certification in a PSA/DNA holder.
27.  The Harry Truman Worst To First "Enhanced Single-Signed Ball"-
Steve Koschal discovered this Truman ball that went from a "low grade" Truman signature sold at Mastro in 2001 and at R&R Auctions in 2004, to the "finest extant" at EAC Gallery in 2005.  The ball originally came with a MastroNet LOA at the time Mike Gutierrez was working for the company and when it sold at R&R its authenticity was described as, "COA John Reznikoff/PSA/DNA & R&R COA."
Koschal also states his belief that the Truman ball was "professionally cleaned" and the signature enhanced possibly by some form of chemical enhancement.  The Truman signature has confounded experts who find it hard to believe the signature could have been enhanced by hand like a signed forgery but law enforcement has not been able to determine what process this forgery was created with.  PSA/DNA authenticator John Reznikoff authenticated the Truman ball when it was barely visible and was listed as its "provenance" when it sold at EAC as the "finest extant.
28. The Christy Mathewson Single-Signed Ball Forgeries Exposed When Ball was Shown Made After Postmark Date On Box Allegedly Sent And Inscribed By Matty-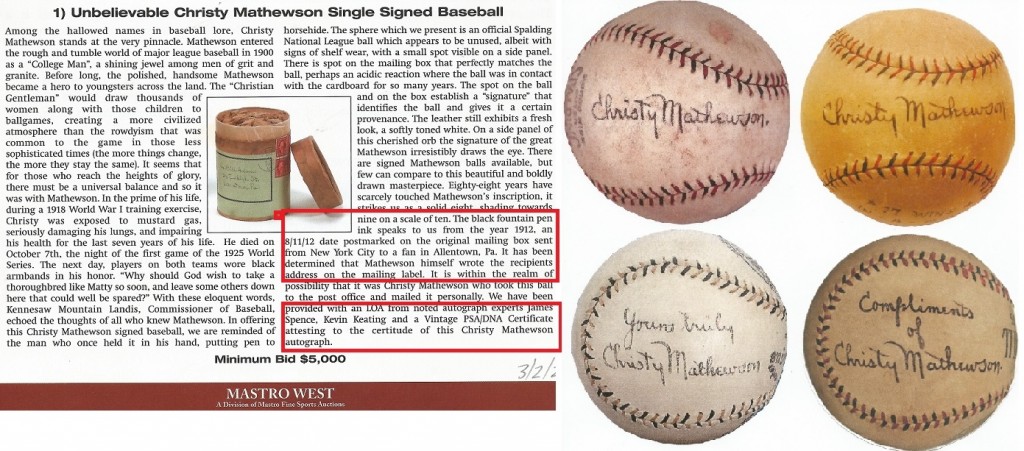 This style of Mathewson forgery first appeared in a 2000 MastroWest auction #1 lot description (above left)  as an "Unbelievable" single-signed Matty ball which was accompanied by an alleged mailing box also said to be executed in Matty's hand.  The ball came with an "LOA from noted experts James Spence, Kevin Keating and a Vintage PSA/DNA Certificate attesting to the certitude of this Mathewson autograph."  But the ball signed was an Official NL Heydler ball manufactured between 1923 and 1924, nearly a dozen years after the alleged mailing date on the box of August 8, 1912.  The ball (top row right) was withdrawn from the auction after Mastro was notified of the evidence suggesting it was a forgery.  Despite the fact this ball was exposed as a forgery, Jimmy Spence continued to authenticate several other Matty forgeries executed in the same hand which sold at Hunt Auctions,   and a last example which was consigned to Heritage Auctions but failed to receive an LOA from PSA/DNA.

29.  The Babe Ruth "Dear John" Laser printed forgeries & PSA Advertisement Forgeries-
These Babe Ruth photos were authenticated by PSA/DNA although they were actually photographs bearing laser-printed forgeries of the Babe (left).  The scam was exposed by Ruth collector John Rogers of North Little Rock, Arkansas, when he purchased several examples and realized that the inscriptions and signatures on multiple items were identical.  Other experts believe that the example used for the facsimile was a forgery as well.  PSA/DNA has also had a history of presenting Ruth forgeries as genuine examples in their company advertising ads (right) in hobby publications like SCD.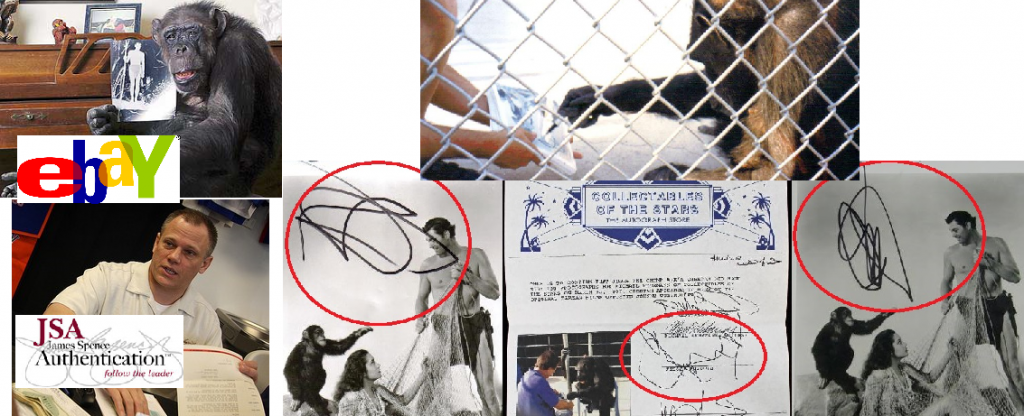 30.  The JSA Tarzan-Chimpanzee Authentications-
JSA has trouble with Babe Ruth signatures yet claims to possess the expertise to identify authentic signatures of the chimpanzee who starred in the Tarzan movies with Johnny Weissmuller.  But the examples JSA has authenticated for eBay sellers were written by a chimp who was exposed as a fraud in a 2008 Washington Post investigative report.  The chimp never starred in a Tarzan movie but, more importantly, how could JSA ever have the ability to identify the scribbles of a chimp?

31.  The Ty Cobb Forgeries on Hack Simmons Photos-
Several authenticated Ty Cobb forgeries (above left) have surfaced being signed on vintage photos of Cobb's old teammate Hack Simmons, NOT Cobb.  How could Cobb have signed a Charles Conlon photo of another player?   He wouldn't have.  The photograph was signed in the hand of someone other than Ty Cobb.
32.  David Wells' Christy Mathewson Single Signed Ball-PSA vs. JSA-Dualing Experts –
While JSA and PSA/DNA have authenticated a slew of bogus Matty balls, in this instance JSA wrote a letter of authenticity and PSA/DNA rejected it.  In what might be a hobby first, auction house SCP Auctions posted both conflicting opinions in its lot description for the ball (above center) consigned by ex-Yankee pitcher David Wells.  In this case, every expert we interviewed agreed with PSA.
33. The "Andre The Giant" Authenticated Facsimile Signature-
A magazine cover featuring wrestler Andre The Giant (above right) was authenticated by Jimmy Spence and JSA as having been signed by the wrestling giant, but was actually a facsimile signature that was part of the published magazine cover, and not an authentic autograph.  This embarrassing episode was exposed on Autograph Alert and reported by JoeMLM on YouTube.
34.  The Genuine Mickey Mantle Signed Jersey Authenticated And Rejected By Spence And JSA-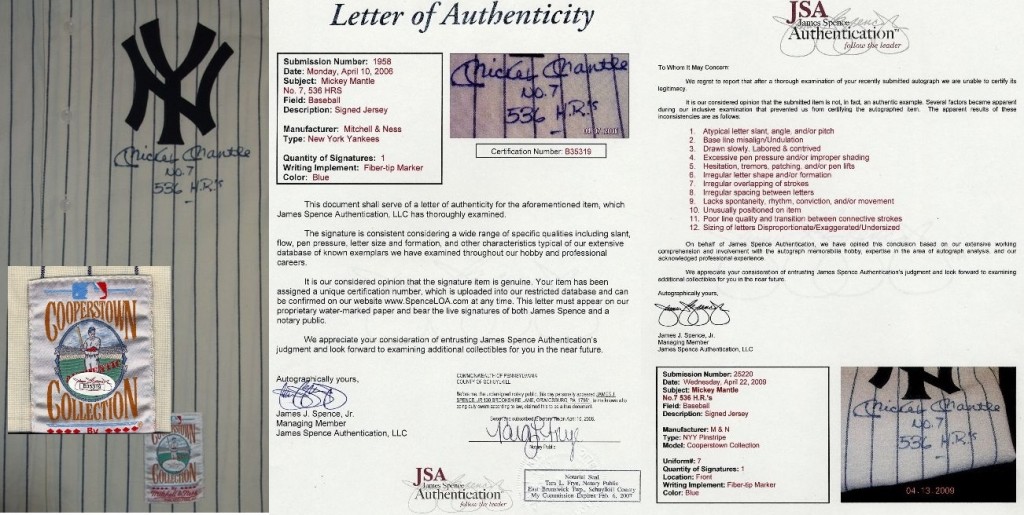 Jimmy Spence wrote an LOA (center) certifying that a Cooperstown Collection Mickey Mantle jersey (left) was authentically signed by the "Mick."  But when the same jersey was later presented to him accompanied by an LOA from Christopher Morales, Spence issued an official JSA rejection letter claiming the jersey was a fake when, in fact, he got it right the first time and was genuine.  This one was exposed on Autograph Alert.

35.  The Mrs. Bob Fitzsimmons Forgery Sold At Heritage And Appearing On PSA's "Autograph Facts" Page-
PSA illustrates a signature ghost-signed by the wife of 19th century boxing champ Bob Fitzsimmons as an authentic exemplar on its "Autograph Facts" page.  They also illustrate a contrasting genuine example on the same page, thus illustrating they do not know what an authentic Fitz looks like.  Despite being notified of their mistake, PSA still illustrates the forgery as a genuine autograph on its website.  The autograph was sold by Heritage Auction Galleries despite the fact that the auction house was notified in advance by experts it was a forgery.
36.  The Candy Cummings "Curveball" Cut Signature-
PSA included on its "Autograph Facts" page an inscription of the Buffalo BBC's secretary (bottom right) as an authentic Candy Cummings signature, while they also displayed Cummings' genuine signature on an 1878 letter Cummings sent to the Buffalo club.  The secretary's notation on the reverse of another letter Cummings sent to Buffalo was clipped from that letter and authenticated by PSA.  After Haulsofshame.com published an article on the subject PSA removed the signature from the "Autograph Facts" page.

37.  The Clem Labine As Ernie Davis Signed Baseball-
PSA authenticated, encapsulated and identified this authentic baseball (above) signed by Brooklyn Dodger pitcher, Clem Labine, as a baseball signed by Ernie Davis.  Labine's signature bears no resemblance to Davis' signature and the PSA error, first reported by Autograph Alert, remains one of the company's greatest "quality control" blunders.

38.  The $80,000 Walter Johnson "Big Train Wreck" Authenticated By Jimmy Spence-
The Walter Johnson autograph appearing on this alleged 1920s to 1930s baseball does not resemble the authentic signature of the Hall of Fame pitcher nicknamed "The Big Train" and after it appeared on eBay for $80,000 with a JSA LOA it was called the "Big Train Wreck." When shown the image of the ball, expert Ron Keurajian told us he was already aware of it and noted that the signature was "apocryphal".  He added, "In my opinion the signature on that ball is a forgery."   Hauls of Shame shared that opinion of the signature that lacked the fluidity and feel of Johnson's handwriting and appeared to be labored and executed in a not-so-steady hand. The signature, originally authenticated by JSA in 2010, was touted by the seller as "The Finest Walter Johnson Single Signed Baseball in the Hobby JSA."  The eBay seller was yet another victim of authentication malpractice committed by a third-party authenticator.  The fraud division at eBay agreed with Keurajian and the ball was removed from the website because of its "authenticity issues."
39.  The REA-Winston Churchill JSA-Authenticated Facsimile Letter-
This facsimile letter sent out by Winston Churchill was authenticated by JSA as an authentic handwritten document by the British Prime Minister.  JSA noted the pen pressure and other characteristics they examined which revealed the document was genuine.  But the document was a mass-produced facsimile sent out to many recipients and exhibited no evidience of ink or pen ever being applied to the paper.  The bogus offering was later pulled from REA's Spring 2013 sale after JSA's blunder was exposed.
40.  The Mark McGwire Stamped 1987 Donruss Baseball Card Slabbed By PSA-
Although this card of juicer "Big-Mac" was not actually signed by Mark McGwire and featured a stamped signature, it was still authenticated and slabbed by PSA/DNA.

41.  The George Dixon And Tom Sayers "No-Exemplar" Boxing Authentications-
A 2007 Sotheby's sale offered a George Dixon autograph saying:  "Offered here is a 3″ x 4″ slip of paper, bearing Dixon's signature in pencil (10/10). Just beneath the signature the original owner of the autograph page has written "1870 (the year of Dixon's birth) World's Featherweight Champion." On the bottom of the page, the British actor "E. Story Grafton" has also signed his name. Dixon died at the age of 38 in 1909. A great rarity, as we know of no other authentic Dixon signature known. LOA from JSA."
How could JSA authenticate the item if no other authentic exemplar exists?
42.  The Lloyd Waner Coaches Corner-To- Huggins & Scott Forgery-
This ultra-rare Perez-Steele HOF postcard of Lloyd Waner was authenticated by JSA and Jimmy Spence after it sold at Coaches Corner for around one hundred bucks.   With the JSA LOA in hand, the buyer consigned it to Huggins & Scott and sold it for over $3,000.  There was a very small window for Waner to sign these cards as they were issued very close to his death and experts have opined that this Huggins & Scott offering via Coaches Corner was a forgery.
43.  The Cy Y-o-o-ung Forged Signature-

Autograph Alert broke the story on this R&R Auctions listing of the PSA "Double-O" Cy Young forgery.  The side to side comparison above is all we have to show regarding this misspelled disaster.
44.  The John "Teflon-Don" Gotti Forged Checks Authenticated By PSA/DNA-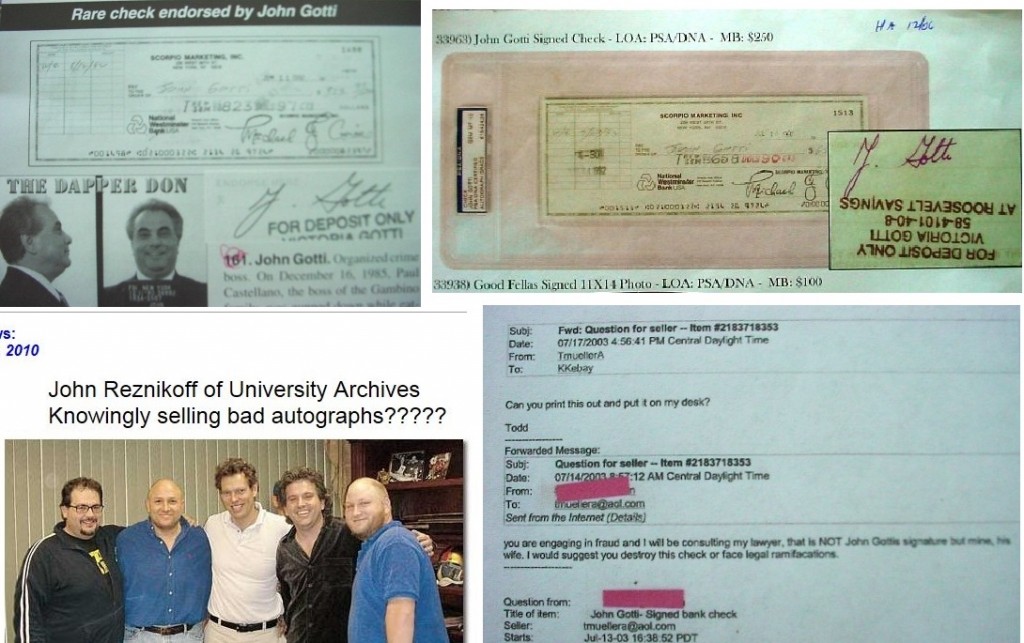 Autograph Alert broke the story on this 2010 PSA debacle which involved a group of forged checks attributed to John Gotti (the "Dapper Don") via PSA authenticator John Reznikoff.  What is also interesting is that there are many differences in an original signature of John Gotti verses one that is signed for him by his wife. John Reznikoff knew the signatures of "J.Gotti" on the checks were not genuine and still sold them!  All the checks in this collection were during a 3 month period in 1992. Research on John Gotti with Marion State Federal Prison indicates that during the time these checks were issued and cashed, John Gotti was in a 23 hour a day lock down.
45. The Jesse Burkett Forged Single-Signed Ball Used As A PSA Exemplar By Steve Grad On Video -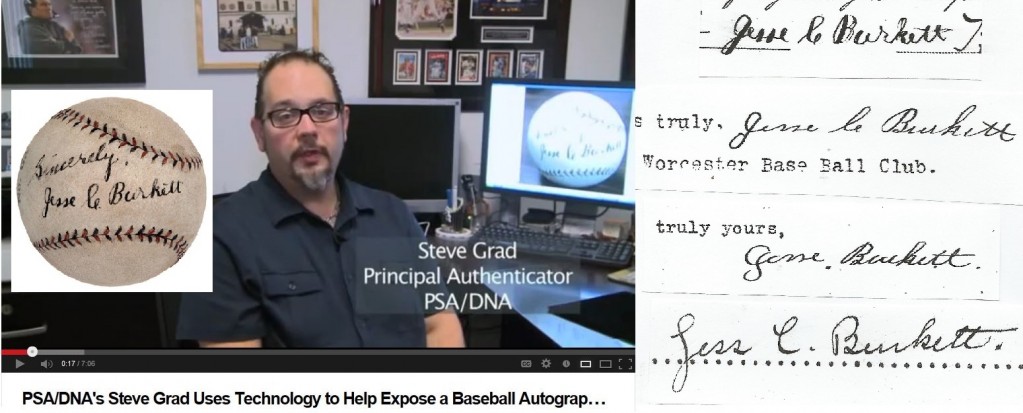 Steve Grad of PSA/DNA appeared on a company video segment using this forged Jesse Burkett ball as an exemplar to expose another easily detected Burkett forgery.  The forged baseball that Grad used as an exemplar was sold at REA for over $26,000 and appears to have been copied from an 1890s NY Giants pay receipt signed by Burkett.  The ball was manufactured post-1920 at a time when Burkett's signature looked nothing like the example on the pay receipt.

46.  The John M. Ward Secretarial Letter Stolen From The Hall of Fame-
This blatant secretarial signature (top left) of the ultra-rare John M.Ward was offered and pulled by Mastro Auctions after it was authenticated by Jimmy Spence.  PSA authenticator Kevin Keating has since offered the exact same document for sale as an authentic item.  The letter also appears to have been stolen from the Herrmann Papers archive at the Baseball Hall of Fame. Examination of authentic signatures of Ward from court documents (bottom left) and correspondence in Cooperstown shows the offered letter is far from genuine.
47.  The A. G. Spalding Secretarial Letter And Cut Signatures Authenticated By Steve Grad and PSA/DNA-
PSA's lack of knowledge in regard to scarce 19th century signatures was exposed further with an authentication of an alleged A. G. Spalding letter that was actually written by a Spalding employee (above, center right); and the encapsulation of another Spalding signature which exhibited hesitations and stoppages that were characteristic of a forgery (above, center left). The slabbed cut lacked the uniformity of what PSA correctly identified in their study as the "sharp, jagged examples from the last decade of (Spalding's) life."  The most striking deficiency in the PSA-Steve Grad certified forgery was the absence of these very sharp and angular strokes that define Spalding's handwriting at this period in his life.  The forgery lacks the natural flow of Spalding's handwriting and the contrast is most apparent when the forgery stands next to the five genuine examples in our illustration.
Grad and PSA also missed that the forger may have made a critical mistake that also gave him away; the forged and slabbed signature included a period placed after Spalding's abbreviated "Calif."  We examined at least ten authentic inscribed and signed Spalding books with the "Point Loma" inscription and none of them included punctuation after the "Calif" abbreviation.  Only the PSA authenticated forgery included a period.
Most collectors would be fooled by this decent forgery which is a great example to illustrate how a forger can replicate a signature and convince an alleged expert it is genuine.  Of course it "looks like" a genuine Spalding, that's what the forger is trying to achieve.  However, when analyzed closely it is exposed that it only mimics an authentic signature and shows evidence of another hand, that of the forger.  At least the slabbed Spalding actually looked like Spalding's scrawl, whereas the 1895 Spalding company letter exhibited virtually no resemblance to Spalding's actual handwriting.

48. The Michael 'Mike' Jordan Bogus & Misrepresented Cancelled and Signed Check-
This check (above, top left) of a guy named "Mike Jordan" was passed off as an authentic early-life signature of a 9-year old Michael Jordan.  (An authentic early-life Jordan signature appears below) The check, authenticated by Jimmy Spence and JSA was exposed on the Game Used Universe forum where a member noted that the check had been drawn by Coca-Cola and cashed in Arkansas when Jordan was only nine years old and living over 1,000 miles away in Wilmington, NC.  Despite this information being forwarded to Grey Flannel Auctions, the fraudulent document was sold for $1,800 along with a JSA LOA.
49.  The Bronko Nagurski "Deathbed Forgery" Signed Football Card-
A recent embarrassing incident is what was described on eBay as "Bronko Nagurski-Rare Signed-1988 Swell Chicago Bears" signed card (above center) authenticated as genuine by PSA/DNA. The item was being offered on eBay, item #180092222011. The seller was contacted by Brian Nagurski of Nagurski Enterprises. He is Bronco's grandson. He informed the seller that the signature was a "FAKE", as his grandfather was bedridden with a stroke and unable to sign such a legible signature during 1988 and beyond.  Nagurski died shortly after these cards were printed.
50.  The Mike Tyson "Mayo" Mistake-
This photo of Mike Tyson has an inscription that clearly reads "Mayo 1990″ (above right, top)but the LOA by the TPA states that it is actually a genuine Tyson signature (above right, bottom).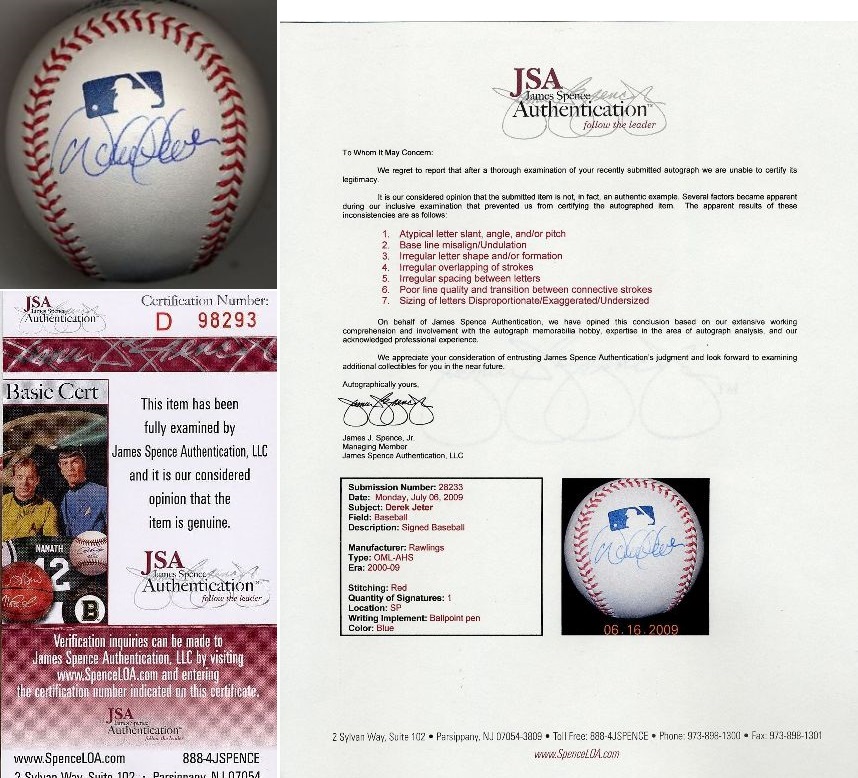 51. The Derek Jeter Single-Signed Baseball Authenticated & Rejected By Jimmy Spence-
This Derek Jeter signed baseball (top left) was authenticated by JSA with an LOA (bottom left) but when the same ball was resubmitted with an LOA from Chris Morales, Spence and JSA issued an rejection letter (right).

52.  The Charles Comiskey Secreterial Letter-
Heritage Auctions sold this common secretarial signature (top left) of Charles Comiskey as an authentic example (bottom left) just because it had an LOA from a TPA.
53.  The PSA/DNA Ethan Allen-John Reznikoff Blunder-
Autograph Alert broke this one:  After just a peak at the signature passed as "Guaranteed Authentic" by PSA/DNA it is quite obvious that not a single letter in the slabbed signature compares to those in a genuine signature of Ethan Allen. Yet, this pathetic looking signature is now PSA/DNA Certified E61463 and was authenticated by the "experts" at PSA/DNA on February 22, 2006.
After looking at the signature passed as "Guaranteed Genuine" by PSA/DNA and comparing it to the three genuine signatures illustrated above, www.autographalert.com feels only one more thing needs to be said about the PSA/DNA authenticating process. Now that PSA/DNA has this Ethan Allen signature they passed as genuine on file, those in the future who submit a genuine Ethan Allen signature for authentication will probably get theirs failed. A genuine signature will not match the exemplar they now have on file that they passed as genuine.

54.  The "Slab It And They Will Come" James Earl Ray Signature As James Earl Jones Fiasco-
Steve Koschal broke the story of PSA slabbing the autograph of Dr. Martin Luther King Jr.'s assassin as the signature of actor James Earl Jones.  Autograph Alert reported:  "Take a peak at the autograph, gasping for air, inside the plastic holder. It is a signature of James Earl Ray, the convicted assassin of the civil rights leader Matin Luther King, Jr."  The PSA/DNA web site also states: "Occasionally our experts cannot express an opinion on an autograph. These will be designated as inconclusive." The James Earl Ray signature was not designated as "inconclusive." The "experts" expressed their opinion and that is it is the signature of James Earl Jones.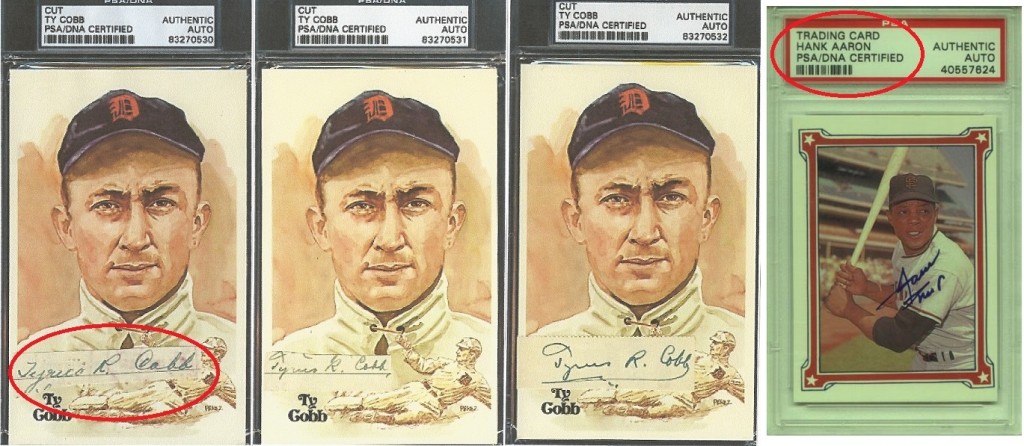 55.  The Mrs. Ty Cobb "Signed And Slabbed As Ty" Check Signature-
A collector cut up an alleged Cobb check with multiple signatures of the "Georgia Peach" and sent the "cuts" to PSA to be slabbed in encapsulated holders. PSA authenticated and slabbed all three examples despite the fact that one of them was clearly written in the hand of Cobb's wife who had written out the original check.
56.  The Willie Mays as Hank Aaron slabbed baseball card-
PSA slabbed this autographed baseball card of Hall of Famer Willie Mays as an authentic signed card of Hank Aaron.  What more can we say?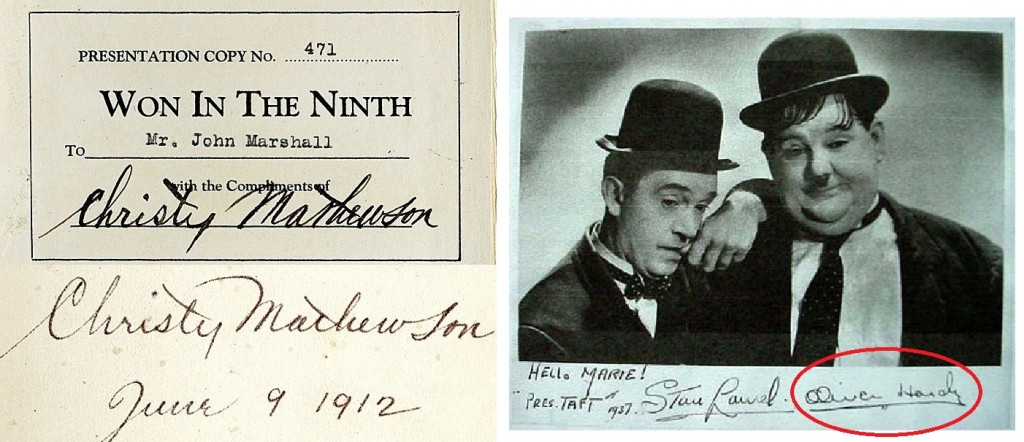 57.  The Christy Mathewson "Won in the Ninth" Secreterials-
Expert Ron Keurajian's original opinion on these from 2004 stated:  "Some experts tell me they are real while others say they are not.  In my opinion these plate signatures are ghost-signed and not signed by Mathewson."
He added, "These signatures deviate too much from Mathewson's hand.  If you contemplate a purchase of one of these books proceed with caution."
Today, Keurajian stands by his original opinion stated in 2004.  Says Keurajian, "Since I published my article in Sports Collectors Digest I have had the opportunity to  view at least 15 additional presentation copies of Won in The Ninth.  I have concluded that all are secretarial signed as I have never examined a genuinely signed copy of this book.  Ever since my article was published many copies of this book were dumped back into the market.  They continue be sold and resold as purchasers later find out they are not signed by Mathewson but rather a secretary."
Mike Heffner, of Leland's, holds the same opinion as Keurajian.  Says Heffner, "I concur with Ron.  It was not something that was known 20 years ago but it has come to light in recent years."
58.  The Laurel & Hardy "Oliver Hardy Rubber Stamp"-
Even if the company began collecting autograph reference information the day they started in the business of authentication, the information on Oliver Hardy using a rubber stamp had to pass through their hands at least a few times.  The latest authenticating embarrassment was during the MastroNet auction of December 2006. Lot #297. The lot description states "This publicity photograph was inscribed and signed: "Hello Marie! Pres. Taft 1937, Stan Laurel (9) and "Oliver Hardy" (10).
This item has been examined (yes, examined by a so-called expert) by one or more PSA/DNA experts.
59.  The Jimmy Spence 1927 Yankee Team Ball Forgeries Certified Genuine (Then & Now)-

Jimmy Spence authenticated this forgery of the entire 1927 New York Yankee team (above left) and issued an LOA for Yankee collector David Atkatz who held the ball in his collection for well over a decade.  Atkatz, however, was informed via an internet chat forum that the ball was a fake and the handiwork of a well-known and talented forger who worked the tri-state area in the late 1990's.  Did Spence learn anything from his authentication of this forgery?  Apparently not, as he recently authenticated another 1927 Yankee team ball in Robert Edward Auctions' (REA) Fall 2013 sale (above right) believed to be a forgery by a host of experts.
60. The 1939 Hall of Fame Induction First Day Cover Forgery-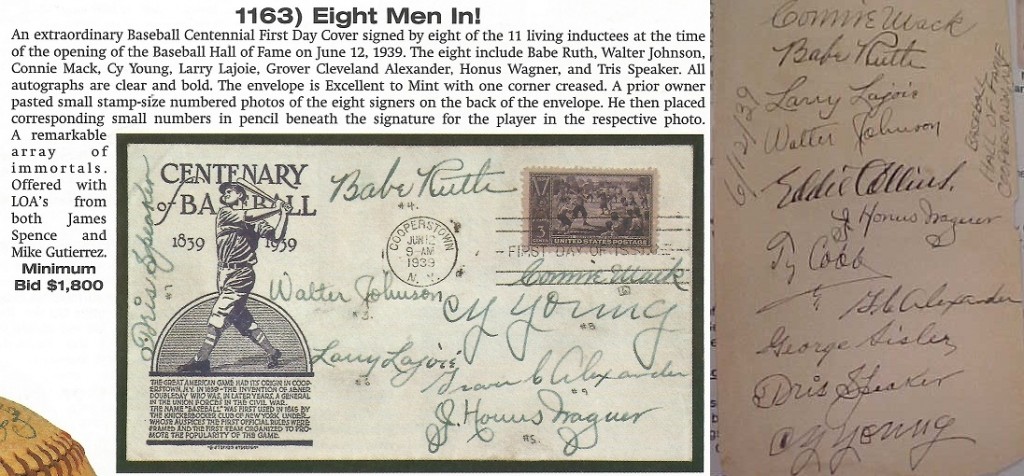 Jimmy Spence has authenticated many questionable items tied to the 1939 celebration in Cooperstown but many experts point to this one (above left) sold at Mastro Auctions with a Spence LOA as one of the more embarrassing instances of "authentication malpractice."  To the untrained eye the signatures look authentic upon first glance, but examined closer the handwriting appears labored and lacks the flow and spontaneity of genuine examples of the HOFers.  In fact, a similar HOF induction themed item (on par with the Mastro lot) was sold in an infamous Coaches Corner auction (above right) and even included additional forgeries of Eddie Collins and Ty Cobb.

61.  The Al Stump Ty Cobb Forgeries Authenticated By Mike Gutierrez of PSA & JSA-
Authenticator Mike Gutierrez certified a hoard of bogus Ty Cobb letters, photos and other documents (including entire diaries) that originated from Cobb biographer Al Stump.  They were all forgeries created by Stump, but with Gutierrez' work one of the forged diaries ended up in the Baseball Hall of Fame until uncovered as a forgery by the FBI and Ron Keurajian.  In a paper published by SABR, researcher Ron Cobb chronicled Gutierrez' authentications of the fakes:
"They were first offered to Mike Gutierrez, a prominent authenticator, who authenticated them as genuine and then sold them directly and at auction to trusting buyers. Although the signatures on these letters displayed a more shaky hand than authentic Cobb signatures, Gutierrez explained that to be a result of Cobb's advancing age and declining health and strength—something modern authenticators have disproved through a thorough analysis of steady Cobb signatures dated as late as May 1961, only two months before his death."
Cobb just released his detective work on "The Georgia Peach" forgeries as a book available on Amazon.

62. The Mike Gutierrez 1948 Babe Ruth Secretarial Forgeries-
Since the late 1980s Heritage Auctions consignment director and JSA authenticator, Mike Gutierrez, has sold and authenticated these secretarial Babe Ruth signatures as authentic.  Today not one auction house will sell them.

63. The Joe Frazier JSA Witnessed Protection Program Failure-
Autograph Alert uncovered this one:
That's right, they failed it. JSA gave eight reasons to explain the flaws in the JSA "Witnessed Protection Program" piece of memorabilia. Apparently, the mere presence of Chris Morales' certification has caused the JSA "Witnessed Protection Program" to grow atypical letter slant, angle and/or pitch. Did this problem occur when the JSA staff member witnessed the piece or afterwards? Not only did JSA fail the piece, but Larry Studebaker, James Spence's main authenticator, laughed out loud and said the piece was "fucking horrible." Really? A piece from JSA's "Witnessed Protection Program"? According to Larry Studebaker, James Spence himself personally checks all of the items before he issued a JSA certificate. James Spence did not overrule Larry Studebaker. According to JSA, their previously witnessed piece is now a forgery.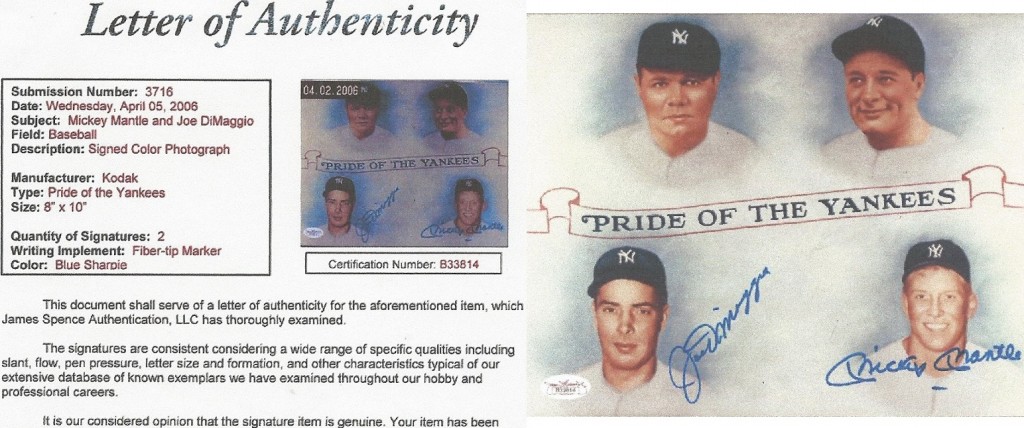 64.  The Core-Four "Pride of the Yankees" Print with DiMaggio & Mantle Laser Printed Forgeries-
Both JSA and PSA issued LOAs for this item alleged to have authentic signatures of Mickey Mantle and Joe DiMaggio.  But although it was identified by JSA as being signed by a "felt tip marker" it was actually a worthless laser print of an original.  JSA even went as far to comment on the "pen pressure" exhibited on the signatures.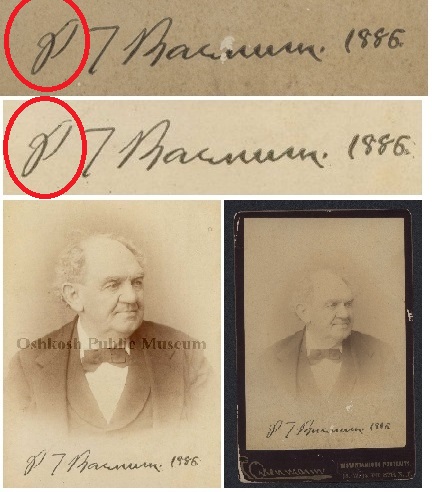 65.  The P. T Barnum "Cabinet Card For Suckers" With Pre-Printed Facsimile Signature Certified Genuine By PSA-
According to Steven Koschal there are several poses of P. T. Barnum which feature different versions of his facsimile autograph with dates from 1885  and 1886.  The autographs and the dates are identical depending on which version you are presented with and fluctuations exist only in the resolution or quality of the albumen photos created by the photographic studio.  The cabinet appeared for sale on eBay with a 2005 PSA/DNA LOA certifying it as an authentic the Barnum signature. The LOA featured the signatures of Steve Grad, Bob Eaton, Mike Gutierrez, Roger Epperson, Zach Rullo and John Reznikoff, PSA's authenticator for historical material.

66.  The Goose Goslin Gold Hall of Fame Plaque Forgery Sold, Authenticated & Returned To Jimmy Spence-
Jimmy Spence sold this alleged HOF gold plaque postcard to a customer when he was a full-fledged dealer back in April 1994.  Spence sold this Goose Goslin Hall of Fame Plaque Card to an east coast dealer for $600.00. According to Spence, the card bore a genuine signature of Goslin on the verso.
Years later, the dealer was able to sell this same card for $1500.00, a nice profit of $900.00. However, the new owner of the plaque sent this item to PSA/DNA for authentication. The purchaser was not aware that this plaque was originally purchased from James Spence. The item (PSA/DNA submission #140702) was returned on Wednesday, April 6, 2005 by PSA/DNA to the new purchaser as "unable to certify its legitimacy." Mr. Spence whose signature appears on the PSA/DNA Certificate listed eight factors why the signature was not authentic. Basically the Certificate states nothing was right with the Goose Goslin signature (which Spence originally sold).  Of course, the dealer refunded the collectors $1500.00 and now the dealer had to contact Spence about this most embarrassing incident. Spence did refund the dealers original purchase price of $600.00.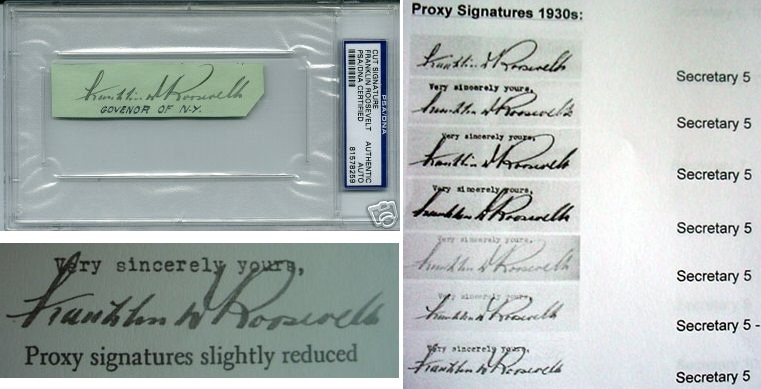 67.  The FDR Proxy Signatures-
It is apparent no one at PSA/DNA has done any research regarding this very common secretarial signature. One of the most basic and popular reference books on autograph collecting is Charles Hamilton's Collecting Autographs & Manuscripts. On page sixty, Hamilton lists seven proxy signatures of FDR and illustration #6 clearly matches the signature PSA/DNA has authenticated as genuine. It appears obvious that PSA/DNA does not have this basic autograph reference book.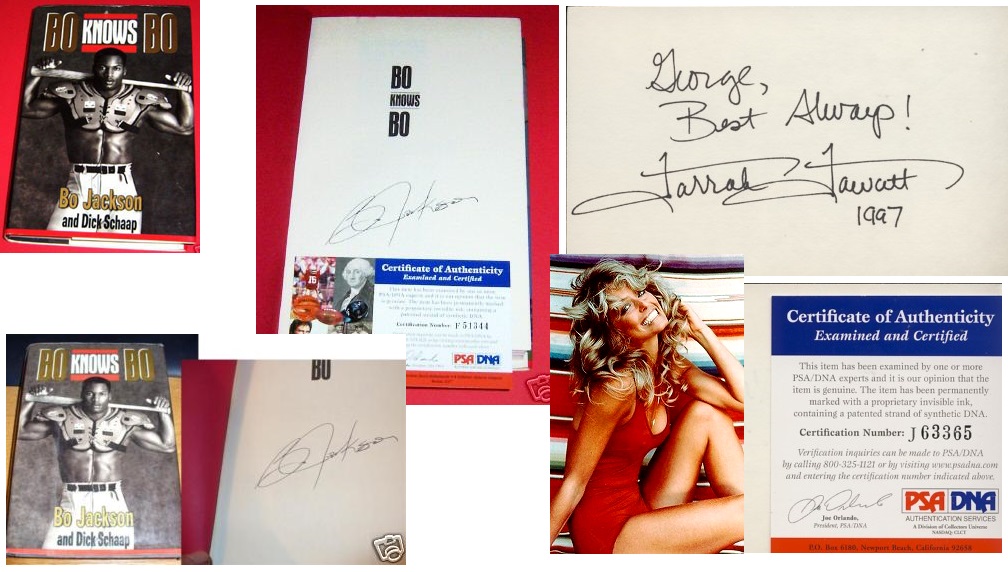 68. "JSA & PSA Don't Know Bo" Facsimile Book Signature Authentications-
Bo Knows Bo by Bo Jackson and Dick Schaap. Printed in 1990 this extremely common book is signed with a pre-printed signature. (A pre-printed signature is not a genuine hand signed signature. The signature is printed in the book just like the rest of the text.  Naturally, each book contains the same identical printed signature.  Bricol Enterprises, Lot #1738 on July 10, 2008, listed one of these books and stated: "Striking black pen signature on the first inside title page of this 218 pg. book. Sig(nature) is mint! JSA (James Spence Authentication) LOA!"
PSA/DNA made the same error:  "The recent PSA/DNA embarrassment refers to one of the most common printed signatures in the sports collecting hobby…. For those novices reading this article, a printed signature is one that is a copy of a genuine signature printed on the page by the publisher. It is NOT a genuine ink signature hand signed by the celebrity. For the average collector it is generally easy to spot a fake, printed signature verses someone who took a pen and signed their name in ink. Ebay item #140204459126 lists one of these extremely common books which has the printed (non genuine) signature of Bo Jackson on the half title page. Every copy of the book has the identical printed signature.
69.  The Farrah Fawcett Secretarial Sig LOA's By PSA/DNA-
Autograph Alert exposed this one on eBay:  "There is a Farrah Fawcett presently on eBay. Item number 320564399524. Identified as an index card hand signed by Farrah Fawcett, and authenticated as genuine by PSA/DNA. The items opening bid is $200. Ask a professional autograph dealer who deals in modern celebrities about this signature? They will tell you that this signature was signed by Fawcett's secretary."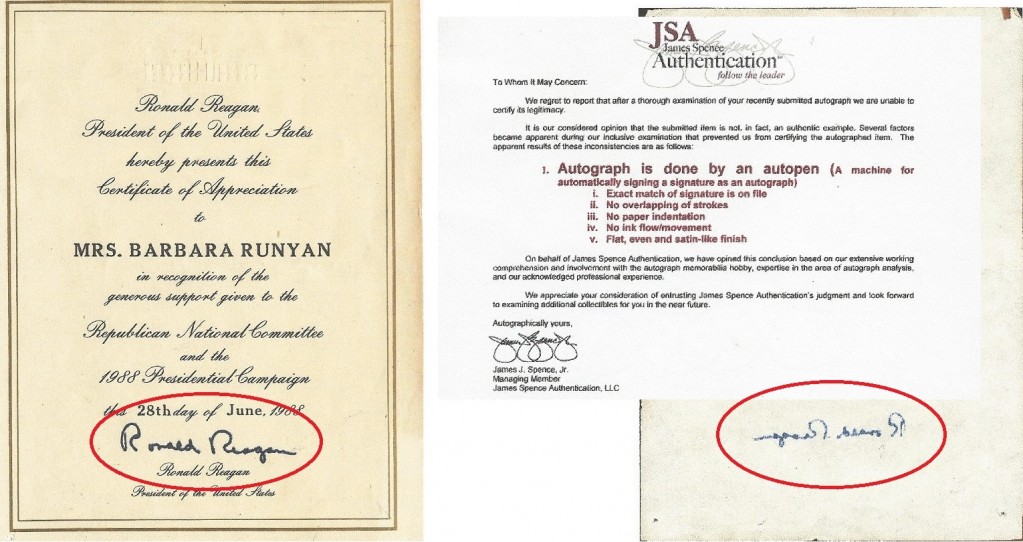 70.  The Real Ronald Reagan Deemed An AutoPen By JSA and Jimmy Spence-
JSA determined that this "Certificate of Appreciation" sent out by President Ronald Reagan (above, left) was an "autopen" signature signed by a machine which exhibited: "An exact match of signature on file"; "No overlapping strokes"; and "No ink flow/movement."  But the signature did, in fact, show ink flow and the ink appears upon close inspection to have spread out and bled.   In addition, an examination of the reverse of the document shows the signature had even bled through, thus confirming the signature was NOT signed with an autopen.
71. The Paul McCartney Autograph Deemed A Forgery By JSA After They Already Certified It Authentic-
Apparently, failing an item certified by authenticator Chris Morales is more important than the validity of the item itself, even when the piece has previously been certified by JSA.
JSA identified twelve problems with this Paul McCartney autograph.  Apparently, at some time between the time JSA and Chris Morales' both issued LOA's, the signature developed: "Irregular letter slant, angle and/or pitch," "Excessive pen pressure and/or improper shading," "Sizing of letters Disproportionate/Exaggerated/Undersized," and "Irregular letter shape and/or formation".
According to the JSA examiner, he had personally obtained several signatures of Paul McCartney, and the signature on the booklet was "nothing like Paul McCartney's signature. Chris Morales will pass anything."
The twelve issues that JSA observed after Morales certified the autograph didn't exist when they originally certified the piece as genuine.  JSA's LOA claimed that the signature on the booklet was consistent with JSA's "extensive database of known exemplars." Ironically, the JSA certificate passing the very item before Chris Morales certified it stated "The signature is consistent considering a wide range of specific qualities, including slant, flow, pen pressure, letter size and formation, and other characteristics typical of our extensive database of known exemplars we have examined throughout our hobby and professional careers".
Four of the reasons JSA used to praise the former Beatle's signature later became reasons 1, 4, 6 and 12 to fail the same item when identified as being certified by Morales.  It is smoking-gun proof that JSA did not base their opinion on analysis of the actual item.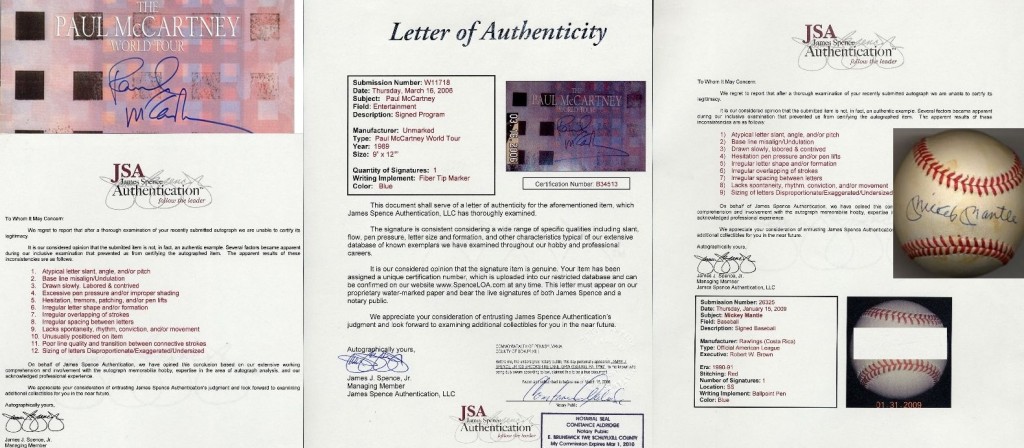 72. The MANTLE Single-Signed Trio-Previously Authenticated By JSA & Then Rejected By JSA-
From Autograph Alert's report:  "One afternoon, James Spence had the opportunity to show whether or not his practices detailed throughout the story above were an anomaly or standard JSA operating procedures.
James Spence sat down with a collector and briefly looked through a collection of baseballs. Prior to his examination, he was informed that all of the baseballs had been certified by Chris Morales.  You guess right. Everything failed.  Were the baseballs bad? (No, and he had also authenticated them as genuine on another occasion without a Morales COA.)……….James Spence told the collector that everything he had were "fakes and frauds." He further told him that he should get his money back ASAP. At the very least, the preceding test cases question the company's ability to carry out the service of authentication. In each of the above test cases it was found JSA failed the same pieces that they had already certified as authentic. It certainly lends credence to the assertion the company will fail anything that has previously been certified by any other forensic examiner."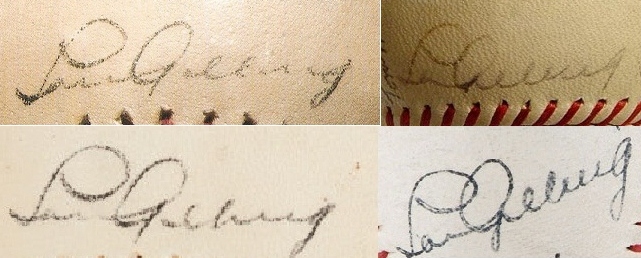 73. The Heritage Lou Gehrig Single-Signed Ball Signed After He Could No Longer Sign Due To ALS?-
A comparison of the two Lou Gehrig signatures on the Heritage Auction ball and the 2008 Mastro ball (left, top and bottom) with the two signatures from the Lelands 1939 Yankee team ball and the 2013 REA Ruth and Gehrig ball (right, top and bottom) shows a striking disparity in handwriting styles.  The Heritage and Mastro examples appear to be signed by the same hand (but not Gehrig's) and the Lelands and REA examples are both signed by the same hand–Lou Gehrig's.  Apparently Steve Grad (PSA) and Jimmy Spence (JSA) are still sticking with their original determination that the Heritage offering is authentic.  Every expert we consulted with disagrees and points to the visual evidence above.  The illustrations don't lie.
74. The David Wells Negro League Baseball With Forgery Of "Candy" Jim Taylor-
This Negro League baseball from 1942 allegedly signed by Josh Gibson, Satchel Paige and a host of other obscure and rare legends from the Homestead Grays and K.C. Monarchs was offered in 2012 by SCP Auctions who wrote: "Our research indicates that this ball was most certainly game used from one of those teams classic battles during the 1942 season." But the ball is clearly not an official Negro League baseball from that time period and several experts we spoke with doubted the authenticity of all the signatures on the ball. The signatures appeared to be at odds with exemplars from a period document signed by Homestead Grays players that is part of the Newark Public Library's "Effa Manley Collection"and document from that collection cast further doubt on David Wells' alleged 1942 Negro League signed baseball. The document is a receipt for payments made to players for the 1944 Negro East-West all-star game. All of the players and coaches receiving payments for that game had to sign the document, including "Candy Jim" Taylor who is featured on the ball.  The Taylor signature and others discovered at the library by author Ron Keurajian suggest that the Wells ball is a forgery.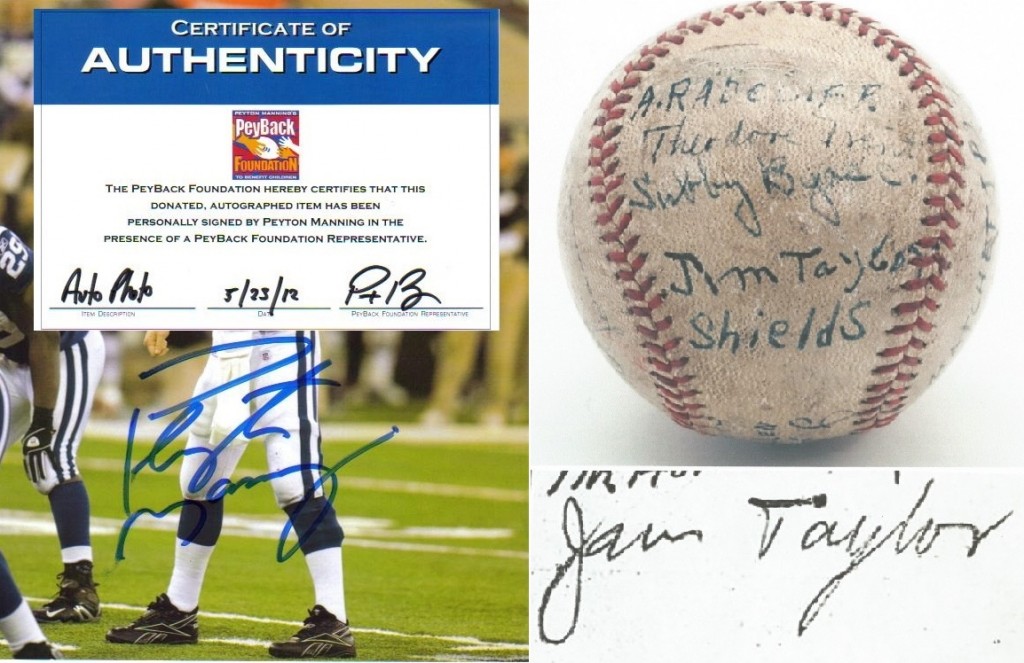 75.  The Peyton Manning Autographs Authenticated By Peyton Manning But Rejected By PSA/DNA-
Here's a letter we received from a reader and his experience with PSA and his Peyton Manning autographs:
"What I am about to tell you is almost unbelievable. I am authorizing you to publish this under one condition. I want you to just state the facts. I think when someone just slams a company and bad mouths them the reader loses interest. I have two goals ultimately. One to make sure that collectors out there know that Mr. Gretzky and Mr. Manning are actually signing fan mail that they receive. Two, to draw attention to the fact that PSA is not trained to indeed judge if any autograph is indeed authentic or fake.
I have been collecting autographed cards for many years. I recently acquired several Peyton Manning autographed cards by way of the PeyBack Foundation. I also have sent to Wayne Gretzky and received several cards, books, pucks, etc back from him c/o of his business.
In April, I sent in 20 cards to PSA to be authenticated. 6 Peyton Manning, 13 Wayne Gretzky, and 1 Michael Jordan. In May I received back my submission. PSA concluded that 19 of the 20 items I sent in were not authentic. The only one that was "real" was one of the Wayne Gretzky cards.
I sent off an email to the PeyBack Foundation regarding how I was very upset about receiving back cards signed by someone other than Peyton. To my surprise I received a response from Pat Breen at the PeyBack Foundation. She/He said they were Peyton's personal assistant and that no one other than Mr. Manning signed the cards that were sent into the foundation. I was floored. She was even so kind as to send us two autographed 8 x 10 photos."
76. The Jesse Burkett B&W Hall of Fame Plaques: PSA/DNA vs. JSA (Forgeries vs. Unverifiable Exemplar)-
A signed Black & White Albertype is a great rarity and in 2008 an example authenticated by Grad and PSA/DNA sold at Heritage Auction Galleries for $22,705.  Another sold at Hunt Auctions a year earlier for $33,000 and was slabbed and certified authentic by Jimmy Spence and JSA.  Both examples commanded top dollar but both of the signatures bear virtually no resemblance to each other.  The signature Grad certified looks nothing like an authentic Burkett signature and Spence's has some resemblance but is so tremulous and shaky that it is almost illegible.  How Grad and Spence could definitively state authenticity and write a supporting LOA for either Burkett is a mystery.  All of this, when author Ron Keurajian states in his book that he has never seen "a signed Hall of Fame plaque postcard of any kind."
77. The Non-Genuine Bill Clinton Signature Featured In A PSA/DNA Advertisement-
From Autograph Alert:  "Refer to your half page and full page PSA/DNA advertisements in trade magazines with the heading 'We're intimately involved with some of the biggest names in politics." These ads contain one illustration. The illustration is a photograph of Bill Clinton which bears a signature of Bill Clinton. The signature of Bill Clinton is clearly illustrated. The International Autograph Collectors Club and Dealers Alliance (IACC/DA) took a survey of dealers who specialize in handling presidential signatures. All those who took part in the survey stated the signature of Bill Clinton in your ad was signed by machine. One would think a company who advertises as an "autograph authentication" company would at best illustrate a genuine signature in their advertisement. Some believe if you can't get the signature right in your own ad, how could you possibly render an opinion on those submitted to you by collectors and dealers?"

78. The Joe DiMaggio Signed Bat Forgery Authenticated By-
Along with a Certificate from James Spence stating this was a genuine Joe DiMaggio signature on a baseball bat, the item was put up for sale in a Strike Zone Auction as item #849 in their Jan.5-26, 2006 auction.  The signature was called out by several experts and Autograph Alert as a forgery.

79 and 80. The Pres. Zachary Taylor and Eisenhower Secretarial Signatures Authenticated As Genuine By PSA & JSA-
Autograph Alert reported this on Zachary Taylor:  "Collectors with the minimum, basic knowledge of presidential signatures will know the signature on this document is NOT GENUINE. Then comes into the picture of James Spence and his staff. Does everyone remember the interview with Spence where he says before he issues a COA his whole staff has to approve of the signature?
Let's take a look at his staff and who on there would deal in presidential signatures. Just look at the names, John Reznikoff, Herman Darvick and Bob Eaton. These are the names associated with James Spence Authentication that would have to had looked at this Taylor document before Spence would issue his COA."
..and this on IKE:  "For those of you who do not collect presidential signatures the following is just a Reader's Digest condensed study of the above Dwight Eisenhower signature. Examples of this secretarial signature can be found in many autograph reference books. For example see illustration below from Charles Hamilton's book Scribblers and Scoundrels, page 55.

81 and 82.  The Tiger Woods & Kobe Bryant Authentic Upper Deck In-Person Signatures Rejected By JSA-
Despite coming with legitimate documentation showing both of these items were in-person items guaranteed by Upper Deck, JSA rejected both items because they were presented instead with a Chris Morales LOA.  It's another example of JSA issuing opinions without actually examining the items.

83. The Kato Kaelin As Kate Hudson eBay-PSA/DNA Debacle-
Autograph Alert exposed this one on eBay: "Actually this so-called "in person" signature of Kate Hudson is a signature of Kato Kaelin of O.J. Simpson fame. Mr. Kaelin was contacted regarding this signature and he confirms it is his. As for the expert authenticators, they obviously haven't the slightest clue of what a signature of Kate Hudson looks like. However these incompetent authenticating companies will still take money from ignorant collectors and corrupt sellers of autographs. Shouldn't an inexperienced autograph authenticator know how to spell Hudson."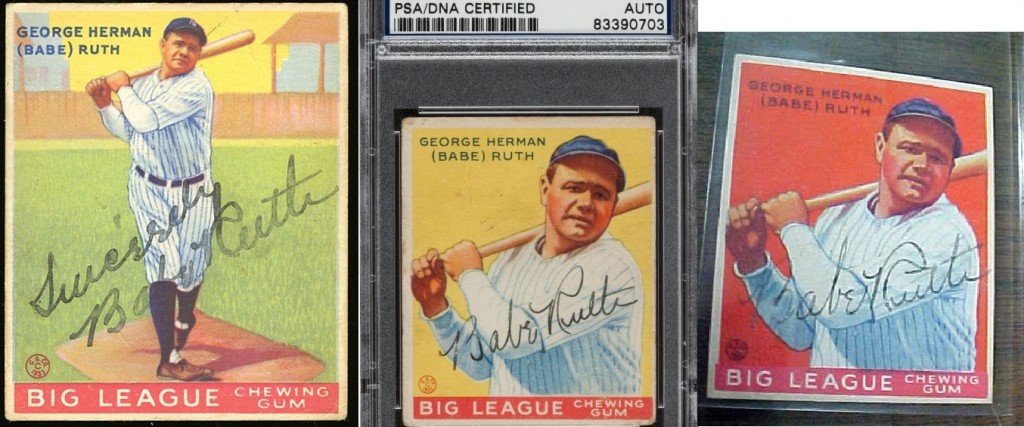 84.  The Babe Ruth Goudey Forgeries Authenticated By JSA & PSA/DNA-
The Babe Ruth card to the left was authenticated by JSA and appeared in REA's 2013 sale;  The Ruth card (center) appeared in a 2013 Heritage sale slabbed by PSA/DNA;  The card to the right appeared in a Coaches Corner sale.  Experts including Ron Keurajian are of the opinion all of them are forgeries.
85. The Gary Sheffield Single Signed Ball Certified As Chris Short By JSA-
Jimmy Spence & Co. authenticated this ball (below, left) as being signed by Chris Short when it was, in fact, a single signed ball of juicer Gary Sheffield.

86-89. The JSA Rejections Of In-Person Signed Items By Hank Aaron, Derek Jeter and Pres. Richard Nixon-
JSA rejected in-person signed autographs including a Hank Aaron poster signed for a celebrity (bottom far right), a Yankee team ball signed for a Yankee coach (center) and a Richard Nixon signed in front of a well-known dealer (top far right).
90. The President Harding Secretarial Authentications By JSA & Jimmy Spence-
Despite the fact that expert Charles Hamilton posted clear cut illustrations of the Harding secretarials executed by an employee during his tenure (below top) as President, JSA and Jimmy Spence have continually authenticated these bogus examples as genuine (below bottom).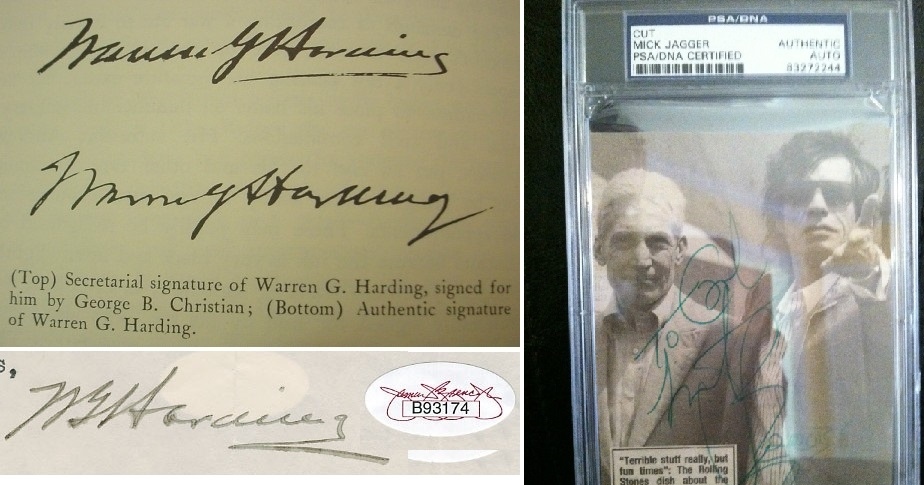 91.  The Charlie Watts As Mick Jagger PSA/DNA-Slabbed Magazine Photo-
PSA/DNA slabbed this magazine photo (above, right) as bearing an authentic signature of Mick Jagger of the Rolling Stones despite the fact it is a signature of Stones drummer Charlie Watts.
92.  The Non-Genuine Joe Louis "Joe Barrow" Check Certified real By PSA/DNA-

Autograph Alert reported this PSA error:  "The following illustration is from the recent RR Auction which ends May 13, 2009. We refer to item #1461 entitled Joe Louis. R&R totally embarrasses themselves with a lengthy description of this being a "rarely seen example of the Brown Bomber's given name, Joe L. Barrow, is penned on the back of this..bank check…" The description continues with such wording that they make it appear they know what they are talking about…."on the back of the instrument, Louis' flowing, black fountain pen inscription reads…."
"The description borderlines on being hilarious. Part of the description reads: "Accompanied by a full PSA/DNA letter of authenticity." If you want to feel more secure bidding on this item, the bank check is also backed by another COA: "JSA (James Spence Authentication) Mike Gutierrez Auction LOA." Just for good measure they tack on a third COA from RR Auction. Sure wish PSA/DNA would mention on their Certificate who the "wizard" was that certified this item. Always seems like no individual is ever held accountable."
93.  PSA Authenticates A Rubber Stamp Of Silent Film Star Mary Pickford-
Autograph Alert exposed this blunder:  "An inexcusable blunder made by the "experts" at PSA/DNA could be found in a Heritage/Odyssey Auction #612. Lot #22262. Cataloged as a Mary Pickford Signed Photograph (below right, inset). "RARE, vintage photo signed by the 'Pollyanna' star, one of the greatest actresses of the silent era." This supposedly RARE item is accompanied by a COA from PSA/DNA.  These photographs are by no means rare. They have been around for nearly 100 years and any dealer with the slightest experience most likely has come across these photographs. With a little effort a collector and surely an "autograph authenticating expert" can go to the educational web site of www.isitreal.com, click on the Reference Directory, type in Mary Pickford and voila, an identical photograph (below, left) with the same signature comes on screen. On this site, the photo is accurately described as a photograph bearing a rubber stamped signature of Mary Pickford."

94.  The Babe Ruth Black & White HOF Plaque Forgery-
An authentic signed Babe Ruth B&W HOF plaque postcard is virtually impossible to attain.
JSA & PSA's work authenticating Black & White HOF plaques is inadequate to say the least.  Authentications of plaques allegedly signed by Jesse Burkett have cost collectors a fortune. Ron Keurajian believes the only authentic Ruth plaque to surface is an example sold at Philip Weiss Auctions in 2009 for over $60k (inset above center).  An example sold at Heritage in 2012 for $22,705, but every expert we asked concurred with author Keurajian, stating that the JSA-certed plaque (above center) was not genuine.  One said, "The signature shows hesitation and looks off, I'd stay away for sure."  Another expert simply said, "It's apocryphal."
95.  The PSA Authentication Of A Meg Ryan Single-Signed Baseball-
Somehow PSA/DNA expects customers to believe they can actually tell that the blue sharpie line placed on the sweet spot of this baseball (above right) was actually signed by actress Meg Ryan as her signature.  Unless the PSA/DNA expert witnessed the actress sign this very ball, it is hard to believe he could issue an LOA and a credible opinion on the signature.

96.  The Honus Wagner Ornate-Style Signature Signed On A 1949 Leaf Baseball Card-
Jimmy Spence and Steve Grad authenticated this Honus Wagner signature (above left) for Hunt Auctions in 2004 despite the fact the ornate Wagner signature could not have been signed earlier than 1949 when the card was issued by Leaf.  Wagner had abandoned this ornate style signature before 1949.  Jimmy Spence later issued an LOA (above right) authenticated a magazine photo dated 1949 that exhibits the type of tremulous signature Wagner may have signed in 1949 (above center), but experts believe even this example he authenticated is a forgery.  At the least, how could Spence authenticate both?
97. The PSA-Authentications of Rare Negro League HOFer Jud Wilson w/o Exemplars-
PSA's "Autograph Facts" page includes an alleged "half-printed" signature of Jud Wilson on a baseball and they also slabbed as authentic a real photo postcard featuring what they claim is an authentic Wilson signature.  However, author and expert Ron Keurajian located authentic letters written by Wilson at the Newark Public Library in the Effa Manley Papers Collection which illustrate that the PSA exemplars are not genuine autographs of Wilson.  Robert Edward Auctions sold the non-genuine signature of Wilson on the postcard for over $30,000.  REA sold the same postcard back in 1995 as part of a prominent Negro League collection attributed to Louis Santop (long before Wilson was a HOFer) but it appears that the name written on the Wilson postcard was likely a period identification and not an actual signature.  The Wilson postcard sold along with alleged autographed postcards of Ted Page and A. Reid for $884.  Its another case of PSA authenticating a rare baseball signature without having any verifiable authentic exemplars available for comparison.  According to Keurajian in his book, "Many forged picture postcards are in the market.  They feature Wilson in a Grays uniform leaning on a bat.  Some are signed "J. Wilson" others as "Jud Wilson."  In Keurajian's opinion, "All are accomplished by the same forger."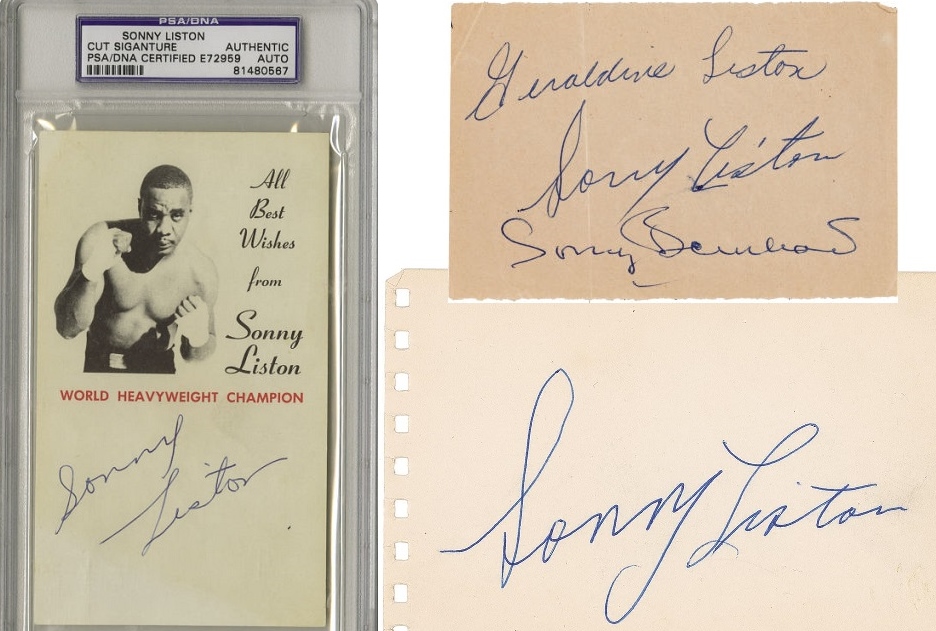 98.  The Sonny Liston Wife-Signed Forgeries-
Both PSA/DNA and JSA have proven they know little about boxing autographs as evidenced by the volume of forged Sonny Liston autographs they have certified as genuine over the years despite repeated warnings from boxing experts like Travis Roste and Mark Ogren.  The slabbed PSA Liston signature illustrated (above left) bears a wife-signed secretarial signature of the boxer while two authentic examples appear to the right with a full signature of his wife at the top on a 3×5 card.

99.  The eBay Leonard Bernstein Autopen Signature Slabbed By PSA/DNA-
An eBay forum outed Leonard Bernstein autopen signatures at auction in the past (above left) and another stellar autopen made its way onto eBay just recently and was slabbed by PSA/DNA as an authentic original signature of the composer.  The signature is not exact to the example posted on the eBay forum, but experts agree it was generated by an autopen and not Bernstein's actual hand.  The winner of the recent eBay PSA-slab of Bernstein says he'll be sending the autograph to the FBI.
100.  The Questioned Babe Ruth Single-Signed Baseball Authentications Of PSA/DNA & JSA-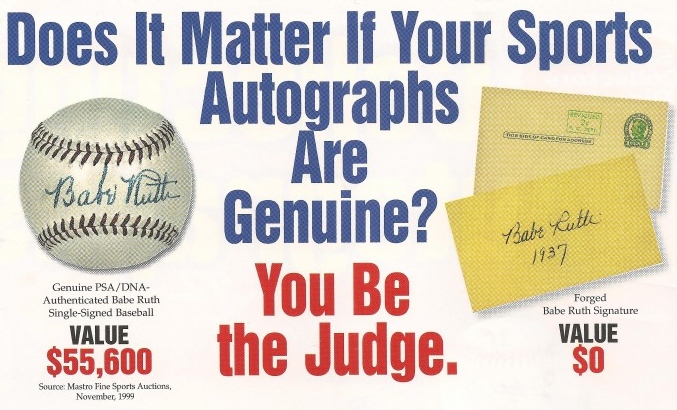 We could probably add a few hundred more Babe Ruth single signed balls to our list and send it off towards the "Worst 1,000″ authentication blunders made by the TPA's.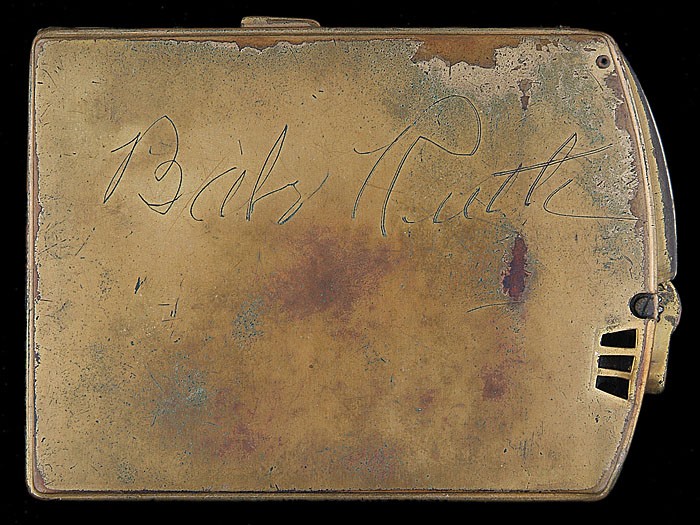 All of these not-so-Ruthian "winners" were authenticated by either Grad, Spence or Gutierrez but none of them can hold a candle to Spence's purported ability to authenticate Ruth's signature executed on metal surfaces and this gold-plated cigarette case (above) which had a JSA-LOA in REA's Fall 2013 sale.
The TPA authentications of Babe Ruth single-signed baseballs are perhaps the most controversial of all hobby issues and both PSA/DNA and JSA never cease to amaze with the specimens they certify as authentic (see below):