By Peter J. Nash
December 30, 2013
Guilty pleas, institutional negligence and authentication malfeasance filled the headlines for 2013 and helped increase Hauls of Shame's readership to record highs since our inception in 2010.  By the time the year is up we'll have had over 1.5 million page views by over 600,000 unique users.
Thanks to the TPA's, Bill Mastro, the trimmed T206 Honus Wagner and the stolen treasures from the NYPLs famous Spalding Collection, the headlines of 2013 provided compelling reading material for hobby aficionados and baseball history buffs alike.
Some of the stories infiltrated the mainstream media while others were useful for collectors trying to avoid getting ripped off online or on the auction house floor.  Some of the stories even inspired threatening cease and desist notices from shyster lawyers like REA's Barry Kozyra trying to shield clients from further ridicule and exposure.
While the baseball artifact trade remains a mine-field of fraud and deception, collectors were at least afforded the opportunity to see for themselves the exposure of forgeries and the identifications of artifacts wrongfully removed from institutions.  Hopefully, the investigative reporting on this site was a welcome alternative to other hobby outlets that simply regurgitate press releases issued by their advertisers and provide cover for the usual suspects and hobby fraudsters.
2013 was business as usual for the hobby PR-machines as Joe Orlando and PSA opened themselves up to further allegations of racketeering as they continued to solicit and post paid advertisements from the very same companies that they give preferential treatment to.
Continued milquetoast reporting from hobby frauds like Rich Mueller and Rich Klein at Sports Collectors Daily illustrated how so-called hobby news outlets remain in the pocket of assorted hobby power brokers. Klein published the most embarrassing post of the year when he interviewed Joe Orlando and tossed soft-balls at him asking about his college baseball career and the "fun and interesting people he's dealt with."  Klein decided not to ask Orlando about all of the indicted people he's worked with; the Mastro trim-job on the PSA-8 Wagner or the rumors he's the target of an FBI probe.  Klein and Sports Collectors Daily win our "Sycophants of the Year" honors, hands down (or hands out).
The runner up for bootlicker of the year was Klein's buddy, convicted felon Leon Luckey who continued his unabashed cronyism and continued support of his banner ad buyers/fraudsters (except for Lelands) over at Net54; Although there have been a host of allegations that Luckey is a serial-shill bidder who's been known to bid up his own items in Mastro auctions, Luckey revealed his sheer disgust with Bill Mastro after Mastro posted a comment on Paul Lesko's blog.  Luckey chimed in with the line of the year: "Even though I have considered Bill a hobby friend, and understand I was shill bid, I didn't have the amount of disrespect towards him which I do now, until I read his statement."
Last but not least Sports Collecting News' Michael Borkin provided further evidence of bias and misconduct in the "hobby news" business when he sent an email to Hauls of Shame saying he couldn't post our number four story of 2013 about REA selling a host of fake Babe Ruth items because: "Rob (Lifson) is a friend of mine and I don't want to put anything on my site that slams him."
Fortunately, a large cross section of the hobby has sought out the coverage on this site which is free from the incestuous relationships between the auctioneers, authenticators and PR flacks that control the delivery of hobby news.  Our year-end list of the top 10 stories was determined by you, the readers, who have flocked to Hauls of Shame for their hobby news over the past twelve months.  Thank you for your continued support.
HERE ARE THE TOP 10 STORIES OF 2013:
1. 3rd Party Authenticators PSA/DNA & JSA Exposed In Hauls of Shame's "Worst 100 Authentications"-
PSA/DNA and JSA have made some stunning mistakes in recent history and our expose listed and illustrated the top 100 blunders made by so-called experts like Jimmy Spence and Steve Grad in great detail. The evidence suggests that Grad and Spence, who both got their start at the company founded on a fraud, are unqualified to authenticate autographs. Included in the "Worst 100″ were the infamous Sal Bando and Mike Schmidt videos and the exposure of authentication malpractice related to authentications of signatures attributed to A G Spalding, Jimmy Collins, Mickey Welch, Dan Brouthers, Cap Anson, P T Barnum, Jesse Burkett, Rocky Marciano and even Cheetah the Chimp.  The response from our readers was overwhelming and the report easily surpassed all others to become the most popular story of 2013 .
2. The Bill Mastro Guilty Plea & Admission to Trimming & Altering the PSA-8 Honus Wagner Card-
As a result of an FBI investigation that lasted several years, former Mastro Auctions founder Bill Mastro plead guilty in Federal court in Chicago to one count of mail fraud but he also admitted to trimming the famous PSA-8 T206 Honus Wagner card before he sold it to Jim Copeland for $120,000 in 1987.  The story was included in our on-going 10-part investigative series dedicated to the Mastro case and the trimmed T206 Wagner.  Read the full story published in October here.

3.  The US Attorney's Office & NYPL Give Away Stolen Documents From Baseball Pioneer Harry Wright's Donated Archive-
After four years of the FBI investigating the theft of Harry Wright's papers from the NYPL's famous Spalding Collection in the 1970's, the stolen papers seized after being identified in MLB's All-Star FanFest Auction in 2009 were returned to the consignor and then sold to a collector.  All of this despite the fact that many of the documents were cited and sourced specifically to the NYPL collection in scholarly works and notes written by Dr. Harold Seymour and Dorothy Seymour Mills.  The New York Post also covered the story but our report went into much greater detail.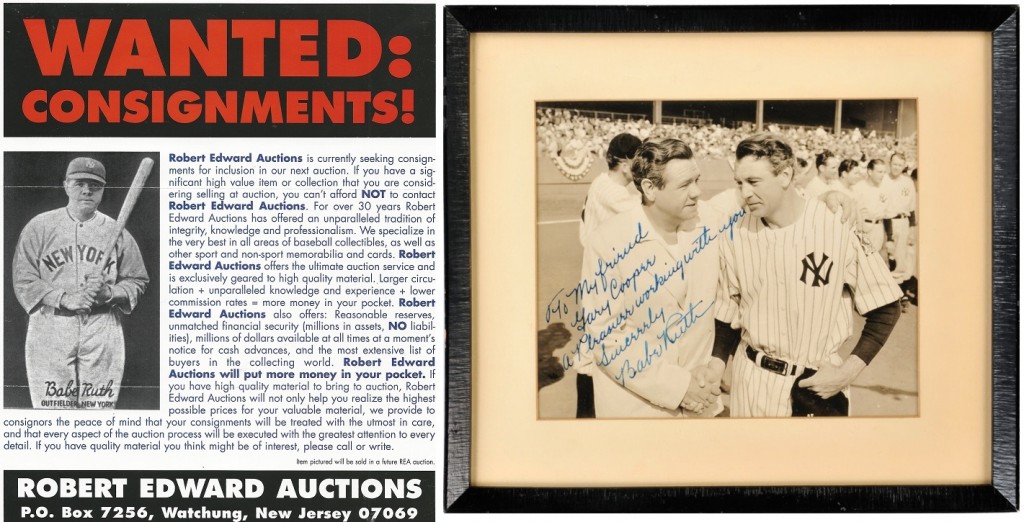 4. Operation Bambino: REA & Lifson Exposed Selling More Babe Ruth Forgeries Including The Infamous Gary Cooper Photograph-
Despite the fact that author Ron Keurajian identified it as a forgery and Gary Cooper's own daughter claimed that her family never had such an item in the collection they curate, Rob Lifson and REA went ahead and sold the photo they said was inscribed by Babe Ruth to the Pride of the Yankees actor.  Unlike the Cooper photo REA removed a group of Ruth signed photographs from the same sale after Hauls of Shame and other experts identified all of the JSA-certified Ruth signatures to be forgeries.  The REA fiasco was covered in our on-going "Operation Bambino" investigation.  For the full story click here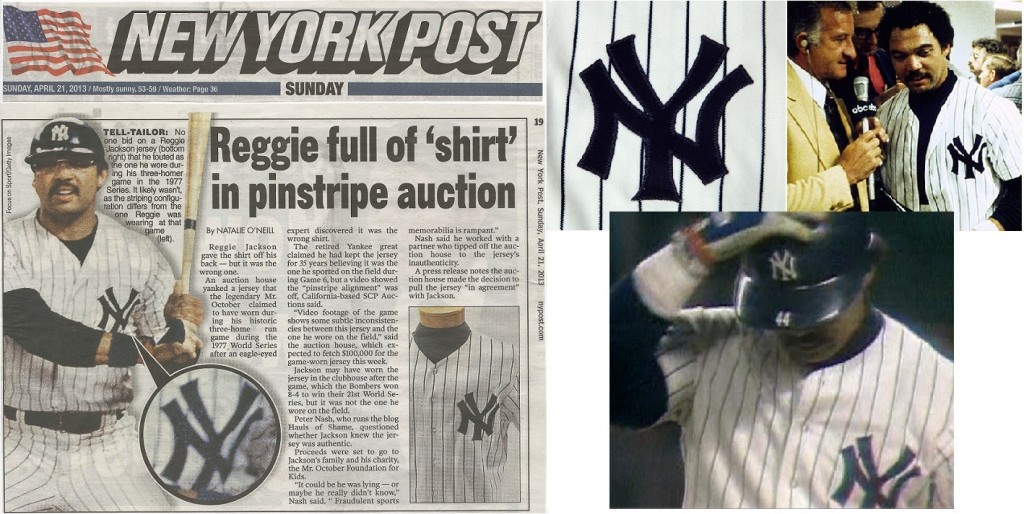 5. SCP Pulls Reggie Jackson's Alleged 1977 WS Jersey When Pinstripes Don't Match-
Reggie Jackson consigned the million-dollar jersey to SCP Auctions claiming it was the same one he wore when he hit three home runs in game 6 of the 1977 World Series, but examination of the uniform pinstripes by experts proved that it wasn't the same one worn in that famous game that made Jackson "Mr. October."  Our report was also picked up by the New York Post in their own report of the Reggie controversy.
6.  Steiner Sports Sells $373k Jackie Robinson Glove As A World Series Gamer With No Proof-
The memorabilia company ventured into the vintage market offering a glove they claimed was worn by Jackie Robinson in the 1955 and 1956 World Series and that the glove was also "known to be his last game-used glove he ever wore."  Steiner appeared on TV shows claiming that the company had definitive 'photo matches" of Robinson wearing the very same glove during that time period.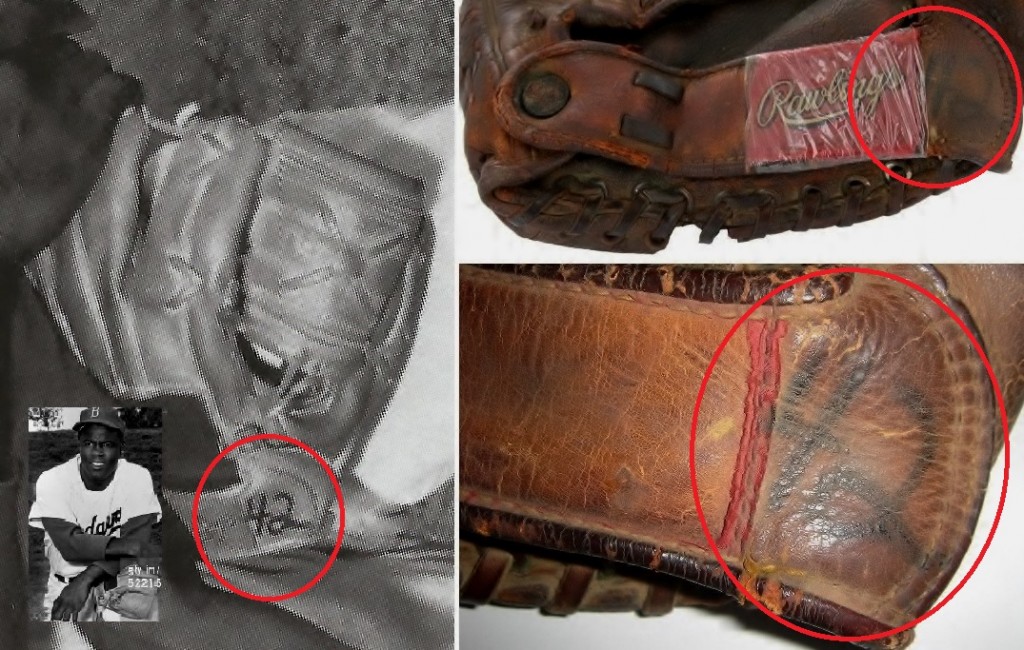 Additional investigation, however, proved that Robinson wore several gloves in that time period and that those gloves were not the same one shown in Steiner's and Dennis Esken's alleged "photo matches." At best Steiner's glove was only possibly used by Robinson during this time period. (Additional photos examined after the auction (above) illustrated further that Robinson wore at least one different glove in 1956 because the handwritten "42″ on Steiner's glove contrasts the numerals on the glove Robinson is actually wearing.  Although Brandon Steiner said he'd update his lot description to include the correct information while the auction was still in progress he did not.  The glove received no bids after the HOS story was published. For the full report click here

7.  Evidence of Baseball Hall Of Fame Thefts Piles Up With Help From Red Foley & SABR; The Cover-Up Continues-
Smoking gun evidence exposing the thefts of rare artifacts from the Baseball Hall of Fame was discovered via SABR contact sheets from a 1983 photo shoot and donation documents found in National Baseball Library files.  A rare 1870 CDV of the Philadelphia Athletics was identified as Hall of Fame property but also as a lot in a 2013 Legendary auctions sale while several rare payroll receipts from the New York Giant team including rarities like Buck Ewing and Mickey Welch appeared in 1990s auctions despite the fact they were sent to the Hall as a donation by New York Daily News sports writer Red Foley in 1973.  To add to the Hall of Fame's problems auctioneer Huggins & Scott offered material stolen from the Hall on a regular basis in 2013 including artifacts from the Frederick Long Collection and the Hall's own internal files.  All of these items (and more) were also included on the 2013 Hall of Fame Hot 100 List of items stolen from Cooperstown.

8. Maine Auction House Sells Rare Brooklyn CDV Listed On NYPL Missing List For $80k; Other Boston Cabinets Sold Fit Descriptions On BPL Missing List-
Saco River Auctions in Maine was never known for specializing in rare 19th century baseball artifacts but that all changed in 2013 when they offered one of the most important team photographs known to exist of the Atlantics of Brooklyn.  Saco River Auctioneer Troy Thibodeau sold the possibly unique CDV created by Brooklyn photographer Williamson for $80,000 despite the fact the photograph fit the description of a Williamson photo of the Atlantics missing from the NYPL's Spalding Collection and also originated from a small-time drug dealer in Maine.  Hauls of Shame covered the story in February and later in the year identified other Saco River auction lots of 19th century photographs that were sold in 2012 and fit the description of others stolen from the Boston Public Library's "M. T. McGreevey Collection of Baseball pictures."  One of those photos was a rare $62,000 cabinet card of "King" Kelly that is also on the BPL's "Missing List."
9.  Keith Olbermann's Dubious Harry Wright CDV Pulled From REA Sale; Traced Back To HOF Heist Suspect Mike Gutierrez-
A rare CDV/cricket ticket of Harry Wright owned by ESPN's Keith Olbermann was withdrawn from Robert Edward Auctions' Spring 2013 sale after Hauls of Shame published one report illustrating the dubious provenance of the card and another tracing the CDV back to Mike Gutierrez who claimed to have purchased the card at a Butterfield & Butterfield auction in 1990 as part of an alleged "Wright family photo album."  The photo album was sold with no provenance information and appeared to have originated from HOFer George Wright's collection which was donated to Cooperstown by his son in the 1940s.  Since the late 1980's Gutierrez has been the prime suspect in investigations into the Hall of Fame thefts.  Gutierrez was also working for Butterfield & Butterfield when he purchased the Harry Wright card as partners with dealer Lew Lipset.  When the CDV, described as the "first baseball card", was withdrawn from REA's sale, auctioneer Rob Lifson said it was at the request of his consignor, Keith Olbermann.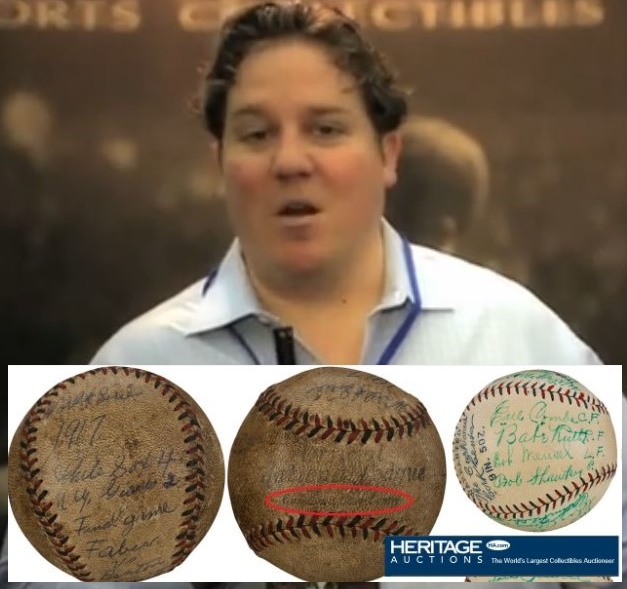 10.  Heritage Sale Features Fakes From The 1917 World Series & The 1927 Yankees-
Heritage's Platinum Night auction in New York City featured the sale of Curt Schilling's famous bloody sock from 2004 but was marred by the exposure of several fake and suspected fake items appearing for sale alongside it.  One of the items was a ball they claimed was from the last out of the 1917 World Series, but an article published by Hauls of Shame proved that the ball was actually manufactured in 1926.  Heritage and Chris Ivy pulled the 1917 ball from the sale along with a suspect Lou Gehrig single-signed ball but chose to sell several other alleged fake items including a 1927 Yankee signed team-ball for over $149,000; a 1932 signed Yankee team photo for over $33,000; a Home Run record ball signed by Mark McGwire for $8,962; a Babe Ruth signed B&W HOF plaque postcard for $22,000; and several other highly suspect items.
Keep on the look-out for more investigative reporting from Hauls of Shame in 2014.