By Peter J. Nash
December 29, 2014

2014 saw more turmoil and fraud in the memorabilia industry and Hauls of Shame was there to report on many issues that were overlooked or ignored by the mainstream and hobby press. Some of the on-going sagas stemming from the thefts of artifacts from the Baseball Hall of Fame and the Boston Public Library were represented this past year as well as long-standing and newly discovered controversies tied to the Barry Halper Collection. But in 2014 even more fraud related to "game-used" and autograph items were uncovered at the big auction houses, Panini America and even on the History Channel's hit show Pawn Stars.  PSA/DNA and JSA continued their run of flawed and fraudulent authentications and the FBIs fraud case against ex-hobby kingpin Bill Mastro entered its final phase as Mastro and his associates signed plea agreements with the government and await sentencing in 2015.
We'd like to thank our loyal readers for their continued support as our investigative reports reached a greater audience with over 2.1 million page views this year–a significant increase from the 1.5 million views in 2013. We look forward to publishing more compelling stories in 2015 which will mark our five-year anniversary. Have a Happy New Year!
We tabulated the most popular articles HOS published this year based upon the number of page views for each story. Here are the Top 10:
1. Glove Fans Bid Kid Adieu: Was Ted Williams Wearing This Baseball Mitt When He Walked Away From Fenway In 1960?
Auctioneer Ken Goldin advertised this PSA-authenticated glove as the same one Ted Williams wore on the day he played his last game at Fenway Park in 1960 but imagery analysis of vintage photographs from 1960 proved that this claim was fraudulent and based solely upon the unverified consignor's story and glove authenticator Denny Esken's letter of authenticity. Read full article
2. (Tie) Crime Pays: Heritage & PSA Exposed In Scam Sale Of Bogus $50K HOF Autograph/The Case Of The Missing Honus Wagner Letter
Heritage Auction Galleries continued its sale of documents believed to have been stolen from the Baseball Hall of Fame with the sale of a letter written by Honus Wagner in 1911 but also offered another stolen letter featuring a bogus signature of 19th century HOFer John M. Ward. The Ward letter was authenticated by Steve Grad of PSA/DNA despite the fact the signature bore no resemblance whatsoever to Ward's genuine handwriting.  Read the full John Ward and Honus Wagner articles.
3. (Tie) Pawn Stars & PSA Expert Steve Grad Faked His Own Bio & Committed Perjury/Pawn Stars Sells Bogus Willie Mays Uniform That Was Appraised On Antiques Roadshow
Pawn Stars and PSA authenticator Steve Grad was exposed for having fabricated his personal resume and lying under oath that he was a college graduate, which he is not.  In a deposition for a PSA/DNA related case Grad also revealed that he got all of his hobby training from his mentor– confessed criminal Bill Mastro.  The Pawn Stars provided another popular story when they purchased and re-sold a bogus Willie Mays uniform that had been appraised by Mike Gutierrez on Antiques Roadshow. Read the full Steve Grad and Pawn Stars articles.
4. Tie-Mastro Case Plea Agreement Nixes Trial & Lifson Appearance As Government Witness/Plea-Agreements Detail Mastro Shill Bidding Scheme
Former Mastro employee William Boehm was set for trial in 2014 with ex-MastroNet partner Rob Lifson slated as a Government witness, but a plea agreement Boehm entered into with prosecutors nixed any chance of the Mastro case ever coming to court. In 2014, Mastro's former employees Doug Allen and Mark Theotikos also entered plea agreements which detailed the shill bidding schemes conducted by the auctioneers. Read full article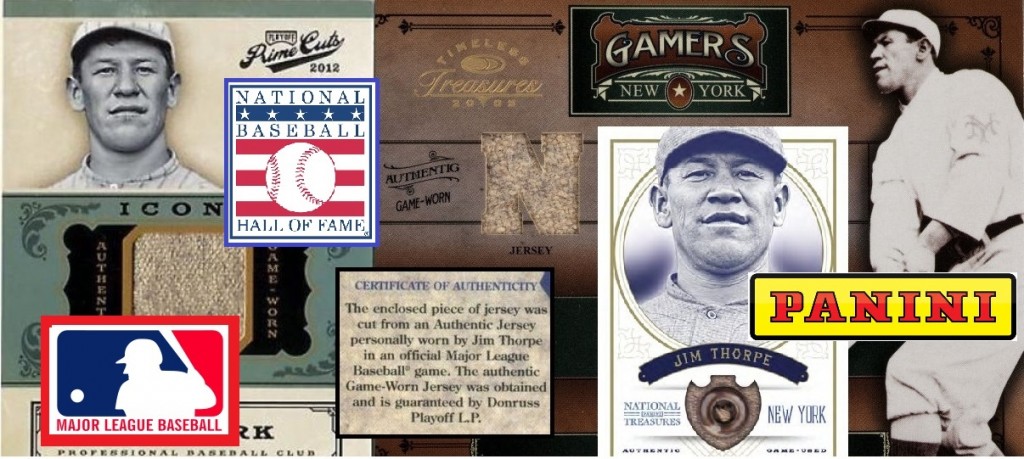 5. An All-American Case of Consumer Fraud:  How Panini America, MLB & The Baseball Hall of Fame Got Caught Up Selling Over 2,000 Phony Jim Thorpe Relic Cards
The results of an HOS investigation revealed that the original jersey used by Donruss and Panini to create Jim Thorpe relic cards was never worn by Thorpe and exposed how Panini created and marketed over 2,000 phony relic cards, many of which were licensed and endorsed by the Baseball Hall of Fame and MLB. Read full article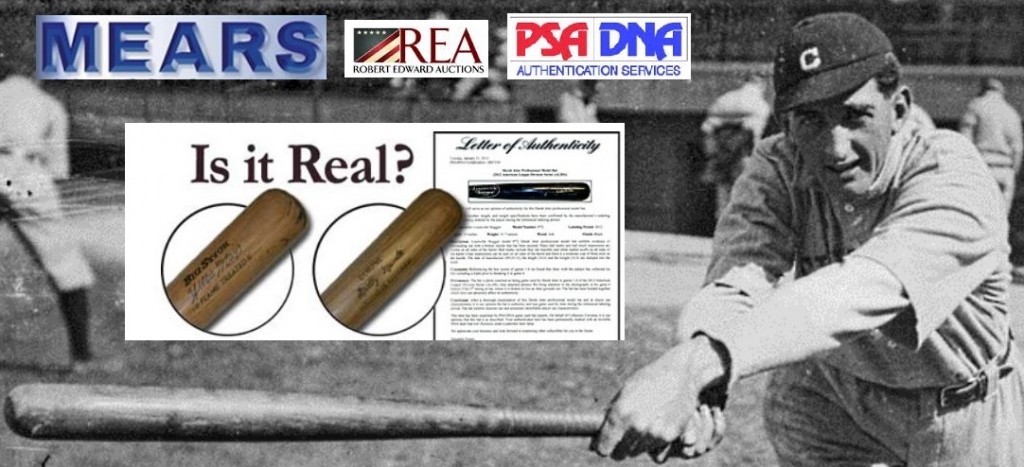 6. Field of Schemes: Fraudulent Claims Of Game Use For Shoeless Joe Jackson's Black Betsy Expose Dangers Of Vintage Bats
Robert Edward Auctions offered an alleged Shoeless Joe Jackson bat that PSA/DNA bat authenticator John Taube claimed was "game-used" but there was virtually no credible or verifiable evidence that could back up his fraudulent claim. Read full article and update
7. Tie-OPERATION BAMBINO: PSA & JSA Exposed For Authenticating Babe Ruth Forgeries For Past 15 Years/Yankee-Fakers: PSA Certs Bogus Ruth-Gehrig Ball For Grey Flannel
Part 6 of our Operation Bambino investigation revealed that both Jimmy Spence and Steve Grad have been authenticating scores of Babe Ruth forgeries for Bill Mastro that date back to their time working together at PSA/DNA back in 2000. In 2014, Grad and PSA were also exposed for authenticating 1927 Yankee forgeries and a Ruth-Gehrig forgery that was created on a phony baseball made in the modern era and featuring stamped, facsimile signatures of the Bambino and Gehrig. Read full article
8. Irish Eyes Are Smiling: Nuf Ced's Red Sox Treasure Returned To Boston Public Library; More Evidence Links Barry Halper & Rob Lifson To The McGreevey Heist
One of Nuf Ced McGreevy's long lost photographs was recovered by the Boston Public Library thanks to an honest collector.  The photo which once hung on the wall of the 3rd Base Saloon had been donated to the BPL in 1923 by McGreevy who was also known as baseball's most famous fan. Read full article

9. The Original Wagner: The Legend Of Willie Ratner's Honus & Its Travels Through Hobby History
While most people know about Bill Mastro's now infamous trimmed T206 Honus Wagner card, the story of the Wagner's rarity dates back to the 1930s when boxing writer and collector Willie Ratner showed off his copy of the card to his readers in Newark, New Jersey—-The Original Wagner. Read full article
10. Searching For Tommy McCarthy: The Hunt For The Last Will & Testament Of A Hall Of Famer With An Autograph To Die For
In 1999 a court probation officer plead guilty to stealing the wills of several Boston Baseball Hall of Famers and the investigators thought one of the documents stolen was the will of Tommy McCarthy who died way back in 1922.  But that was impossible, since seventeen years earlier, New York Yankee partner and super collector Barry Halper showed-off the same stolen will to SI's Robert Creamer and told him he bought it for $150 from a McCarthy relative.  Despite the fact that Halper showed off the will in major publications it somehow vanished and its whereabouts are unknown. In 2009, Halper's former associates Rob Lifson and Tom D'Alonzo told the Boston Herald they had no knowledge of the stolen will. The hunt for McCarthy's lost will has lasted for over three decades and continues. Read full article
2014 RECAP: Our most popular CHIN MUSIC column of the year covered the Yogi Berra Museum heist in October and other popular posts that failed to crack the Top 10 dealt with: The mystery behind HA's 1923 Babe Ruth WS watch; the uncovering of T206 Magie fakes; Huggins & Scott pulling a 1909 Pirate photo stolen from the HOF; the aborted sale of a 1920 Red Sox photo stolen from the NBL; HA's offering of a Randy Marshall forgery at the National; the history of authentications and sales of fakes by Heritage employees; Heritage selling a stolen Roger Connor pay receipt; the FBI seizing some of John Rogers' memorabilia; the 2014 Spring Auction Fraud Alert; LOTG selling phony record-breaking balls from Halper Collection; The NY Daily News & Michael O'Keeffe publish false statements; Huggins & Scott offering of a bogus Joe Jackson photo; A class action suit filed against RR Auctions; and SF Giant owner Dan Scheinman writing to the Judge presiding over the Mastro case.