By Peter J. Nash
Oct. 17, 2011
-James Spence Authentication (JSA) appears to have made another stunning blunder in authenticating yet another secretarial signature of Christy Mathewson as genuine. The signature is found on a presentational book plate for Mathewson's 1911 book,Won in the Ninth, which currently appears as lot 163 in Hunt Auctions November auction at the Louisville Slugger Museum.  The book currently has a bid of $4,356.
-Christy Mathewson's signature on these book plates has long been considered a secretarial example and has been withdrawn from other sales, including Sotheby's in 2005.   
-Ron Keurajian was the first to state publicly his opinion that these Matty signatures are not genuine.  Keurajian wrote a revealing  article on the Matty secreterials in December of 2004 for Sports Collectors Digest where he stated:
 "In my opinion, these plate signatures (at least the few I've seen) are ghost signed and not signed by Mathewson.  These signatures deviate too much from Mathewson's hand."
 - Hunt Auctions lists an estimate of $5,000-$10,000 for the book.  It appears that, although the authentication companies have been presented with evidence showing these are not genuine signatures, they have continued legitimizing them and collectors keep buying them.  One collector told us, "It just shows collectors don't really care if items are real, just whether they have the JSA or PSA LOA so they can resell it." 
-James Spence III (JSA) has authenticated other Matty secretarial for Goodwin & Co.  ( $9,345); REA ($7,050); Legendary ($10,200); Paragon ($8,639); Memory Lane ($12,529); REA ($8,050); REA ($9,987); Goodwin & Co. ($8,722); Mastro ($6,167);  Mastro ($7,464); Hunt ($3,800); Mile High ($11,894); Heritage ($10,157); Heritage ($10,755); eBay ($15,000  Buy it Now)
-PSA/DNA wrote LOA's for these:  Legendary ($16,590); Legendary ($10,200); Heritage ($8,962)
-Sources indicate that authentications like these by JSA and PSA are far from "mistakes" and show that these companies continue to certify non-genuine items to avoid the refunds and returns that would be requested from their clients if, in fact, they were to correct their flawed opinions.  Another source told us he believes the Matty secreterial signatures will be probed by the Federal Bureau of Investigation. 
-David Hunt, President of Hunt Auctions, declined comment.
-JSA also recently certified a magazine page with a facsimile signature of wrestler "Andre the Giant" as genuine.  Reports indicate JSA has also made similar egregious errors on Mike Tyson items. 
-The SABR Pictorial History Committee just published a fascinating case study regarding the c.1846 daguerreotype, which allegedly depicts Alexander Joy Cartwright Jr. and some of his Knickerbocker teammates.  SABR members Mark Fimoff and Corey R. Shanus  present dueling experts to support their conflicting claims;  Shanus believes the image features Cartwright, Fimoff doesn't.
The half-plate image was identified by historians as featuring Cartwright and the Knicks when reproduced everywhere from Ken Burns' PBS documentary, BASEBALL, to a Smithsonian coffee table book. 
  -Corey R. Shanus owns the daguerreotype and states in his defense of the item that he conducted extensive due diligence at the time he acquired it.  However, it appears that Shanus failed to reveal (or locate) the daguerreotype's hallmark. which would likely indicate the photographer and the date of production.  If the image were produced before Cartwright embarked upon his trip west, in March of 1849, it would support his argument.  
-Net54 hosted a discussion about the report and Shanus responded to questions about the hallmark issue stating: 
"To my knowledge there are no markings on the dag. However, based on the plain brass matting, it is consistent with dags produced in the mid 1840's (the early stage of daguerreotypes). By the 1850's, the matting become more ornate. This is a great point that Jimmy raises and one that 20 years ago when I purchased the dag I looked into closely."

-Edward Anthony and Henry T. Anthony,  Cartwright's teammates, operated one of the most successful daguerreotype studios in New York City at that time.  It is possible (if not likely) that such an image of the Knickerbocker team would have been produced by the Anthonys.
 -Jimmy Leiderman, 19th century photo collector and historian, provided us with an example of the hallmarks used by the Anthony Studio at the time Cartwright was playing for the club.
-Stay Tuned for More…….
-Steve Verkman and Clean Sweep Auctions recently offered another document likely stolen from the National Baseball Library in Cooperstown.  The 1901 promisory note signed by John T. Brush appears to have originated from the "August Herrmann Papers" archive.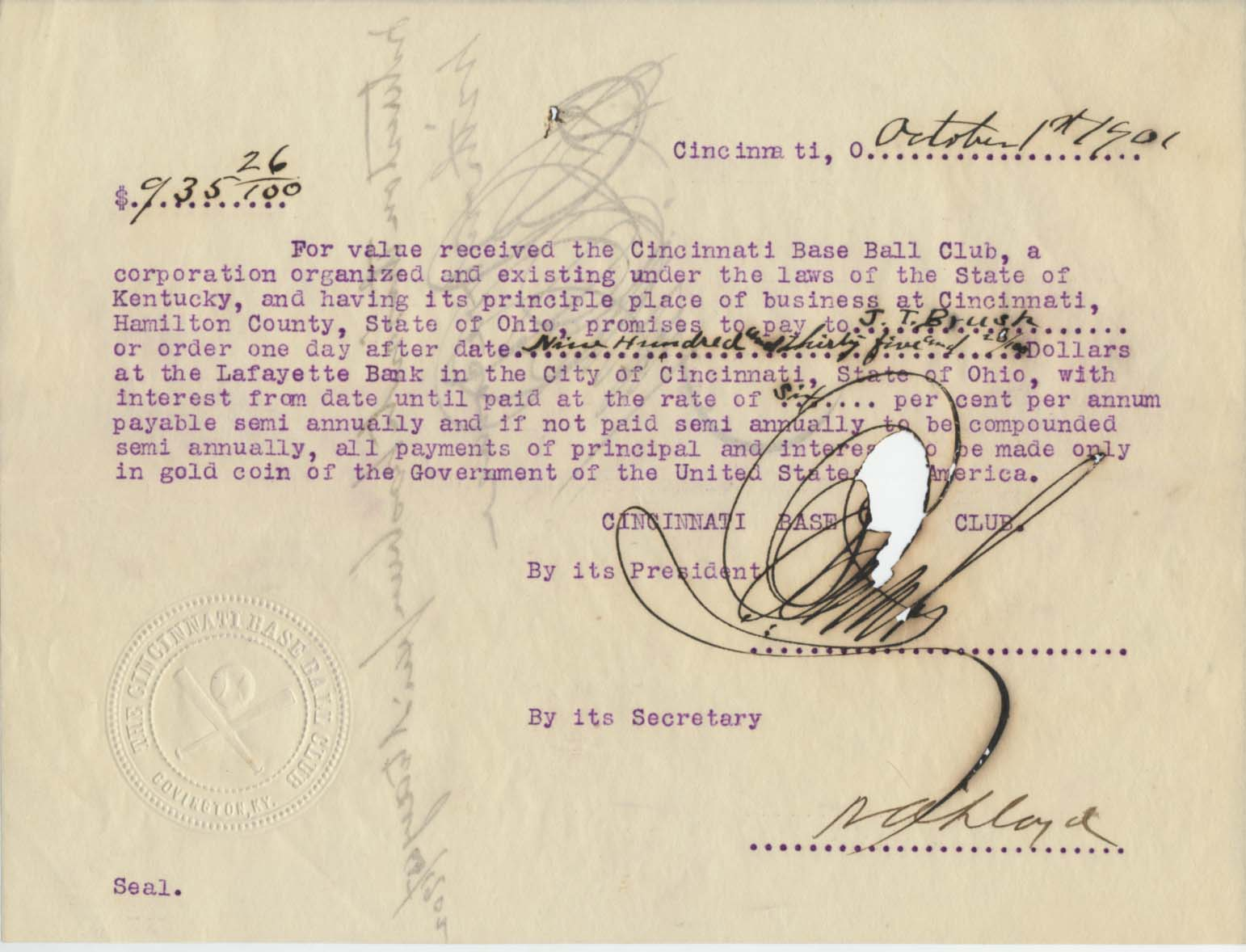 -John T. Brush promissory notes tied to the Cincinnati Reds are presently in the Baseball Hall of Fame's collection, however, several others have been sold at auction over the past few decades.  Verkman did not respond to inquiries about the document and whether the document had ties to other suspected stolen documents he has sold in the past.  Verkman offered the document looking for an opening bid of $250, but the item failed to receive any bids, likely because collectors were aware of the probability the document was stolen from the Baseball Hall of Fame.
- Seth Swirsky, the west-coast collector and songwriter, is offering his "Buckner Ball" from the 1986 World Series for sale on eBay at a price of $1 million.  Bidding ends exactly on the anniversary of Buckner's 1986 mishap.  Swirsky purchased the ball for $64,000 from actor Charlie Sheen in a 2000 Lelands auction.
-Seth Swirsky purchased an 1879 contract of Boston player Ezra Sutton from the 1999 Barry Halper sale at Sotheby's, but in July of 2009 it was discovered that the contract, also signed by Harry Wright, had been stolen from the New York Public Library's famous Spalding Collection and the Harry Wright Correspondence Scrapbooks.  In 2009, Haulsofshame.com informed Swirsky that the contract was stolen, but he's apparently been sitting on it ever since.  If his Buckner Ball fails to sell, he can blame it on a new Boston hex: "The Curse of Ezra Sutton."
-Dorothy Seymour Mills helped the FBI determine Swirsky's contract was stolen as her original research notes, housed at Cornell University, show that the contract was originally located in "Volume 2″ of the Harry Wright scrapbooks.  The contract was also featured in newspaper articles when the Spalding Collection was exhibited for the public at the NYPL in 1922.  
-Charlie Sheen, according to rumors,  is getting back into the collecting game in a big way.  Maybe he'll try to get his Buckner ball back from Swirsky and undo the "Curse of Ezra Sutton."
(EDITOR'S NOTE: Readers have alerted us to several other sales of the Mathewson "Won in the Ninth" books with secretarial signatures that have been authenticated by JSA and PSA. We have added them to the list. If  you know of any others (or have any other information we might find of interest contact us at: Tips@haulsofshame.com )